Highbar Technocrat to offer next-generation technology support to construction and infrastructure enterprises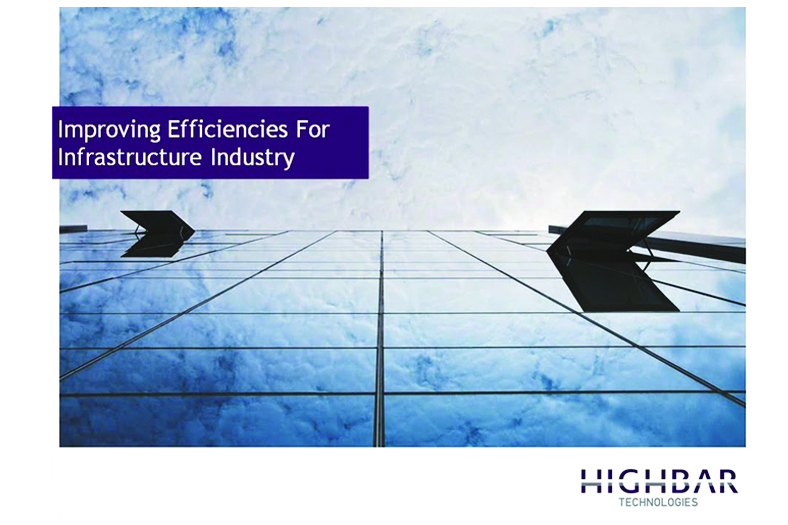 With the construction and infrastructure industry at the cusp of a new era, Highbar Technocrat Limited will aid this transformation with advanced software, infrastructure-focused hardware, and analytics capabilities in 2020.
Companies in the construction industry, across real estate, commercial, industrial and infrastructure construction are facing intense competition, increasingly stringent compliance norms pressure to improve speed and productivity. This has made it imperative for them to invest in technologies such as artificial intelligence, internet of things, data analytics and 3-dimensional modelling to retain their competitive edge.
Highbar Technocrat Limited, a leading end-to-end Information Technology (IT) solutions provider for the infrastructure and construction industry, strengthens its commitment to offer next-generation technology support to construction-oriented enterprises.
Highbar Technocrat's solutions, specifically designed for the construction industry have proven their credibility extensively on large scale buildings and infrastructure projects including the state of the art Nagpur Metro Project, Bhubaneshwar Smart City, Aurangabad Industrial Smart City and very recently have been entrusted to drive efficiencies in the 700 Kms long, 6-lane wide Mumbai Nagpur Expressway.
"Since most of the construction industry in India is still steeped in legacy practices, many business decision-makers in the industry are hesitant to adopt emerging technology solutions such as Industry 4.0 and Building Information Modeling (BIM). Highbar Technocrat understands the importance of technology in enabling efficient construction and will specifically focus on the following technologies in the ongoing year." said Anil Kumar Jeur, Delivery Head, Strategic Business, Highbar Technocrat Limited.
BIM (Building Information Modelling)
BIM is a revolutionary technology in the field of construction. With recent advancements in technology, BIM models are being connected to devices in the field for real-time sharing, enhancing productivity. Simultaneous access to project BIM models is also offering more clarity to a wide range of team members involved in the construction activity.
During 2020, Highbar Technocrat Limited will focus on driving awareness and adoption of BIM in the construction sector, enabling faster more efficient construction projects driven by better planning and decision making based on real-time or near-time information access to decision-makers, planners and designers.
Internet of Things
Another promising technology poised for significant adoption in the coming years is the Internet of Things (IoT). The technology empowers every stakeholder to understand the developments at every stage of the construction process in real-time right from planning to execution as well as post-construction activities. IoT solutions can reduce pilferage, wastage and misuse of construction assets significantly, thus helping reduce costs. IoT solutions also help drive enhancement in worker safety and productivity.
GPS tracking
Construction enterprises often manage a wide range of expensive equipment and also fleet of vehicles. GPS (Global Positioning System) sensors installed in vehicles communicate with a central base unit via satellite. This enables managers and project heads to see the exact positions of the vehicles in real-time. For the year 2020, Highbar Technocrat Limited has a clear focus on helping drive efficiency, transparency and agility in the construction sector through interconnected assets that are traceable in real-time through telematics and GPS fleet tracking solutions.
Digital Dashboards
Digital dashboards facilitate department heads and business decision-makers with accurate performance assessment of business processes. Leveraging information from a host of data points, intelligent dashboards offer detailed insights including patterns, trends as well as the ability to highlight areas that require immediate attention. Highbar Technocrat Limited will continue to innovate in this domain to enhance transparency and employee engagement in construction and infrastructure-centric enterprises.
2