Spartan sets high growth target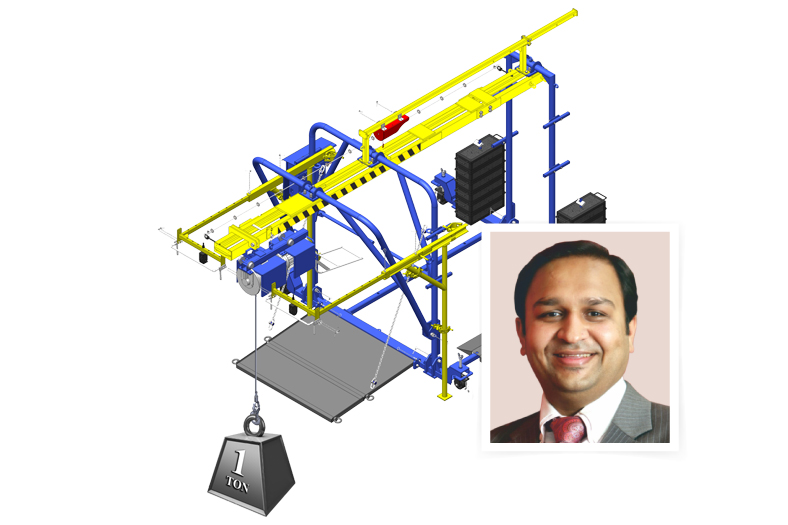 In FY 2017, we achieved a target of  Rs100 crore turnover and expects to reach around Rs 140 crore turnover in the current fiscal.
Dr. Vikram Mehta, MD, Spartan Engineering Industries Pvt Ltd
Spartan Engineering Industries Pvt Ltd, one of the leading construction equipment manufacturers in India, has launched a slew of new products at the recently concluded EXCON 2017 which include Spartan Multifunctional Minilift (SML 100 and SML 50), Sky Climber series of Rope Suspended Platform for Lift Shaft (SRPL 60 and SRPL 70), Aviator series of Rack and Pinion Passenger and Material Hoist (SPM) and Aviator series of  Multifunctional Hoist ( SMH).
The newly launched products are all set to revolutionalise the material and passenger movement in India. In Spartan's effort to ban the unsafe builder hoist, Spartan has come up with a product which would replace the obsolete technology. Commenting on this, Dr. Vikram Mehta, Managing Director, Spartan Engineering Industries Pvt Ltd said, "Spartan Multifunctional Minilift (SML 50) is a wire rope driven Minilift with a carrying capacity of 500 kgs. which will revolutionaries material movement for the projects upto 130 metres."
Similarly, Spartan Multifunctional Minilift (SML 100) is having the carrying capacity of 1-tonne. These machines come with different attachments like rebar carrier, bricks carrier, sand bucket, material basket, concrete bucket, glass or marble lifter and wheel barrow for carrying different materials. SML comes with optional features like wireless remote control and over load protection.
"SML, within the price range of Rs 2-4 lakhs, is targeted to contractors and developers who need safe hoists at affordable price. These are suitable for projects till 70 or 130 metres especially in the affordable housing segment," informs Dr Mehta.
Dr Mehta believes that the USP of Spartan's SML is the introduction of attachments for lifting of various types of materials like steel, glass, sand, cement, concrete and bricks which none of its competitors offer.
Further, Spartan's newly launched Sky Climber series of Rope Suspended Passenger and Material Lift (SRPL) is available in two variants – 600 kgs and 700 kgs. According to Dr Mehta, SRPL is the best alternative to scaffolding for all activities to be carried out in lift shafts like rail installation, plastering, painting and pipe fitting. It comes with various features like control panel, drive unit, guide rollers, side extension cage, safety lock device, ladder, and wheels.  He adds, "Our SRPL will save a lot money for the customers in terms of scaffolding cost that they incur. Also, these are very safe solutions in terms of operations and customers are really appreciating it."
Similarly, in the material handling category, Spartan has introduced the Rack and Pinion Hoist (SPM 250V). The company has launched the biggest capacity 2.5- tonne Rack and Pinion Hoist (SPM 250V) which can travel at a speed of 60 metres per minute specifically designed for high-rise buildings of up to 250-300 metres.
This Rack and Pinion Hoist has intelligent features like PLC display that gives real-time data on machine operation and safety. However, most importantly, Dr Mehta informs, this world-class product will be delivered to clients with almost three-fourth of the price that of a European product.
Growth forecast
Commenting on the company's recent growth, Dr Mehta said, "We are growing at more than 30 per cent during from the past 3 months. In FY 2017, we achieved a target of Rs 100 crore turnover and expects to reach around Rs 140 crore turnover in the current fiscal."
10