Camfil launches Air Cleaner for commercial buildings in India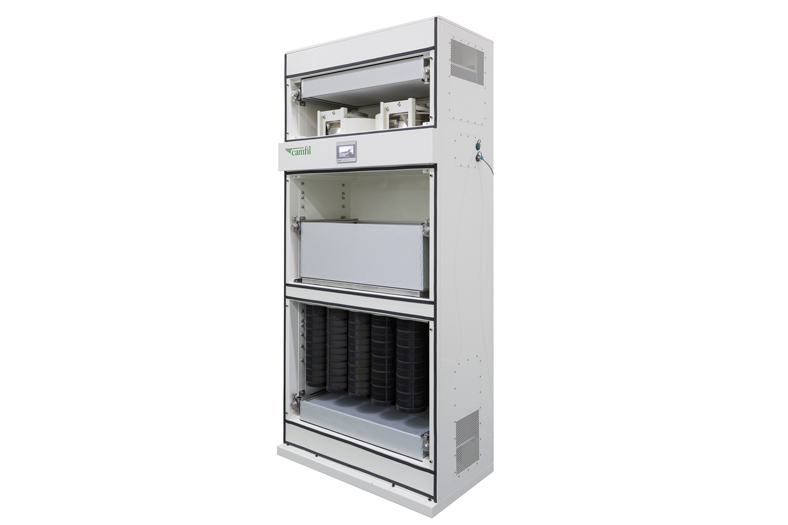 Camfil, one of the global leaders in industrial air purification, announced the launch of a new range of energy efficient, versatile Air Cleaners- CC2500 and CC1700. This new range comes with molecular filtration aimed at providing solutions for improved Indoor Air Quality (IAQ) in offices, factories, clinics, hotels, data centres and control rooms. It is designed for large area ranging from 6,000 to 8,000 sq. ft.
The sound and versatile CC2500 is specially designed to provide solutions in corrosion control, healthcare and comfort segments. Only 550 mm deep, the elegant new compact design fits in seamlessly in areas having space constraints. Perfect with retro fit and with outstanding performance, features, and flexibility, CC2500 provides an impressive solution in areas that require super indoor air quality. The all-round acoustic insulation of 25-40 mm, makes it a silent performer.
With a variety of options and combinations, issues related to particles, VOCs, formaldehyde, ozone, and acids can be resolved with CC2500. The air flow outlets can be configured in two different ways, by the side windows or just through the top. In addition to the upward airflow, the flexible design of these air cleaners can also be reversed to be used as a pressurisation unit. The motor produces efficient and even air flow distribution, while also achieving a higher air flow.
Backed by Camfil state-of-the-art filtration technology, CC1700 is a mobile and autonomous solution that eliminates particulate and gaseous contaminants. The air cleaner is best suited for areas that may contain corrosive gases, especially in paper mills, petrochemical plants, but can also be installed in libraries, museums, etc. The new range is equipped with HEPA and molecular filters bringing several unique advantages, such as low pressure drop and low energy consumption, a unique media combination and an optimised product life cycle.
Both CC1700 and CC2500 offer unique benefits to the customers including low energy consumption, optimised product lifetime, and high filtration efficiency. Placed in PSSA boxes, robust and perfectly sealed, they ensure optimal protection of sensitive industrial equipment and processes.
For more details, visit www.camfil.in
17