The future of sustainable fenestration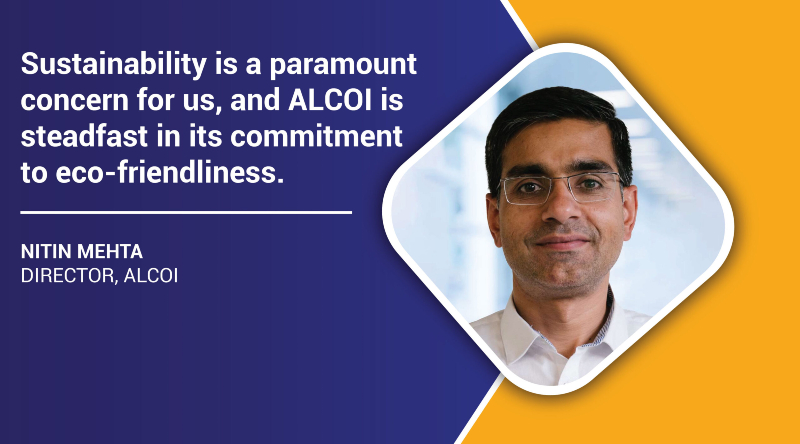 Nitin Mehta, Director, ALCOI, talks about new trends in fenestration design and technology to enhance aesthetics and functionality.
"Sustainability is a paramount concern for us, and ALCOI is steadfast in its commitment to eco-friendliness."
What are the present fenestration design and technology trends, and how is your company incorporating them into your products?
Current fenestration design and technology trends revolve around energy efficiency, minimalistic aesthetics, and smart home integration. These trends cater to modern architectural demands, prioritising sustainability and convenience.
ALCOI incorporates these trends by leveraging advanced thermal break technology, ensuring our products are energy-efficient. We've adopted sleek and minimalistic designs with larger glass surfaces and thinner profiles, meeting the aesthetic preferences of today's architecture. Our commitment to smart home integration enables remote control of our fenestrations, offering customers modern convenience without compromising style or sustainability.
Can you highlight some innovative technologies or features in your windows that contribute to improved energy efficiency?
Energy conservation is paramount in fenestration design. ALCOI windows incorporate cutting-edge technologies to enhance energy efficiency. We employ advanced thermal break systems to reduce heat transfer, preventing energy loss. Low-emissivity (Low-E) coatings on our glass improve insulation and solar control, reducing the need for heating or cooling. Our windows are also designed for airtightness, eliminating drafts and minimising energy consumption. These innovative features collectively contribute to significant improvements in energy efficiency, making ALCOI products environmentally responsible.
How can fenestration solutions be integrated into interior design to enhance aesthetics and functionality?
Fenestration solutions can be artfully integrated into interior design, offering aesthetic and functional enhancements. ALCOI places a strong emphasis on this synergy. Our products harness natural light by strategically positioning windows and doors to create visually appealing and spacious interiors. Our designs are highly customisable to complement various décor styles, emphasising our commitment to aesthetics.
Please share your efforts in using eco-friendly materials and manufacturing processes for fenestration products.
Sustainability is paramount for us, and ALCOI is steadfast in its commitment to eco-friendliness. We exclusively employ eco-conscious materials and implement low-impact coatings, reducing our carbon footprint. Our manufacturing processes are optimised for minimal waste generation and energy efficiency. We offer energy-efficient fenestration solutions to foster sustainable construction practices. Our overarching objective is to promote environmentally responsible choices in the fenestration industry, aligning aesthetics with a profound dedication to a greener, more sustainable future.
What innovative fenestration technologies or design trends can we expect to see in the near future?

The future of fenestrations holds exciting prospects. Evolving architectural preferences point toward sustainable, energy-efficient designs. Increased emphasis on smart homes will necessitate fenestration integration with automation and IoT technologies. Minimalistic aesthetics, larger glass surfaces, and dynamic shading solutions will gain prominence, catering to contemporary lifestyles. ALCOI is proactively positioning itself for the forthcoming advancements and challenges in the industry.
11