The Green Steel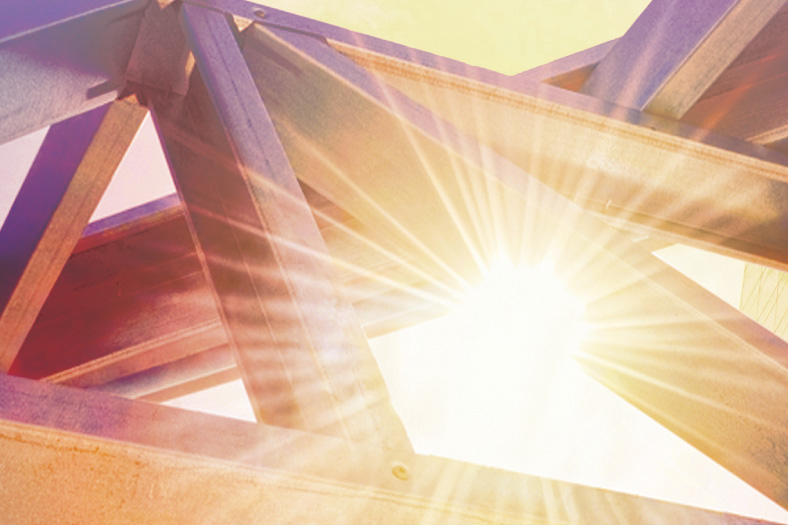 Analysing why steel is considered a green building material.
Steel, an alloy of iron and carbon, is omnipresent in our lives and is at the centre of sustainability in modern society. Steel is one of the most versatile engineering and construction materials in the world. It influences every aspect of our lives, from the produce we consume to the places we live and work. Steel's unique properties afford architects the opportunity to design, develop and create an environment that is limited only by their imagination. Unlike other materials, steel is dimensionally stable, making it the dependable choice for more resistant and durable structures.
"Steel provides the solutions to infrastructure and construction needs of the world. It is the material to build climate-resilient cities and coastal protection. Steel protective design minimises the impacts of natural disasters," states Pritish K Sen, Head Market Research & External Affairs, Tata Steel Ltd.
Steel for earthquake protection
Earthquakes are unpredictable in terms of magnitude, frequency, duration, and location. Consequently, the ideal structure to withstand earthquake forces will behave in a consistent and predictable non-brittle manner. Light gauge steel framing is capable of meeting this standard due to its ductility and the strict process used to manufacture steel studs, the inherent properties of steel, and typical construction methods used in steel framing.
Building with steel should be considered at the top of the list to protect houses against damage and related consequences of earthquakes.
Steel is infinitely recyclable and its by-products and waste energies are valuable resources. The steel industry is integral to the global circular economy and, thus, the successful delivery and maintenance of a sustainable future.
Steel in the circular economy
The circular economy refers to a shift from linear business models, in which products are manufactured from raw materials, used and then discarded, to circular business models where products or parts are repaired, re-used, returned and recycled. This concept is fundamental to the triple bottom line concept of sustainability, which focuses on the interplay between environmental, social and economic factors. This should all be based on a life-cycle approach. In a well-structured circular economy, steel has significant advantages over competing materials. Four keywords define these advantages: reduce, reuse, remanufacture and recycle. These are all benefits of steel.
Today global population growth combined with improvements in standards of living is exerting pressure on the world's ecosystems. Increased emissions of CO2, use of scarce resources and growing challenges to the disposal of waste are the results. Steel is at the heart of delivering solutions to many of these challenges, believes Sen.
Informing why steel is considered as green building material Sen says, "The steel industry has made significant reductions in greenhouse gas emissions in the past decades by improving energy efficiency and deploying new technologies and practices resulting in benefits to the environment and economies. Reducing greenhouse gas emissions is a global challenge that requires a global solution. The steel industry believes it is very important to be actively engaged as we continue to strive to move towards a low-carbon society."
He adds, "In the last 50 years, the steel industry has reduced its energy consumption per tonne of steel produced by 60 per cent. Waste energies are also captured and used effectively. Considering these facts, steel is the best green building material."
Steel is the most recyclable material in the world. Matter of fact is that every year million metric tonne of steel gets recycled which is more than all the other material. All steel products can be recovered and recycled again and again into new high quality products. Steel has a never ending life cycle that reduces production waste which leads to conserving energy and natural resources.
Steel structures can last for hundreds of years, making them cost effective and sustainable. Design flexibility encourages practices like; insulation, solar panels and natural lighting in steel buildings that lower down the energy cost.
Steel is a lightweight product, so it is easy to transport than heavier alternatives; its helps to reduce the industry's carbon footprint.
Steel carries no health hazardous; it creates an allergen and dust free environment with no harmful chemicals leading to no health complication.
Sharing his views on why steel is a green building material, Dr. Sandeep Gupta, Managing Director, Richa Industries Ltd says, "Steel is considered as green building material; this statement is true in every sense, as from early 1900's steel is one of the sustainable building material available in the world and have always been a primary solution provider for infrastructure and commercial sector. Steel has become a leader in the construction sector due to its uncountable benefits starting from its durability to price till design. Steel has always been amongst first choice of modern infrastructure."
Steel structure production consumes very few resources and material which directly and indirectly helps the environment. "The strength and durability of steel conserve natural resources which give it the badge of "green building material," he adds.
Richa Industries Ltd is one of the largest manufacturing company operational in Pre-Engineered Buildings (PEB) and EPC (Engineering, Procurement and Construction) sectors. "Our PEB systems offer various advantages and offers immense benefits over conventional methods in terms of speed, quality and cost," states Dr Gupta.
He adds, "We believe and focus on creating rather than following. We work as a trend-setter and for us every assignment is an opportunity to demonstrate out-of-the-box creativity and set unique edge. Our passion is to create buildings and structures in a way that generation to come remember them as a masterpiece build by Richa Industries Ltd."
PEB is one of the first choices when it comes to sustainable and eco-friendly buildings. Kirby India is in the forefront of this innovation and is leading the revolution of green construction in the country through its PEB technology, comments D Raju, Managing Director, Kirby Building Systems – India.
Green buildings has caught the attention of many builders, developers, etc, across India and is making inroads across all types of construction because of rapidly expanding urbanisation across developing countries. India is world's fastest growing economy and it is rapidly growing younger population is driving the domestic consumption story leading to evolve ways of sustainable growth including construction. "Steel is the preferred material for all prefab structures and PEB use steel which is more than 80 per cent recyclable. These buildings are cost effective, energy efficient and provide better quality environment as they are cooler in hot conditions due to the favourable roofing material, suitable insulation and natural ventilation. The use of skylights and solar panels mounted on rooftops of industrial buildings will meet daylight and captive power requirements which will reduce their dependence on power supply from other sources and at the same time reduce emissions and gain carbon credits under clean development mechanism. Effective usage of insulation material, louvers and other materials also help in making PEB one of the most preferred green buildings. This will lead to a viable construction methodology and implement across all construction segments thereby using environmental friendly materials," Raju concludes.
13