Tiles are in demand due to their resilience and adaptability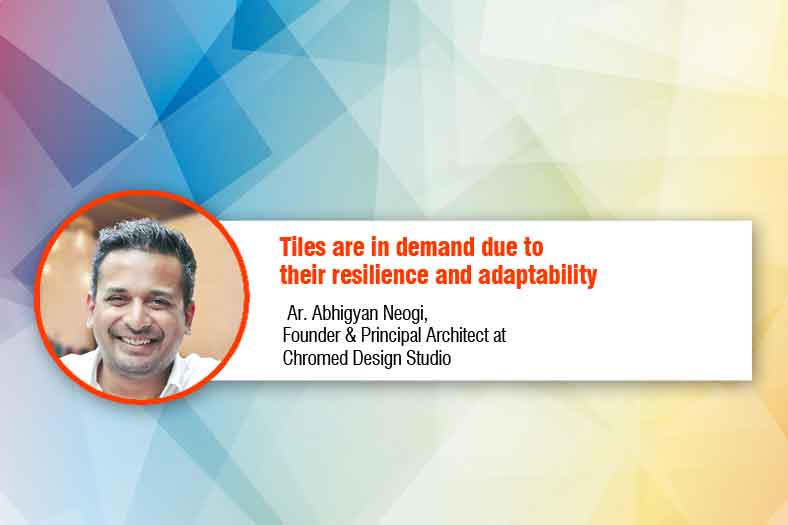 At the same time, tiles are an economically viable option and come in a variety of colours, textures and patterns points out Ar. Abhigyan Neogi, Founder & Principal Architect at Chromed Design Studio.
What are some of the key areas in interiors where tiles can be used effectively?
Tiles in the present scenario are a chief element in building interior as well as exterior finishing. They are commonly used as flooring, but steadily growing in popularity in other areas. Tiling has moved on from walls rather than stopping at the baseboards. Today, tiles are used on elevations as a design element or accent feature on walls. Because it comes in so many materials, textures, sizes, colours, and patterns, wall tile is a versatile option that optimises visual creativity. Tiles serve more than just their function as a protective surface for areas of homes. They play an important role in the interior design of homes by creating an atmosphere that adds to the look and feel of the living space.
From a 12cm X 12cm to large slabs, how have tiles evolved beyond a mere component restricted to hotels, bath spaces and hospitals?
 Today, tiles have expanded to encompass a wide range of materials, applications, patterns, and designs. Wall tiles specifically differ from floor tiles in that they are usually not intended to be load-bearing. The glazes used in the manufacturing of a tile are also different and are not designed to resist wear from foot traffic. They are often lighter and thinner than floor tiles. Exploring the basics of tile selection and specification, they have evolved beyond a mere component restricted to hotels, bath spaces, and hospitals. They have marked their presence in the exteriors of homes and commercial spaces alike. From traditional cement tiles, faux wood, to 3D designs, terrazzo, bright colours, and classic porcelain, there are extensive options available to suit even the most creative mind.
When it comes to selection of tiles for commercial vs residential spaces, what are the key differences?
As far as residential spaces are concerned, tiles have increased in demand mainly because of their resilience and adaptability. They can be installed in a variety of environments with no worry of constraints such as water, stains and allergic odours. Tiles are a very popular option among homeowners as they offer a great value for one's budget with huge benefits. Tiles are an economically viable option and come in a variety of colours, textures and patterns. At the same time they can be mixed and matched among the different colours or tiles randomly for a unique look. For instance, mosaic tiles can be used to alleviate the look of the expanse or create a focal point. Tile can be a great option for commercial spaces due to its versatility and longevity among other flooring alternatives. For example, in commercial buildings the ceramic tiles are used for their high strength and scratch resistance. Ceramic floors are the easiest to clean and maintain and are stain-free and resistant to alkalis and acids.
The utility factor of tiles comes in handy while using in commercial buildings as they have a very high acoustic damping factor which helps in the elimination of echoes and, therefore is considered ideal for auditoriums and big halls. They are hard wearing and not susceptible to fading from UV light. The difference in both these domains is that of utility and aesthetics although its careful selection can enhance and protect a space or design and add to its capital value.
How can tiles be made shockproof?
Tiles can be shockproof with the use of preformed rubber tiles. The anti-shock floors for multipurpose play areas can be made with preformed rubber tiles. The shockproof plates are made of recycled rubber which is highly elastic and non-toxic. They are easy to clean and resistant to atmospheric agents over time.
Kindly cite an example of a completed project which utilises tiles to good effect?
While choosing tiles, the options were endless as we have the freedom to use tiles as focal points or supporting design-puzzle elements to the room we are creating. 'Maachis'- an Indian Tapas Bar by Chromed Design Studio incorporated tiles into their flooring. Besides the colours and patterns attention was paid to the size and surface finish according to where they will be used.
The flooring has been aptly curated by creating a pattern with the help of brick tiles combined with a printed tile inlay. In Daddy, a restaurant in Bengaluru, Black and white terrazzo tile flooring was used in the bar area. Its sleek, gleaming balcony in the front is adept with monochromatic pattern tile flooring that creates a feeling of hallucination. Hence tiles are ideal for most spaces whether residential or commercial and their use isn't restricted to any given area.
19