TK Elevator receives Golden Peacock Award for Energy Efficiency 2023 in India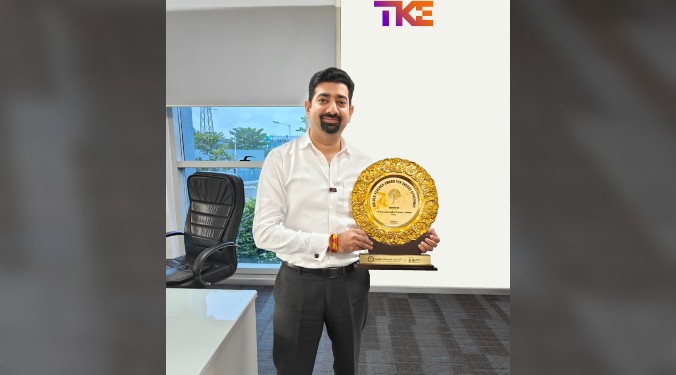 TK Elevator, a global leader in the elevator industry known for its strong commitment to ESG principles, has been recognised with the prestigious 'Golden Peacock Award for Energy Efficiency 2023' in India.
The award, instituted by the Institute of Directors (IOD) in 1991, is widely regarded as a benchmark of corporate excellence and underscores TK Elevator's dedication to responsible and sustainable business practices.
Energy conservation plays a pivotal role in mitigating climate change and has enormous potential to boost economic growth while reducing GHG emissions. To this end, TK Elevator has implemented important energy conservation initiatives in India such as setting up a 821 kW capacity rooftop solar plant at Multi-Purpose Facility (MPF) in Chakan, Pune with 100 percent IREC for electricity and reducing electrical specific energy consumption by 41 percent and thermal specific energy consumption (PNG) by 31 percent, these initiatives have contributed to TK Elevator's conferral of the award. Additionally, the company has recently published its second sustainability report, highlighting its ongoing commitment to ESG principles and responsible corporate practices.
TK Elevator has implemented a range of energy-saving measures at its MPF, including optimising powder coating units, air conditioning systems, and electrical transformers. They have also introduced electrically-operated forklifts and scissor lifts, installed motion sensors and LED lights, and incorporated energy-efficient machinery such as punching, bending, and compressors with Variable Frequency Drives (VFD) to reduce energy consumption.
"Winning this prestigious award is a testament to TK Elevator's unwavering commitment to sustainable growth and development. As a market leader and staunch supporter of local manufacturing, we are fully aware of our responsibility towards preserving India's environment and natural resources. This recognition serves as both confirmation and incentive for us to intensify our efforts towards sustainability and continue prioritising it." states Mr. Manish Mehan, CEO and MD of TK Elevator (India), emphasising the company's dedication to responsible business practices.
TK Elevator's commitment to corporate responsibility and sustainability in India has been recognised by several prestigious awards. In addition to winning the 'Golden Peacock Award for Energy Efficiency 2023', the company has also won the 'National Award for Excellence in Energy Management 2022' in the Industry General Category. Furthermore, in 2022, TK Elevator's India manufacturing facility was certified with ISO 50001 Energy Management Systems by TUV SUD, further affirming the company's dedication to energy efficiency and sustainability.
for more info visit : https://www.tkelevator.com/in-en/
45