Two to Tango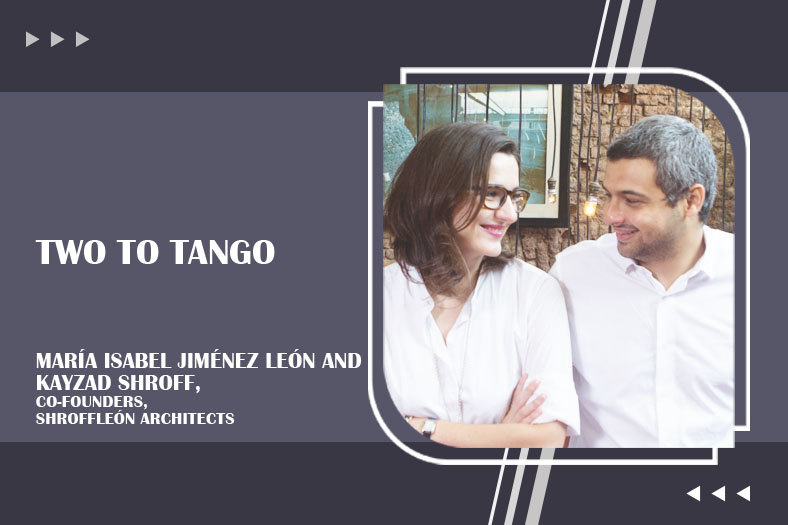 A candid conversation with María Isabel Jiménez León and Kayzad Shroff from ShroffLeon Architects on their ongoing expedition in the world of architecture and design
"Good Design for me is something that blends into the background and makes a statement without trying too hard." says María Isabel Jiménez León, Principal Architect and Co-Founder of ShroffLeon Architects, a boutique practice that offers bespoke solutions to clients needs. 
The firm headed by Kayzad Shroff was founded in 2010. "We both graduated in 2008 from Cornell University and moved to New York. A global recession had begun and I lost my job," says Kayzad, "I did land up with another assignment however the idea of starting off our own independent practice grew stronger. We headed back to Mumbai and started working on a few projects whilst teaching in different architecture schools." 
From modest beginnings in 2010, today, ShroffLeon is one of the well-known architectural firms which has been the recipient of numerous national awards. A creative fusion of minimalism with an urban design has been the hallmark of a number of projects they have designed. 
"Most of the people are aware of the projects we have designed," says Maria, "but there is one project in particular which offered us a great deal of professional gratification, it's a 150 square foot garage which we converted into a dental clinic. It's not a particularly glamorous project but the client satisfaction and the goodwill it generated is something worth treasuring for the rest of our lives. Post the completion of this project we were also able to secure more projects on the basis of references the client had passed on to his clientele. Even today if the client wants to paint a single wall, we will get a call."
But are all clients alike or is persuasion the key to successful projects? "Much of our work centers around turning the client brief into a creative expression of form, function and desire," says Maria "so yes, creative differences and similarities are a part and parcel of the game. There are times when we have had to reason with a client that if we proceed as per his/her inputs the final look and finish of the project may differ. The creative appeal of the project may water down. In such cases once the client understands that they have to take up ownership of the project regardless of the result they usually listen to us. Having said that most of the clients we have worked with have given us the complete freedom to design their living and commercial spaces. Such cases are usually rare."
Luxury and style are also a few keywords which come to mind when you look at the projects executed by ShroffLeon. It is truly an expression of creative dynamics at work "The idea of good design is a combination of multiple elements, some tend to be static across different kinds of projects we take on," says Maria. "Then there are some dynamic elements which are fine tuned to specific requirements of the project. Having said that, cost in a number of cases is also a deciding factor on the level of detailing, the use of materials, styling and the finish the project espouses. After all these are little things which add up to the overall uniqueness of the project be it residential or commercial." 
Kayzad, a second generation architect believes, the creative dynamism which has now become a benchmark of sorts has a lot to do with the upbringing he had. "My dad is an architect, when me and my brother were kids quite a few of our summers were spent in his office. So in a way it would not be wrong to say that I was exposed to architecture at quite a young age. Later when we started traveling the itinerary would include studying different buildings, visiting churches, art galleries and museums. This instilled in me  a design sense which would later help me in adding a signature dose of creativity in the projects we took on."
For a couple who has also been involved in teaching architecture Kayzad has sound advice for the budding architects "Quite often, we put our heart and soul into a job and the client ends up not liking it. In such cases the feedback should not be taken personally. The criticism, if any, is in response to something that has been designed and not to the person in particular. I want to convey to my young friends that It will be difficult to do this  and honestly most of the architects struggle with it on a regular basis. Next thing is to curb a general lack of professionalism which exists, right from coming late for meetings to not adhering to deadlines for delivery. Punctuality is one of the successful mantras of success in the long run. Today we work with a number of repeat clients and the level of confidence they have on us is simply incredible. They just give us a project, deadline and a budget; they don't even come to the site because they are fully aware that we will do justice to the client brief within the stipulated budget and the timeline."
"Another challenge an architect today will have to face," Maria adds "is the intrusion of social media in their profession. It also confuses the client with a lot of new things. Platforms like Instagram for instance tends to be a bane for a lot of architects and designers because the minute you get on board for the project, the client starts sending you 500 images, which don't gel well with the project you might be building something in Alibaug and it looks like something in the North pole. Having said that, it is also necessary to highlight the fact that today an architect gets a lot of freedom to define the finer aspects of a project. From the very beginning all the great architects have always designed  everything to the nth degree within the project; earlier this practice was limited only to star architects who had the opportunity to design a door knob or a toilet fitting now all architects can do it for every project they execute. The information and the ease of availability is so abundant that detailing the minute aspects in a project has now become easier."
It's no wonder that the level of design detailing in a ShroffLeon project has been noticed by many clients who consistently choose to work with Kayzad and Maria. With a slew of projects in their kitty the couple is now busy designing bungalows and villas in Karjat , Alibaugh and Lonavala and a couple of luxury residential towers in the Khar area of Mumbai . 
8