Optimising the Use of Sustainable Materials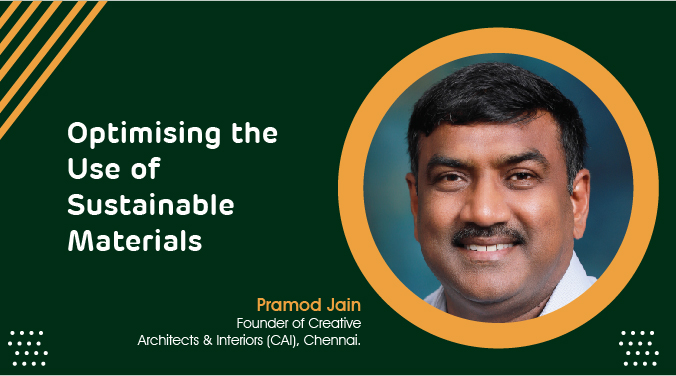 Pramod Jain, Founder of Creative Architects & Interiors (CAI), Chennai, speakes on how services are crucial part of any structure, even more as the scale increases.
What considerations do we need to note as we scale higher and higher?
Scaling higher calls for attention to the choice of construction systems, engineering technologies, materials and aesthetics. Additionally, services are a crucial part of any structure, even more as the scale increases, as that can severely impact the design and budget. To ensure the building is structurally sound, the site must be thoroughly inspected for its load-bearing capacity. Different loads and forces, such as the seismic load or the wind pressure, act on the building and must be considered as we go higher. An efficient design for the smooth functioning of essential services, including sanitation, drainage, water and gas supply, becomes tricky as we go higher and thus needs innovative planning.
Similarly, safety hazards like fire are prevalent in a high-rise structure, and the building must adhere to all the fire safety norms without compromise. Sprinkler systems, escape routes, smoke alarms, refuge floors, etc., must be carefully planned. The type of structural system used, such as the – Braced frame, Rigid tube, Trussed tube, Spaceframes, Mega frames, etc., are crucial. Considering how the heating, ventilation, and air conditioning (HVAC) systems affect building systems, the HVAC system may use the most energy in a high-rise structure ranging close to 39%. Therefore, improving HVAC efficiency is a crucial consideration for a high rise. Additionally, sustainability is no more a choice but a necessity, and hence the design should optimise the use of sustainable materials.
the entire construction phase of the high-rise and the design abides by sustainability?
The construction industry is responsible for 37% of carbon emissions in the world. The construction of high-rise buildings is dramatically expanding due to urban densification brought by the city's rapid urban expansion. Although high-rise structures as a stand-alone solution have greater advantages, they can be component of a more comprehensive and sustainable solution when seen from a broader perspective. There must be an effort to improve the sustainability of stand-alone high-rise buildings so that they become a part of the solution concerning resources and climate rather than a problem.
One of the most effective techniques is utilising prefabricated components in a controlled offsite setting. This option is less expensive since it allows for the resolution of engineering and construction issues before the commencement of the building, which dramatically reduces construction timelines. Enhancing energy efficiency is another approach to creating environmentally friendly high-rises throughout their entire lifecycle. Energy-efficient high-rises are created by reducing the energy demand needed with double-skin facades, which improve insulation, minimise solar gain, and maximise natural light.
What critical contemporary materials and technologies play an essential role in high-rise construction?
To achieve the performance requirements for structures of this sort, high-rise building construction requires innovative approaches. Improvements in construction technology and logistics are required under the new strategy. Latest techniques such as 3D volumetric, Mivan, glass fibre reinforced concrete (GFRC), precast, 3D printing
concrete, prefabricated and tunnel form construction techniques are gaining more importance day by day, as they are not only making construction faster but also cost-effective, hassle-free and sustainable. Mivan and the 3D volumetric construction techniques are highly efficient and helpful in constructing largescale and speedy structures. Materials such as green concrete, bamboo, plastic bricks, porotherm bricks, rammed earth, Autoclaved Aerated Concrete bricks (AAC), fly ash bricks, etc., are extensively used in construction these days. These materials are gaining importance as they cater to the sustainability aspect, help build contextual structures, and are responsive to the local climate. Materials such as green concrete and plastic bricks are made from recycled waste, mud, sawdust, burnt clay, recycled plastic etc. and are designed to be long-lasting whilst needing low maintenance.
How are facades aiding the energy efficiency and aesthetics of high rises?
Today facades serve a much larger purpose than just enhancing the aesthetic appeal or a mere visual identity of a building. They are also responsible for making it sustainable and energy efficient. Contemporary architecture, in the form of materials, processes and techniques used in the day, has immensely contributed to the heat gain. This makes sustainability not an option but a necessity from now on. Ideal high-rise facades are the ones that incorporate a hybrid approach to materials rather than a monolithic one, which would ensure the building breathes and is porous. Perforated cladding techniques – jalis or louvres can act as shading devices while enhancing the structure aesthetically. High-Performance Glass is one of the materials which reduces heat ingress and simultaneously allows higher daylight penetration. Designing an energy-efficient building involves a comprehensive strategy incorporating methods, technology, and innovative architecture.
54