What we need is balanced and sustainable development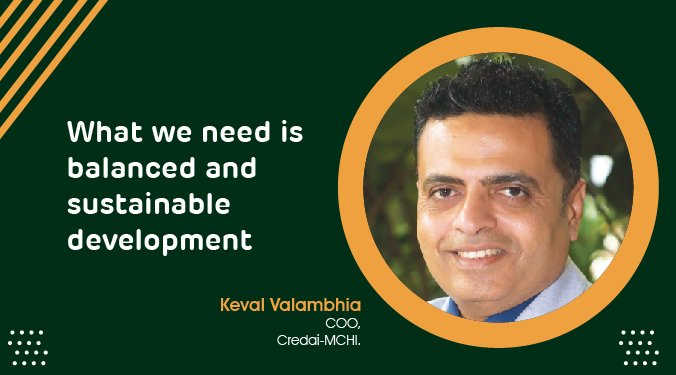 Keval Valambhia, COO of Credai-MCHI, speaks on how the development of physical and social infrastructure is the key to boosting the state towards becoming a one trillion dollar economy by 2030.
Indian Housing Industry and Real Estate Sectors are experiencing steep construction costs. How do you plan to address this issue in the future?
Historically, there is a direct impact of the rise in crude oil on the cost of construction materials. The price of steel is the most critical building component escalated to INR 85K from INR 42 K in the middle of 2022. Cement prices rose to 400 per bag from Rs. 260 in the same period, and so did the costs of bricks, sand, cables, tiles, pipes, secondary materials and every building material mainly due to global geopolitical crises. As far as developers from MMR are concerned, most of them made genuine efforts to absorb the escalation in cost as much as possible. However, it eventually observed a gradual increase in house prices from 10% to 12% depending upon micro markets. This was because the developers could no longer afford to absorb the high prices and continue to build houses.
Housing developers' profit margins are already wafer-thin, and the rising inflationary trend of basic input costs such as cement, steel and labour is a real challenge. Nevertheless, the costs of building materials have been gradually stabilising over time due to active representations of CREDAI-MCHI to the government and industry friendly Government measures. To meet the vision of housing for all, CREDAI-MCHI urges the government to reconsider reducing stamp duty and premiums to Municipal Corporations and review the 1% metro cess – due to which affordable homes are staying out of reach of home buyers.
What kind of investment do you see in the infrastructure development of Maharashtra in the upcoming two years? What are the basic facilities the money will be invested in?
'Develop and build' should be the motto of Maharashtra's holistic development in years to come. Physical and social infrastructure development will be the key to boosting the state towards becoming a 1 trillion dollar economy by 2030. Political will and public investment will be the key to processing all means of infrastructure development, which will act as a development catalyst for the state economy. Such development will increase livelihood opportunities and raise per capita income. To give the state
a much needed facelift, the Maharashtra government has recently announced an investment of more than INR 6 trillion in various infrastructure projects, including airports, ports, expressways, and railway networks. This investment will open up vast untapped land for real estate development. Industry players can foray into the new micro markets and development nodes with well-planned smart city concepts.
How will this help Maharashtra to become a trillion-dollar economy?
The budget for the fiscal year 2022- 23 was Rs. 5.48 Lakh Crore which was almost 13% higher than 21-22. The state Govt also enhanced the capital expenditure by 16% with an eye on enhanced infrastructure development. Also, all the major infrastructure projects like Navi Mumbai International airport, Mumbai-Trans Harbour Link, Metro, RoRo, Coastal road, Hyperloop and bullet train, tunnels and elevated freeway corridors were embedded in the Vision 2030 mission of the state government. The given impetus by dedicated fund allocation is intended to strengthen the state's economy and assure improving ease of living index. This will help the state to earmark its 12% growth rate target and raise per capita income to 6 lacs by 2030.
The slew of infrastructure development will foster notable growth in Industry, Services and Manufacturing sectors. This will lead to attractive commercial real estate development in the state, making it more competitive and competent across India. Thus, the progressive growth of the state's GDP in the coming years will uplift the state of Maharashtra. The fabricated seamless connectivity will reinstall the business-conducive environment to attract rapid industrialisation and urbanisation. Therefore, it is a great opportunity for the state to achieve the target of a $1trillion economy.
What are the significant considerations we need to note as we scale higher and higher?
As an urban planner, architect and real estate professional, I'd insist on balanced and sustainable development of the overall state of Maharashtra rather than only thinking of a few major urban centres. I'd request the government to act on closing the skill gaps and streamlining the infrastructure and logistics aspects. In the recent Vision document by CREDAI-MCHI, which was submitted to the Government of Maharashtra, we have urged the government to consider aspects like integrated urban water authority for the entire MMR, mobile vocational education centres across the MMR and the state, integrated public transport systems in Mumbai and so on. We should also consider developing vernacular economy patterns of regions like Khandesh, Vidarbha and Konkan, a robust tourism plan for the Konkan region. The government should also consider promoting ease of doing business to attract new talents and investments in various state regions. Being a very high premium and duty charging state, we must consider lowering the same and attracting capital investments in the state.
What should be done to ensure that the entire construction phase of the high-rise and the design abides by sustainability?
Sustainability is just one aspect of the profoundly complex construction industry that grapples with increasingly stringent regulations on health and safety, and sustainability. Developers and contractors face several competing pressures as they try to control costs and maintain efficient processes with multiple suppliers and subcontractors, while also focus on reducing energy costs and carbon footprint while using energy-intensive heavy equipment. All of this is on top of trying to develop scalable, taller, greener, healthier, and more technologically advanced structures.
CREDAI-MCHI recognises the need to address these urgent and often competing issues, especially within their supply chain systems, management of complexities in construction is always challenging throughout, which is made worst by ongoing operations and maintenance of ongoing projects. According to the World Green Building Council, the construction industry is a massive consumer of raw materials and natural resources, generating an estimated 39% of the world's carbon emissions. The sector is gradually becoming more sustainable despite many conflicting goals and complex challenges. Sustainable construction practices can be progressively achieved by –
• Sustainability By Design
• Create a long-term strategy that considers sustainability in every process from start to finish.
• Ethical sourcing of materials and fair labour standards
• Source materials ethically and ensure labour standards.
• Implement sustainable design, engineering, and construction practices powered by relevant data to track, measure, and reduce emissions and waste throughout the project lifecycle.
• Use logistics processes that optimise deliveries to reduce mileage, emissions, and carbon footprint.
What critical contemporary materials and technologies play an essential role in high-rise construction?
High-rise buildings play an increasingly important role in contemporary architecture and urban development. Their rising is a necessity for the process of population growth and its concentration in cities, as well as the high demand for areas in city centres. The Global Tall Buildings Database of the CTBUH (Council on Tall Buildings and Urban Habitat) erected 1647 buildings taller than 200 m. In contemporary architecture, designers and real estate developers go beyond standard codified construction
assumptions to provide additional and unusual aesthetic experiences. Geometric shapes, impressive in terms of body and scale, are used for this purpose and the
newest material technologies, thanks to which skyscrapers can be classified as ecobuildings.
The change in the approach to building design in the last two decades is reflected in the models for shaping a sustainable, energy-saving environment. The main trend among new high-rise buildings is the striving to achieve zero energy, which is associated with Leed certification. Obtainment of Leed v4 certification at the Platinum level means the highest green building standard in the world. The awareness about zero-carbon buildings and materials is spreading and will see massive results in sustainable construction practices.
How are facades aiding the energy efficiency and aesthetics of high rises?
Façades are the critical element intended to regulate heat and light exchange. Energy performance, thermal comfort, indoor air quality, visual comfort, etc., will reduce energy load. A façade is a barrier between the internal and external environment. Proper selection of material and size of fenestrations will help provide a comfortable indoor environment with minimum energy consumption. Having green façades, choosing a material with a high U- value helps achieve a net positive energy building. Respecting local climate & conditions, the façade is driven by two factors: the space available inside and the immediate external environment.
While designing a façade, it is important to consider the environment. Therefore, the design should evaluate the environmental impact and help verandas and recessed
windows reduce direct solar heat gain and energy consumption. Also, in terms of aesthetics, a building façade is an opportunity to emphasize design. A façade can play a huge role in this as it imparts that uniqueness to the structure, which negates the detrimental effect of the building lacking something special.
19