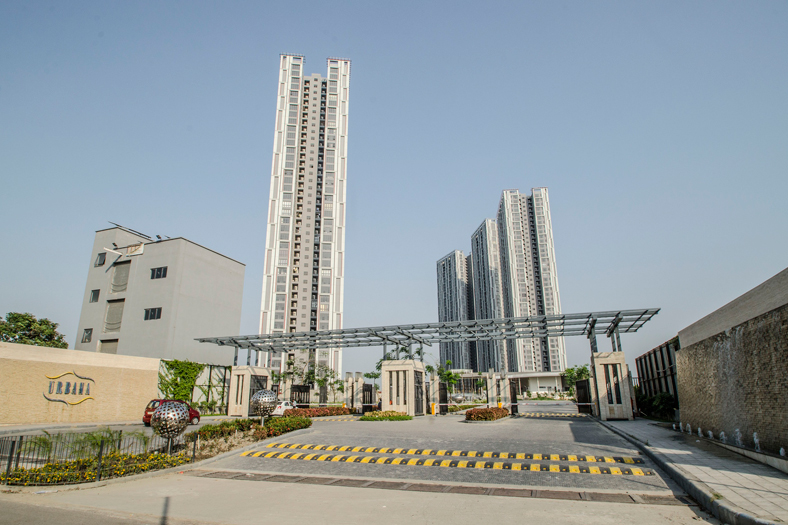 Urbana, a landmark of superior lifestyle, truly is an amalgamation of contemporary world-class living in the heart of the 'city of joy'.
Urbana, towering over Eastern Metropolitan By-pass, in progress since 2010, is the first futuristic luxury community in the city that transformed Kolkata's skyline. A vision of six stalwarts of the real estate industry: Shrachi, Emami, Sureka, MKJ (Keventers), JB and Nahata Groups in association with the Government of West Bengal developed Urbana, the tallest residential complex in Eastern India.
Built over 65 acres, Urbana is a stimulating combination of eclectic thought, structural dynamism and international parameters. Magnificent high-rise edifices with designer landscape along with 'best-in-class' lifestyle and recreational facilities make Urbana an ideal residence option. With almost 78 per cent of open area and over 2,500 full-grown trees planted at present, Urbana is set amidst lush greenery. Acres of wide open spaces and organised landscaped areas enhance the features of the home of its residents, while creating privacy and eliminating the multitude of neighbourhood noise.
Once a dream, now a reality, Urbana boasts currently of seven 40-45 storey towers, offering a sky-high view of the city on one side and sprawling farmlands on the other. A total of 1,170 apartments and 53 bungalow plots make up the project currently with spacious, luxury apartments ranging from 1,833 sq ft – 5,318 sq ft and duplex and pent-houses ranging from 4,000 sq ft – 9,000 sq ft. This swanky new dig is a level above others and indeed offers a life of opulence. Urbana resounds solitude yet is well-connected with the city, with major healthcare, educations and lifestyle facilities in close proximity.
A complete real-estate destination, Urbana, offering independent homes and lavish apartments, has created the life one always desires to possess, having features, facilities and amenities at par with international standards. Urbana is armed with an exclusive Residents' Clubhouse of 1 lac sq ft, which includes an infinity edge swimming pool (around 1,700 sq mts), a covered lap-pool, an ultramodern gym with state-of-the-art equipment, sports facilities like squash, billiards etc, a multi activity play area and toddler room and around 5,000 sq ft of restaurant and bar. More than 10 acres of open spaces leave no stone unturned to give its residents plenty options to unwind with multiple children's play area, a multi-purpose sports ground, a tennis court, vast areas of landscaped greens and a giant human-size chess board, with a water stream cascading through the central greenery.
Architects & Designers involve
Some of the luminaries who have helped set Urbana a class apart are Stephen Coats (Principal Architect, Singapore), Predrag Eror (Structural Consultant, Dubai) and Green Architects (Landscape Design Consultant, Thailand) among others.
Project Profile
VRF air-conditioning to save considerable amount of electricity, solar power for common area, waste management, water treatment plant and sewage treatment plant and rainwater harvesting are just a few amenities that lend to an eco-friendly home at Urbana. Engineering giant Larsen & Toubro has constructed the project.
Quick Facts
• 7 towers with 1,170 apartments (33,55,561 sq ft of saleable area)
• Five 45-storey towers, and two 40-storey towers
• Approximately 78 per cent open area
• Provision of over 2,500 car parking, plotted in a significant 7 lac sq ft approximated area.
Current Project Status
• All towers are complete and ready for handing over.
• 90 per cent of apartments have been sold out already.
• All 53 bungalow plots have been sold out.
For more details, visit www.urbana.co.in
41