The Greenpanel Office: Showcasing endless possibilities in wood panelling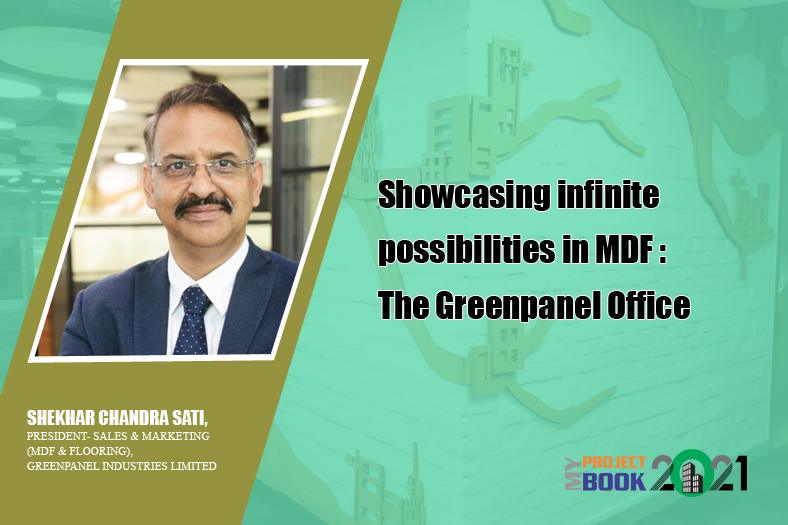 The corporate office is a mix of open plan office and cabins and meeting rooms that accommodates close to hundred employees

Greenpanel is India's largest wood panel manufacturer. Being the leader in the Interior Infrastructure space, the corporate office of Greenpanel in Gurgaon is an architecture marvel with products manufactured by the company, used in the most innovative manner. The corporate office is a mix of open plan office and cabins and meeting rooms that accommodates close to hundred employees. The office has endless applications of MDF panels and wooden flooring.The ceiling of the office is dotted with a series of suspended circular disks that are hung below the services at varying heights. A number of these disks are evenly lit LED lamps that provide the general lighting for the main office workspace. The idea of the disks evolved from the desire to represent a forest at the core of this office symbolic to the main activity of the company.
All lighting for this office has been designed specifically for this space with the collaboration of the lighting consultants, particularly in the main conference room and the offices of the senior management. The entire office space has a theme of mixing finished materials with semi-finished materials reflecting the entire process of the manufacturing process of MDF panels from fibre and other natural material. Moreover, the work-stations, cubicle partitions, cabinets and the reception desk are all made of MDF which represents the myriad applications of MDF effectively. Apart from functional applications the corporate office also displays decorative applications of MDF in the form of the wall art that runs throughout the walls of the office. The senior management cabins have been designed to accommodate state-of-the-art audio-visual equipment seamlessly. All the equipment is contained above the false ceiling, which is made of saw cut raw disused wood which has been sourced from the Greenpanel manufacturing unit. The office has been made up of recycled, disused wood and has used rapidly renewable resources for the choice of carpets. Most of the lights are LED which has significantly reduced the power consumption. Workstations have task lights. The office has a series of design elements that makes this office extremely sustainable and environmentally friendly.
The Greenpanel Corporate Office encompasses a variety of design, technological and material aspects that are often completely varied and contradictory, yet they are brought together to create a harmonious, efficient and environmentally responsible workspace.
For more information, contact:
Shekhar Chandra Sati
President- Sales & Marketing (MDF & Flooring)
Greenpanel Industries Limited
www.greenpanel.com
17