We deliver strength, speed & safety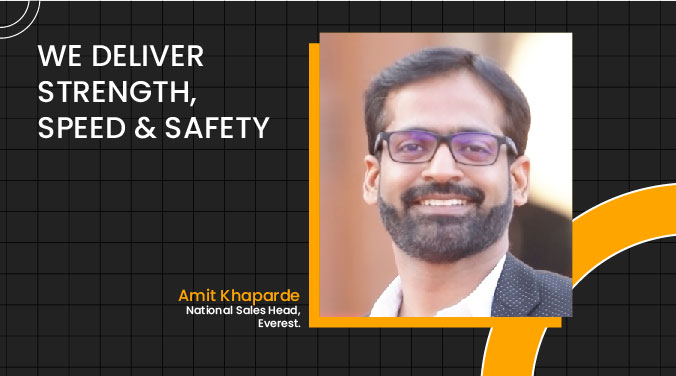 Everest provides the most comprehensive solutions that cover your needs. We are a trusted vendor for clients and consultants as we always deliver on our promise of Strength, Speed & Safety.
Everest Steel Building Solutions has a rich legacy of 88 years marked by significant milestones. We offer lifestyle experiences that are, in essence, aspirational & modern. We are driven to create more reliable, efficient, and sustainable solutions for our customers. Our cutting-edge services comprise a vast range of Solutions for Pre-Engineered Buildings, Light Guage Steel Frames, Heavy Steel infrastructure, Roofing, Wall Cladding, Façade, and False ceiling. Pre-Engineered Buildings are fast replacing conventional steel structures. PEBs are generally preferred for Warehouses, manufacturing facilities, and commercial buildings, but the growing awareness of the advantages of PEBs is revving up its demand in other segments.
The State-of-the-art design and manufacturing facilities enable us to meet the exacting demands of the ongoing developments in every sector. With proven expertise in the construction of all types of Buildings such as Factories, Warehouses, Logistics units, Process Buildings, Aircraft hangers, Airport Terminals, Metro Stations, Food & Beverage facilities, Shipyards, Exhibition Centres, Hospitals, Schools & Colleges, Showrooms, and Multi-storied Buildings, Various integrated solutions save customers time and money because of the latest technology adopted in all our processes. Everest Pre-Engineered Steel Building solutions are known for transparent, systematic, and process driven workflow. From structural design to installation, our customized ERP runs on a SAPR3 platform that enables the customer to track the status of the project at any point in time.
Smart Steel Solutions
For the emerging needs of industries for quicker solutions, we have introduced Everest Smart Steel Buildings, by which the construction of a building can be completed at a rate three times faster than that of conventional construction methods, even in seismic, hilly, coastal, and high-wind areas. Ideal for low-rise, low-span structures, Everest Smart Steel Buildings is 100% customized, aesthetic, durable, and green buildings with inbuilt stability.
Projects
Everest is an expert in providing tailored solutions for different projects. Renowned Players in various industries trust our abilities to execute their projects. One such customer is Pragati Group, marking a significant milestone in the long-term relationship between Everest and Pragati as the total area of projects delivered reaches 2.3 million Sft +. The Grade A warehouse is unique in design because of its Built-to-Suit Client requirement. The structure is situated in a location prone to heavy wind and gusts and falls in a seismically active zone.
Future of PEB
'In the modern era of construction, few factors have been guiding the growth of PEB companies. Providing sustainable and economical solutions, and timely completion of projects has been at the forefront of our services, which has been appreciated by top Blue Chip companies of India by awarding repeat orders as a testimony of our abilities.' says Amit Khaparde.
59