42mm Architecture's exquisite brick wall designs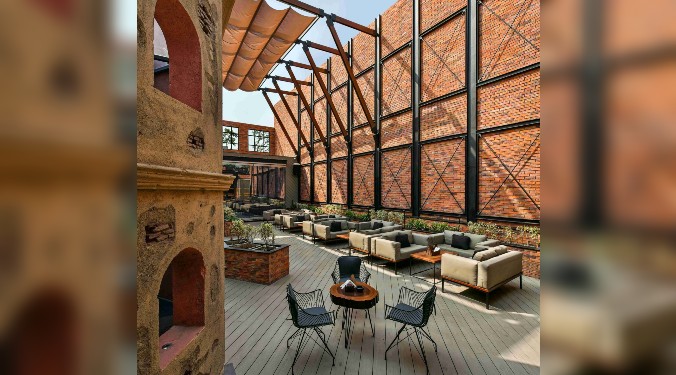 New Delhi-based firm 42mm Architecture unveils a unique contemporary space that inspires and impresses with its creatively conceived façade.
42MM Architecture is proud to introduce its remarkable brick wall designs, tailored to transform commercial spaces into captivating and elegant environments. Brick walls are a timeless design element known for their durability, versatility, and ability to enhance any space. With 42MM Architecture's expertise, these classic features are elevated to new heights, adding sophistication and character to commercial establishments such as bars, restaurants, hotels, and retail spaces.
The carefully chosen blue booths showcased in the images are a perfect complement, adding a touch of modernity to the overall design. The incorporation of light fixtures in the hallway further enhances the atmosphere. Lighting plays a crucial role in showcasing the textures and architectural elements of the brick wall.
The brick wall creates a captivating focal point in the hallway, evoking a sense of character and charm. It carries a rustic and industrial vibe, often associated with exposed brick aesthetics. The selection of artwork adorning the brick walls provides a creative juxtaposition against the industrial backdrop, amplifying the overall aesthetic appeal. Each piece, from abstract paintings to contemporary sculptures, has been thoughtfully chosen to inspire conversation and stimulate the senses.
For more info visit : https://www.42mm.co.in/
59