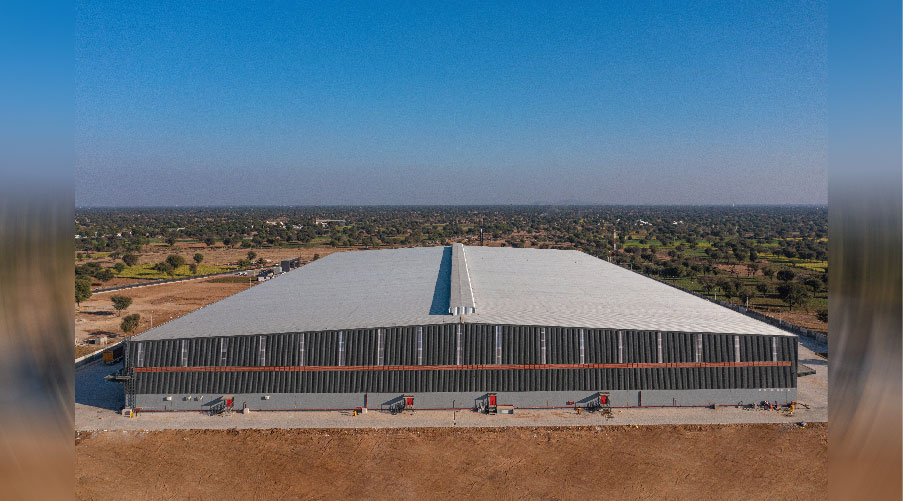 One of the many large projects executed by Everest is a warehouse building for Nahar Industrial Enterprises Ltd. 
Nahar Industrial Enterprises Ltd. is a prominent textile manufacturer in the country, boasting multiple businesses. The company planned to construct a state-of-the-art warehouse facility for its warehouse business arm. The building is a prime example of a perfectly executed warehouse, set to be utilised by India's leading e-commerce giant as a distribution centre.
GEOMETRY:
The warehouse spans an impressive 3.5 lakh sq. ft., with a width exceeding 130 m. Unobstructed spaces were crucial for the smooth movement of forklifts and the transportation of goods. Everest successfully designed a multi-span frame with optimal column spacing, meeting the layout requirements. Jack Portals and Jack beams were strategically incorporated to minimise interior columns, ensuring unhindered material movement within the building.
ARCHITECTURAL FEATURES:
The building features a mezzanine area running along its length. The flooring has concrete over the deck sheet to accommodate human and material loads. Shear studs with non-composite joists were utilised for lighter sections.
Leakage prevention was a top priority for the customer, leading Everest to employ their latest product offering, the SS470 Standing Seam roofing profile. This leakproof roof ensures water tightness and extends the overall roof life. Taking into account site rainfall intensity data, adequate water drainage systems were meticulously designed to provide seamless operations for the end users. Roof monitors and S-type louvres were installed to ensure proper ventilation and meet the required air changes.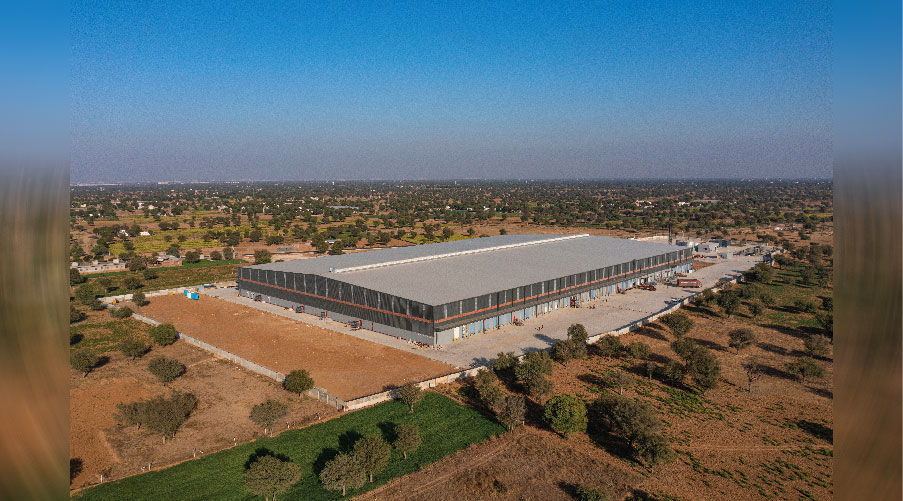 UNIQUENESS:
The building incorporates provisions for future expansion at the end wall, necessitating careful design considerations for the end wall columns and secondary systems, including wall cladding. The customer's requirement to remove wall cladding and columns for expansion and increased space prompted meticulous planning. With a length exceeding 200 m, the structure was designed to accommodate thermal expansion.
The building was designed to house an array of pipe racks, sprinkler systems, and cable trays. Adequate design precautions were taken, incorporating brackets and slotted holes to allow for the suspension of these structures.
CHALLENGES:
The project presented two crucial aspects that concerned all stakeholders: providing economical solutions without compromising design requirements and material specifications and adhering to a strict construction timeline. With the project's short timeline, the design and release of drawings had to be meticulously planned and executed. Material dispatch followed the erection sequence, demanding accurate planning.
To ensure timely completion, Everest employed two Standing Seam roll formers in tandem, enabling rapid roof sheet laying while strictly adhering to safety protocols. Any error in the process would have jeopardised the company's plans to commence operations on time.
IN CONCLUSION:
Economy and timeline were key factors, and the team at Everest Industries adeptly managed the situation by conducting multiple meetings and closely monitoring day-by-day progress, resulting in a positive outcome for all stakeholders involved in the project. 
for more info visit : https://www.everestind.com/
71