Green Pre-Engineered Buildings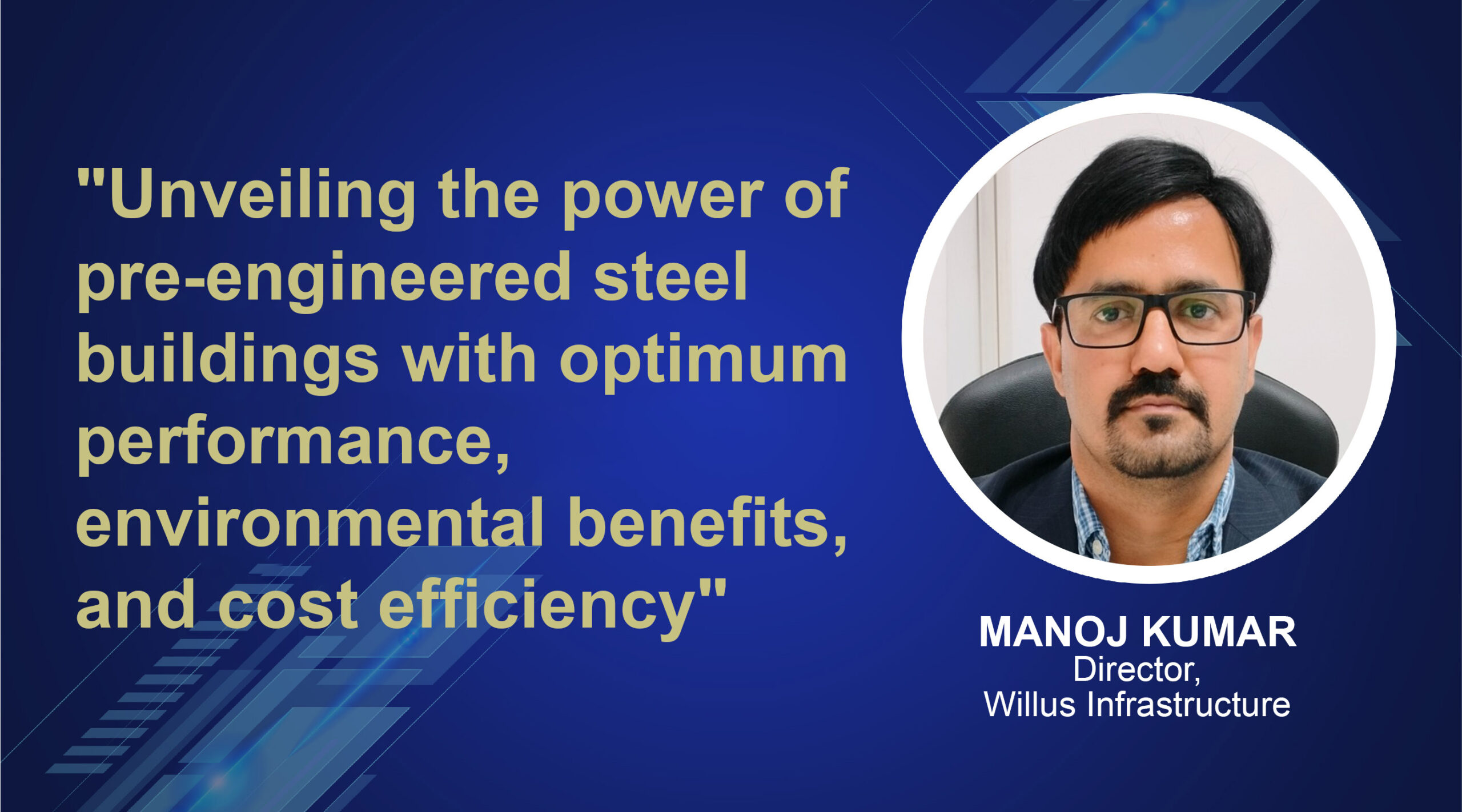 "Unveiling the power of pre-engineered steel buildings with optimum performance, environmental benefits, and cost efficiency" Manoj Kumar, Director of Willus Infrastructure
Manoj Kumar, Director of Willus Infrastructure, speaks about the aesthetics of pre-engineered structures and their sustainable aspects.
 How do pre-engineered building design engineers and experts prioritise sustainability during the initial stages?
Sustainable construction with high-performance infrastructure has been the priority for all upcoming developments. The induction of modern technology in the steel manufacturing industry has enabled designers to gain desired control over the steel section shapes and profiles, resulting in efficient use of construction materials.
Pre-engineered steel buildings are the most modern technology that utilises steel sections tailored and profiled based on the required loading effects. The performance of PEB steel frames, in terms of the optimum use of steel sections and its comparison with conventional steel buildings, was analysed during the design phase using Steel Construction design specifications by the design experts. The frames were compared in terms of frame weights, lateral and vertical deflection. The results have indicated that PEB steel frames are the most economical solution due to the lesser construction weight and have shown better performance than conventional construction. These structures offer a range of environmental benefits. Pre-engineered buildings are fundamentally green products with lower environmental impact than traditional brick and stone construction.
How can pre-engineered structures' aesthetics align with a project's desired architectural vision and style?
The flexibility of pre-engineered building design allows them to be designed and manufactured anywhere, from warehouses, factories, aircraft hangars, commercial facilities, and educational facilities to multi storey buildings, providing stylish and practical solutions. These buildings have become a precious option since, in addition to versatility, they can provide benefits like energy efficiency.
This is a principal aspect of the design phase. The appeal of a pre-engineered building can have many of the same flair and values as a traditional design, with diverse styles and finishes to suit your brand or match existing structures for a unified look. The different wall systems can be easily integrated with the structure, providing an architecturally pleasing appearance with exceptional energy efficiency. Buildings can be supplied with various types of fascias, canopies, and curved eaves and are designed to receive precast concrete wall panels, curtain walls, block walls, and other wall systems while maintaining an extremely pleasing look.
Can you explain the sustainable aspects of PEB and how it aligns with green building principles?
A building material is considered green if its design and construction significantly reduce or eliminate the negative impact of buildings on the environment and its occupants. Pre-engineered construction is inherently green and has a comparatively smaller impact on the environment than conventional brick-and-mortar structures. The energy-efficient methods used in producing the steel for pre-engineered structures, along with the high recycled content, help substantially reduce greenhouse gas emissions. It is indeed an environmentally friendly and energy-efficient construction technology.
for more info visit : https://willusinfra.com/ 
137