Access equipment for bridge maintenance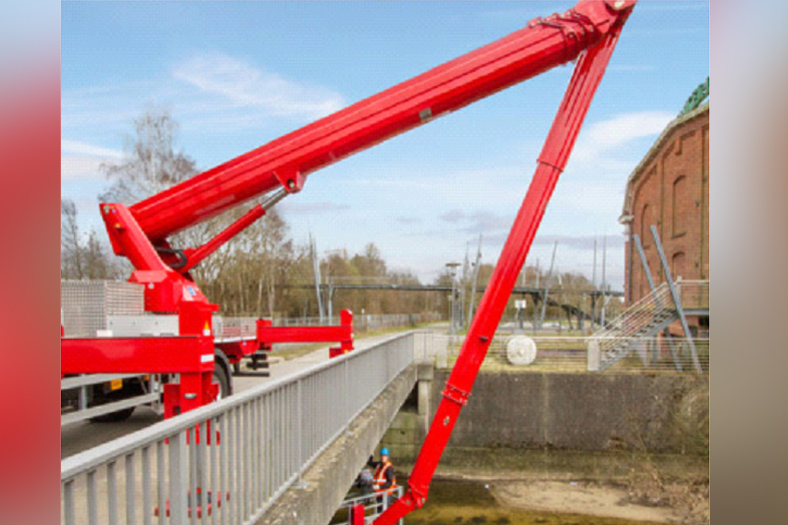 An in-depth analysis on the access equipments for bridge maintenance
There are thousands of old bridges in the country many of which are in decaying state needing immediate repairs. Therefore, special purpose vehicle in the form of access equipment can only be termed as the need of the hour.
Access equipment are among the highest safety equipment. These are available both in vertical and articulated forms. A normal height of access equipment is from 5 to 50 metres and up to these heights equipment is easily available with the Indian rental companies. In overseas countries, access equipment is mostly used in bridge inspection by project and safety teams. For the painting and maintenance of the bridges, these machines are much safe and productive.
Role of advanced access equipment for bridge maintenance
Cavas Dumasia, Vice-President, Sales & Marketing-Material Handling Division, Godrej & Boyce Manufacturing Company Ltd says, "For the vertical access, the company offers rough terrain scissor lift for bridge maintenance (painting, civil work, electrical work etc). However to reach remote access, we can offer Boom lifts where vertical reach & horizontal reach is achieved by Single Machine. We also provide special attachment to work under bridge for maintenance."
Sunil Malhotra, Managing Director, Appletree Building Maintenance Pvt Ltd says, "There are many kinds of access equipment that can be used depending on the complexity of the structure. The various methods used for maintenance and inspection would be fixed motorised gantries, fixed manually operated gantries, and fixed suspended platforms. These access systems are fixed on the bridge structure for rotational inspection and maintenance. Other than these there is temporary access systems which can be called upon when required, these include articulated aerial platforms, telescopic aerial platforms."
A few advanced access equipment
Rough terrain diesel scissor lift from Godrej
Godrej offers wide range of products for the application like rough terrain diesel scissor lifts up to 19 mtrs and battery operated self propelled scissor lifts with lift heights up to 16 metres. It also offers articulated boom lift up to 18 mtrs and Telescopic boom lift up to 40 mtrs.
MBIU from Gemini
Gemini Power Hydraulics Pvt Ltd's GINJOE MBIU (Mobile Bridge Inspection Unit) is crucial for carrying out bridge inspection and maintenance tasks. It is versatile and a competent machine built on the reliable TATA PRIMA 3123 or equal cabin chassis, without the need being for modifying the chassis at all. It is designed to provide economic system of access to those structures, where setting of scaffolding is not possible or not economical, in a safe and quick manner. The unit takes only a few minutes to launch, from the rest position to the work position, without a personnel on the board. After primary launching manoeuvers are completed, operators can easily descend on the platform through the provided protected access.
Fixed Motorised Gantry System from Appletree
Appletree has a state-of-the-art workshop at Manesar where it manufactures access equipment systems. To add to this, the company has designers who have more than 10 years of experience in this field and are more than capable of designing customised solutions for each and every structure. "The company's most significant offering in the field of inspection and maintenance of bridges is the fixed motorised gantry system which 100 per cent made at our workshop at Manesar and is automatic and mechanical to a large extent that means the human interface is very less compared to other systems.
50