Adaptive reuse of spaces in a simple, warm, elegant way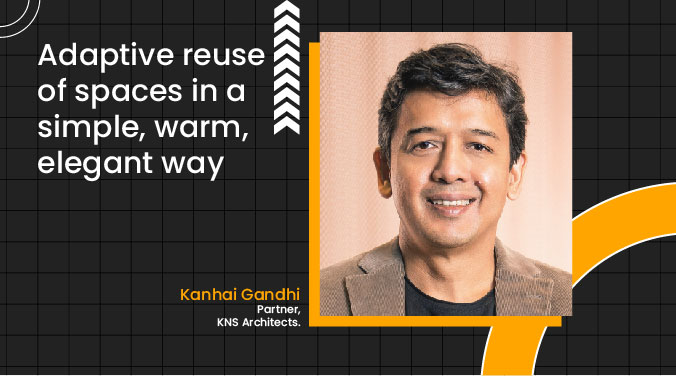 Kanhai Gandhi, Partner, KNS Architects, presents Upcycled House located in Amby valley covering an area of 5000 sqft aiming at exposing potential carbon-footprint reductions through the use of recycled and upcycled building materials.
Why did you choose to specialise in this particular typology?
The firm offers bespoke residential design solutions that incorporate micro and macro contextual elements and coherent spatial planning, with longstanding KNS trademarks of conscious use of resources and sustainable design.
What was the initial idea for the Upcycled House? How is this project influencing the urban and social environment?
Amid many houses, a beautiful bungalow of about 5,000 sq. ft was redesigned and refurbished to its best by KNS Architects on a plot of 20,000 sq. ft. Being a leading developer's space, the house was detailed with upcycled materials. The developer had tons of material available from different sites. The challenge was to optimise the use of these materials. Upcycled house is a project to expose potential carbon-footprint reductions through recycled and upcycled building materials. The house was designed with a muted colour palate and earthy tones that strikes a balance with the outside.
Could you briefly describe the typology of this project and the challenges you faced while designing it?
The idea was to connect the interior with nature of the house. It was a dilapidated structure that was redesigned with a contemporary look and a few modifications. Being a
renowned developer's second home, he wanted the design to help him connect to nature. Apart from the things mentioned above, the client wanted a cost effective house. We constantly worked on ways to make the home feel more expansive and create spaces that organically encourage flow between the different zones. We could largely
do that by forging a strong connection between the indoors and outdoors.
Technology and innovative ideas are a challenge when integrating into your work. How will the role of the architect change to take advantage of these new technologies?
Digitalisation has changed a lot of things over the last few decades, and its influence can also be seen in our homes. Everything is digitalised, from the functioning of air conditioners to a boilers. It adds to the user's convenience; hence technology has become an integral part of any luxury home. The use of mood lighting, with light settings depending on the hour of the day, has allowed us to customise it with the click of a button. Luxury technology with the changing times and trends.
What is the definition of sustainability for this project?
In the upcycled house, designing to keep the look and feel in mind and then seeing the product's selection process on how they could be adaptively reused in the different
spaces—was a defining factor. Upcycled house is a project to reduce carbon footprint using recycled and upcycled building materials.
13