Adoption of Net Zero Carbon concepts at the project building level is important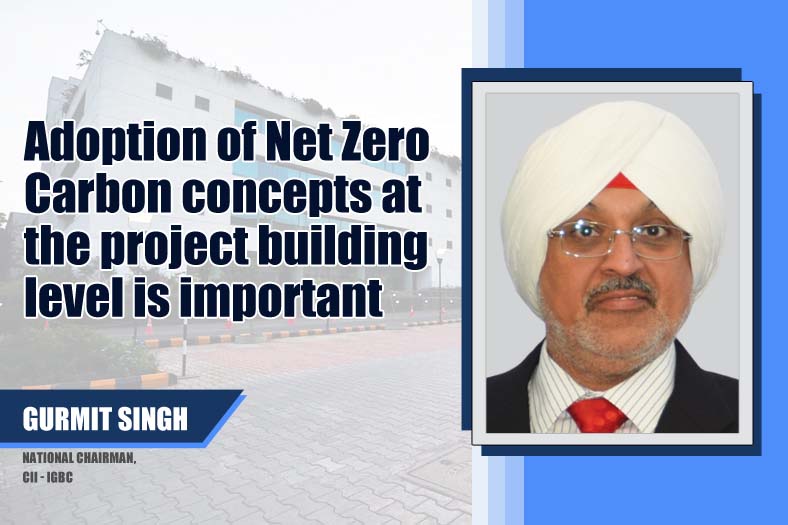 To initiate the adoption of these concepts by organisations, a guidance framework has been developed by IGBC says Gurmit Singh, National Chairman, CII – IGBC
Why is net zero building a big deal in contemporary times?
Climate change is posing an existential crisis for humanity. With rising global temperatures, melting ice caps, rising sea levels and man induced natural calamities, the effects of climate change are now more evident than ever before.
India is witnessing a tremendous growth in the construction and infrastructure development sector. Over the years, this sector has been highly demanding of resources such as energy and water and has also been a significant contributor to GHG emissions and global warming. To address this alarming situation, the building sector of our country has an excellent opportunity to take the leadership role for accelerating the uptake of Net Zero. The buildings are required to be designed, constructed and operated in such a way that they are self-sufficient and minimally dependent on external sources in terms of resource consumption. In other terms, such buildings can also be referred to as 'Net Zero' buildings. 
What are some of the smart ways to make buildings net zero carbon buildings?
To initiate the adoption of Net Zero Carbon concepts by the organisations at their building project level, a guidance framework has been developed by IGBC which would support the organisations to initiate GHG accounting and categorise the emissions under Scope 1, 2 & 3 at project level. Based on the inventorisation and emission intensity, appropriate emission reduction measures and abatement strategies can be developed by the organisations to ensure offset of carbon emissions.
Once the inventory of GHG emissions is completed, the organisations / projects should develop a road map with short & long-term abatement strategies to fully decarbonise. Few of the strategies to abate the emissions are: 
Maximising energy efficiency through passive architecture elements and latest technologies

Maximising deployment of on-site renewables and use of off-site green power

Maximising water conservation through use of efficient plumbing fixtures & systems

Reduction in specific waste generation 

Promoting low carbon building materials & construction technologies

Embracing clean, safe and connected mobility (e.g., E-vehicles)

Reducing emissions due to travel – Work from home, Virtual events
After reducing the emission intensity, the projects need to adopt measures to abate 100% of the carbon emissions through:
Creating carbon sinks and carbon capture storage systems. E.g.: Mass plantation – A fully grown tree captures ~20 kg of CO2 / year

Investments in off-site renewables

Purchase of carbon credits, green bonds, energy saving certificates (under PAT Scheme)
What kind of products can help a building become a net zero carbon building?
The inventory of GHG emissions is carried out based on the scope and the priority of Buildings. The
emissions are usually based on the Life Cycle Analysis (LCA) of products (embodied carbon) and whole building (operational carbon). The analysis is performed by use of software and predefined data sets of material & fuel emissions.
Suggested approach for inventorisation during different stages of the project is as below:
Design Phase: consider products and materials having lower embodied carbon for construction. The embodied carbon details need to be sourced from the manufacturers/suppliers based on the life cycle analysis of the products and materials.

Construction Stage: inventorise the embodied carbon emissions based on the products and materials quantity that are used and embodied carbon details sourced from the manufacturers. To start with, projects may consider major products and materials such as Cement, Concrete, Steel, Aluminium, Glass, Tiles, etc., for accounting the embodied carbon emissions.

Operation Stage: Projects that are in operation for a minimum of one year, shall inventories the emissions during building operations.
Many innovative and sustainable building materials, products and technologies have been introduced to the building sector by IGBC, since 2001. Some of these include high efficiency chillers, high performance glass, large scale use of fly ash blocks, solar photovoltaic panels, and many others. In this direction, CII, the parent body of IGBC, has launched the 'GreenPro Rating System', under the stewardship of the Green Product and Material Council, for certification of green building products.
Can you cite some well-known examples of net zero buildings which have been designed in India and abroad?
So far, IGBC has rated Net Zero Energy Building projects. Few of such projects are as follows:
CII – Sohrabji Godrej Green Business Centre, Hyderabad (HQ of IGBC) – Platinum rated by IGBC

ICICI Rural Self Employment Training Institute, Udaipur – IGBC Platinum rated

Capgemini EPIP Campus, Bengaluru – IGBC Platinum rated

Globicon Terminals, Mumbai – IGBC Platinum rated

Godrej Plant 13 Annexe Building, Vikhroli, Mumbai – IGBC Certified

Bhawar Zero Energy Home, Chennai – IGBC Platinum rated
22