Smart parking solution for new age cities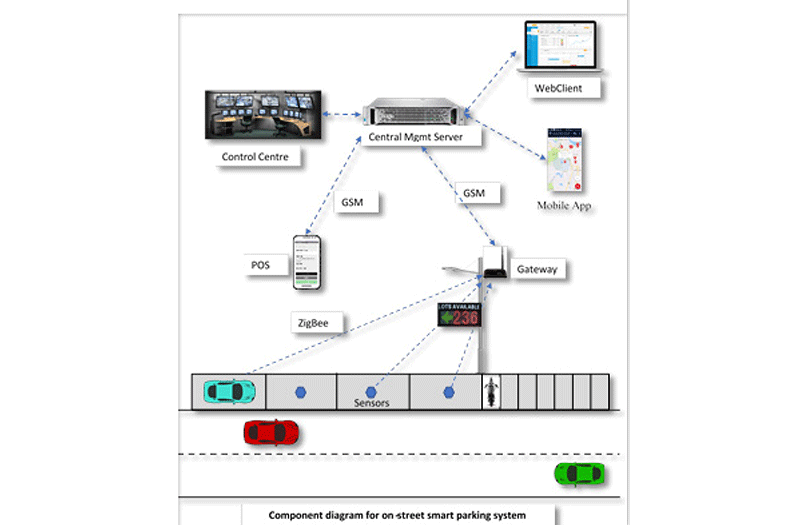 As we embrace a smart way of living, the parking solutions too need to be smarter too.
iRam Technologies Pvt Ltd provides the tools necessary to change motorist behaviour that helps to optimize the utilization of parking inventory and productivity of operations. Most municipal parking spaces or commercial buildings have enough parking inventory based on various studies. However due to lack of availability information, motorists tend to park in wrong manner or in non-parking or unauthorised areas. Most of the time this leads to obstruction of free passage for pedestrians, cyclists, public transport, and Users or inevitable traffic hotspots.
Our Smart Parking solution improves parking space utilization by guiding the users to the nearest available parking slot. It does this with the help of sensors in the parking lots that monitor the occupancy of the parking lots. It then relays this information to the users through mobile app and overhead display boards. In real time, it allows users to view, on a map, all the parking spaces that are available and their occupancy status. It also allows the users to pre-book the available slot and make the parking payments through the mobile app.
Above Parking approach leads to invaluable citizen convenience in terms of ease of parking and decongestion of roads and ensures that personal motor vehicle users compensate the city for the use of valuable land on which they park their vehicles. Optimisation of Parking inventory and digital payments invariably boosts revenues of Municipal Corporation which adopts Smart Parking Technology.
Our solution is based on an integrated & modular IoT architecture that allows multiple parking areas to be accessed by the commuters and monitored and controlled from Integrated City Operation & Management Centre (ICOMC). It supports wide range of parking areas like Indoor Parking Lots (MLCP), Off-Street Parking Lots, On Street Parking Lots (with and without limited timings and/or limited days restrictions), 3rd Party / Private Parking Lots, On-demand Temporary Parking Lots etc. It can support multiple types of vehicles like cars, bikes and commercial transport vehicles.
Our Smart Parking System supports wide range of parking reservations like Online Reservation through computer browser or mobile app, Monthly Passes, and Walk-in Booking. Through an integrated payment gateway features it also supports wide range of online and Mobile POS Based payment options through credit/debit cards, e-wallets, NFC, Pre-Paid Cards, and Cash. If required a discount/cash back can also be given for cashless payments. Our system allows both static and dynamic pricing models and the pricing can be set based on type of vehicle, type of parking area, holidays/working days, peak hours, duration of parking, category of passes etc. In order to prevent any fraud, the system allows only government officials to set the rates and the rates are displayed in the Information Display Panels. Its other fraud prevention features include anti-pass back, fake tickets/passes detection, ticketing bye-pass detection etc.
It provides wide range of real-time MIS reports and analytics to know various demand and revenue trends. Its mobile app is very user friendly and easy to use for finding the nearest parking area, and then guiding to the empty parking place and finally making mobile payment.
Our Smart Parking System consists of Parking Management System (PMS), Parking Guidance System (PGS) and Central Management System (CMS). The PMS is different for off-street parking and on-street parking. For indoor parking, the PMS consists of Boom Barriers at Entry & Entry, ANPR Camera to record the vehicle license number and Mobile POS station. For on-road parking, the PMS consists of a Mobile POS station. The PGS consists of parking sensors for 2 & 4 wheelers, LED displays to show availability and Web-Portal & Mobile App to guide commuters to the free parking place using map-based guidance system. The CMS consists of the hardware servers to host the parking management software, storage servers to host all Parking and surveillance camera data, network switches, and management stations for real-time monitoring and administration of all the parking lots.
Additionally, iRAM promotes minimal use of technology for lower capex investments. We are fully geared to make use of pervasiveness of Smartphone's, Mobile applications and digital payments. Our smartphone based Mobile POS systems at parking facilities can easily replace expensive auto pay meters, ticket dispensers, entry/exit stations. MPOS and citizen mobile application will also promote environment friendliness by reducing and completely wiping out use of consumables like Paper tickets etc.
For more information, contact:
Udaya Bhaskar Rao Abburu,CEO & Managing Director,iRam Technologies
22