BKT expands rubber track portfolios to cater to off-road market demands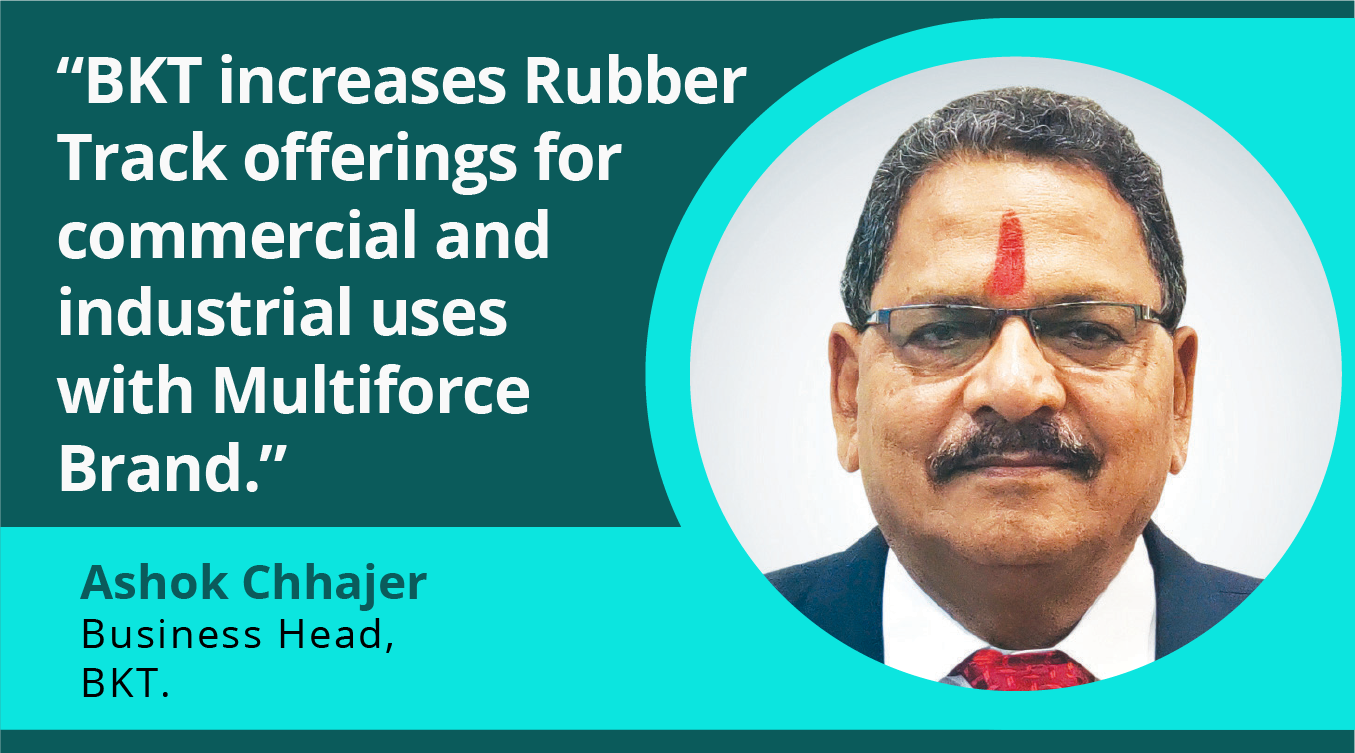 In an exclusive interaction at the BKT Bhuj plant visit, Ashok Chhajar, Business Head at BKT, talks about the latest innovations and quality check procedures.
What led to BKT's expansion of its rubber track portfolio as Multiforce, and how does this benefit the industrial and construction equipment market?
BKT has recently expanded its rubber track portfolio to include industrial and construction applications under the Multiforce. This expansion aimed to cater to the needs of their off-road applications, including agriculture, industrial, and construction, for their OEM customers and distributors. BKT had been receiving customer inquiries about developing rubber tracks for industrial and construction equipment. Finally, the management entered this segment to complete their product range. They started with a limited range for agriculture and then gradually expanded to include industrial, construction, and large harvesters.
The key benefit of using rubber tracks in industrial applications is that these types of equipment do not operate on tires. Rubber tracks in their product range allow BKT to cater to this market segment. For example, in India, there are different paddling operations for rice harvesters, such as full and partial paddling. In regions like Tamil Nadu, Andhra, and Odessa, where full paddling is common, rubber tracks are necessary for efficient and speedy equipment operation. BKT developed rubber tracks specifically for the Indian market and expanded their range based on their experience, now offering a wide range for industrial, construction, and large horsepower applications.
What are the features and benefits of BKT's new industrial rubber track series, MULTIFORCE BK T91, designed for compact loaders in material handling applications?
MULTIFORCE BK T91 is BKT's new industrial rubber track series for compact loaders (CTL) in material handling applications. The tread is made of a high-performance compound that ensures maximum resistance against cuts, tears, and abrasion. The aggressive, C-shaped tread pattern provides superior handling and excellent traction on all terrains. The track is suitable for various surfaces on and off the road, such as clay, mud, asphalt, gravel, and sand. It also provides optimal flotation on hills or slopes.
MULTIFORCE BK T91 features a dual forged metal core for strength and excellent durability. In addition, the endless belting design of high-tensile steel cords ensures better dimensional stability and excellent performance in extreme conditions. The new track is a reliable partner that ensures a long product life even under extreme service conditions.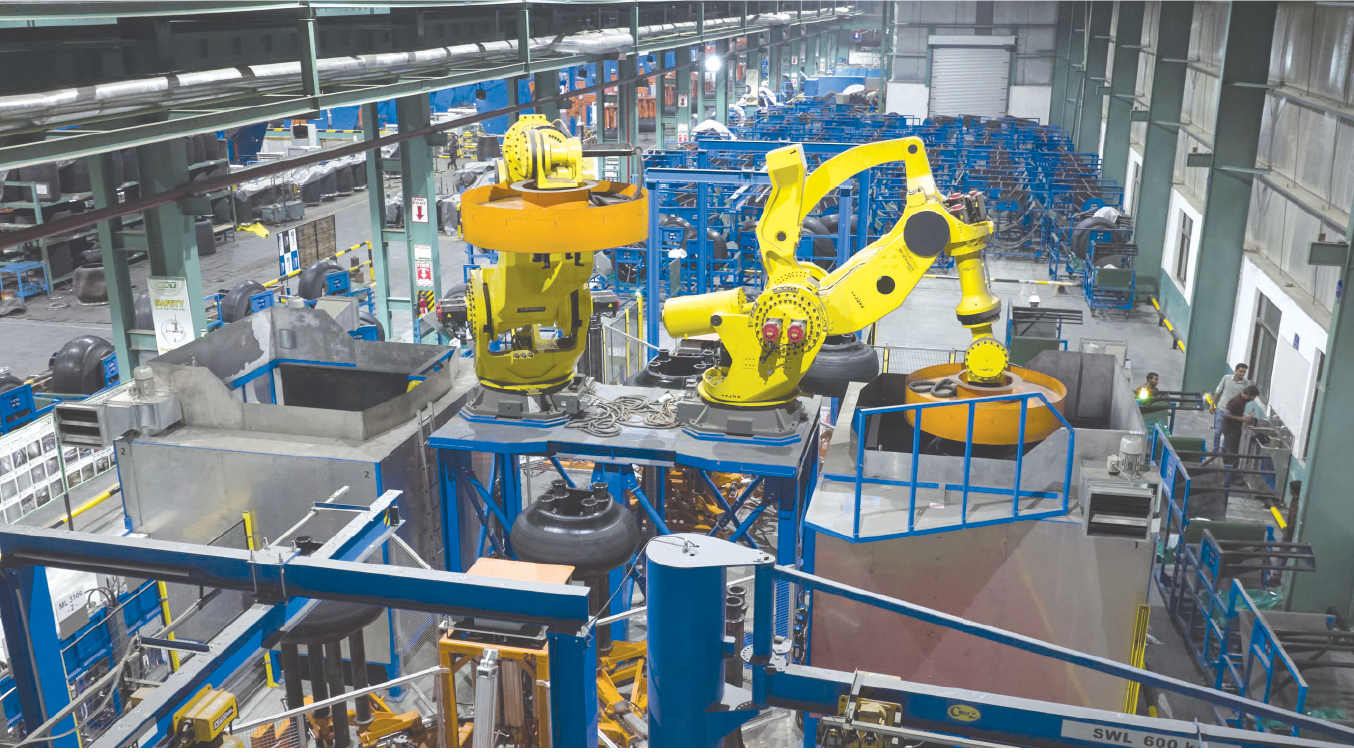 MULTIFORCE BK T91 and AGRIFORCE BK T71, how do they differ in their suitability for specific applications?
BKT provides two rubber track series, MULTIFORCE BK T91 and AGRIFORCE BK T71, tailored for different applications. The MULTIFORCE BK T91 is an industrial rubber track suitable for compact track loaders utilised in material handling operations. Its C-shaped, aggressive tread pattern ensures superior handling and traction on various terrains, while its high-performance compound tread material provides maximum resistance against cuts, tears, and abrasion. The track's dual forged metal core and high-tensile steel cords give it greater dimensional stability and performance in extreme conditions, making it ideal for use in harsh service environments with a long-lasting product life.
Meanwhile, the AGRIFORCE BK T71 is designed for high-power tractors used in general tillage and row crop applications. Its optimised tread pattern ensures exceptional traction and ride comfort, while its positive drive system's drive lugs have an optimised shape for flexibility. The track carcass's four layers of high-tensile steel cords reinforce its dimensional stability and flexibility, resulting in exceptional durability in all seasons. This rubber track series does not include a metal core, resulting in greater flexibility, particularly on soft and wet soils. It is intended to improve performance and productivity through higher speeds on the field and improved fuel efficiency. It is ideal for general tillage and row crop applications.
What are some advanced technologies and manufacturing practices being implemented in tire manufacturing plants to improve efficiency and reduce waste?
Robotic ply-cutting technology has become more prevalent in tire manufacturing plants. Robotic ply cutting allows for precise and efficient cutting of tire plies, reducing waste and improving productivity. Robotic painting technology is being utilised for both inside and outside tyre painting. Robotic painting ensures consistent paint application, reduces overspray and improves the overall quality of the finished tire. Bladder turn-up systems are being installed and expanded in tire manufacturing plants. These systems collect and recycle excess materials generated during manufacturing, reducing waste and optimising material usage. The latest manufacturing practices in tire manufacturing plants focus on leveraging advanced technologies, automation, data analytics, and continuous improvement initiatives to optimise production processes, reduce waste, improve quality, and enhance overall efficiency.
What is the unique feature of BKT's endurance test in India, and how does it help replicate real-world usage conditions?
BKT provides a unique endurance test in India with a five-meter machine that no other company offers for giants. The test requires the tire to run for at least 48 hours non-stop at a particular load and speed, with the standard operating procedures calling for up to 120 hours of testing. The prolonged duration is due to the heat build-up from the friction between the drum and tire at specific load and speed levels. The aim is to replicate continuous usage over five or six days, testing the product's reliability in harsh Indian terrains that can cause tire failure. After the test, we carefully monitor and analyse the tire for any damage, tears or failures and conduct a final check to ensure it's market-ready. The tire testing procedures adhere to international standards for accuracy and reliability.
 For more info visit : https://www.bkt-tires.com/
20