Building envelopes is critical in energy efficiency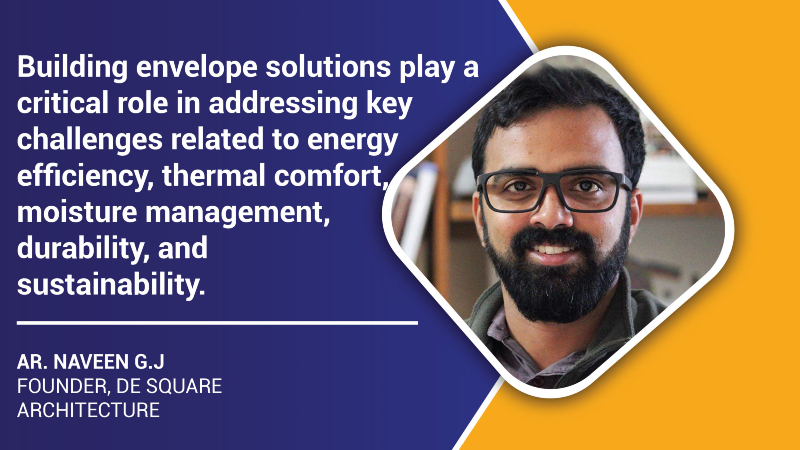 Ar. Naveen G.J, Founder of De Square Architects, emphasises the latest advancements and technologies in building envelope solutions.
"Building envelope solutions play a critical role in addressing key challenges related to energy efficiency, thermal comfort, moisture management, durability, and sustainability."
How can architects and builders effectively incorporate passive design strategies into envelope designs?
Building envelopes and sustainability go hand in hand. By designing and constructing a sustainable envelope, we can minimise the environmental impact of buildings, reduce energy consumption, and create healthier and more comfortable indoor environments. The building envelope design should consider the local climate and site conditions. By optimising the building's orientation, shading, and ventilation, passive design strategies can be employed to minimise the reliance on mechanical systems for heating and cooling. This reduces energy consumption and enhances the building's resilience to climate change.
How does De Square Architects approach the development of innovative building envelope solutions to address the multiple challenges of energy efficiency and thermal comfort?
Building envelope solutions are critical in addressing key energy efficiency, thermal comfort, moisture management, durability, and sustainability challenges. We at De Square Architects are dedicated to developing innovative solutions that tackle these challenges head-on, ensuring buildings are efficient and durable and provide a comfortable and sustainable environment for occupants. By continually pushing the boundaries of building envelope technology, we strive to contribute to advancing the construction industry as a whole.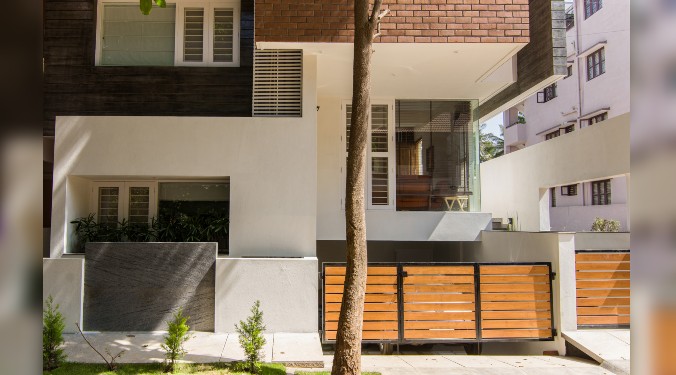 How does Abhilash Home project design contribute to the overall aesthetics and functionality of the space?
In this regard, we want to draw your attention to our most recent project, Abhilash Home. Spread across 1200sqft, this home, located in Bangalore, India and designed by De Square Architects, has been segregated into levels. Located in the centre of the building, the staircase has been the most striking feature, dividing the structure into two halves and levels. The landings lead to different levels of the house, creating a sense of volume inside. The level difference also creates an interesting scenario for the elevation where the rooms appear to be stacked boxes.
How do you contribute to enhancing energy efficiency in buildings?
Building envelope performance often plays a crucial role in energy conservation. The building envelope is the physical barrier between the conditioned and outdoor environments. Insulation materials such as fibreglass, cellulose, or foam are commonly used to improve the thermal resistance of the building envelope. Windows and doors are also critical components of the building envelope. They allow natural light to enter the building and provide views to the outside, but they can also be sources of heat gain or loss. Energy-efficient windows and doors are designed to minimise heat transfer through low-emissivity coatings, multiple glazing layers, and insulated frames.
For more info visit : https://desquare.net/
38