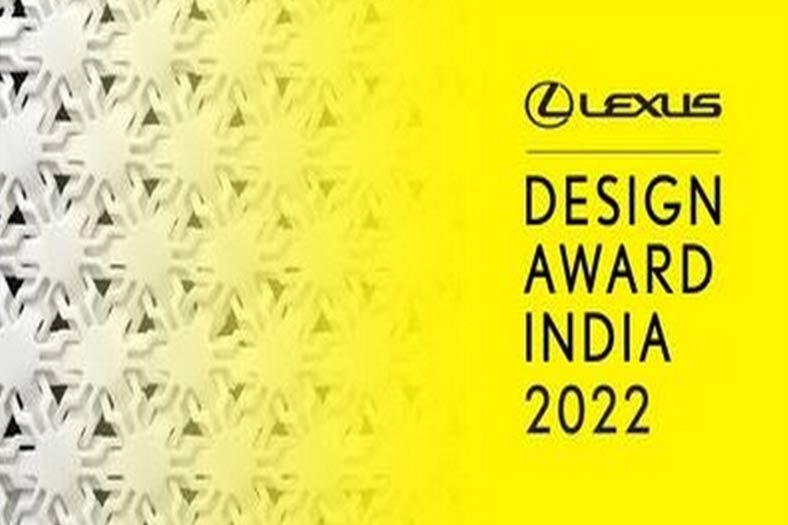 The competition offers acknowledgement and elevation to winners from 10 different categories of design
After four successful editions, Lexus India today announced the fifth edition of its prestigious Lexus Design Award India 2022 (LDAI), marking their footprint in the design space by providing designers a stage to showcase their creativity and talent. Entries will be accepted from 23rd July 2021 to 15th September 2021.
The awards stand on the guiding principle of 'Design for a Better Tomorrow' and entrants are required to demonstrate how their ideas follow this principle. Entrants will have to ideate and express their originality using the three key principles of the Lexus brand – Anticipate, Innovate and Captivate. Along with these, a new criterion has been added this year, where designers will also have to demonstrate how their entries bring happiness to people around the world. Their designs should anticipate future challenges faced by society and imagine engaging and innovative ways to contribute to a sustainable future, while seamlessly enhancing the happiness of all.
Commenting on the commencement of the Lexus Design Award India 2022, P.B. Venugopal, President, Lexus India, said, "We are proud to announce the Call for Entries for the fifth edition of the Lexus Design Award India as it provides a great platform for designers to showcase their talents through creativity and originality. We are delighted to extend our Lexus brand to such a space that caters to innovation and identification of solutions for a better, more sustainable tomorrow for our country. We are confident in the abilities of Indian designers and look forward to seeing what our talented participants have to offer this year."
Entries at the Lexus Design Award India 2022 will be judged across 10 categories on the following:
A. Established Work (Client/ Self-Commissioned)
1. Product Design
2. Furniture Design
3. Textile Design
4. Craft Design
5. Design Thinking
6. Public Utility Design
7. Lifestyle Accessory Design
8. Design for Social Impact
B. Conceptual Work
1. Student Category
2. Open Category
The finalists from the Conceptual Work Category will receive an exclusive mentorship program led by stalwarts of the design industry. The program will allow participants to get valuable recommendations and ideas from experts, which can greatly influence to refine their projects.
Winners from the 10 categories will be awarded with the coveted Lexus Design Award India trophy designed by Michael Foley, the renowned designer who has set a benchmark in the design space and was on the panel of mentors for LDAI 2021. The winning designs will be promoted on Lexus India's digital space along with Guest Experience Centers across the country. Entries from the 2 Conceptual Work categories will also be considered for the Lexus Design Award 2022, the international Design Award held worldwide by Lexus International.
This year will see the return of 3 special awards following a great response in its introduction in 2021; the People's Choice, Lexus Guests' Choice and Media Choice awards, which will be voted on by members of the public, Lexus guests and the media fraternity respectively.
The winners of LDAI 2022 will be announced in early 2022. The judges & mentors for the award will encompass some of the celebrated and noted designers from India and will be announced in October 2021.
Applications and entries for the Lexus Design Award India are now open for submissions with the deadline for the entries being 15th September 2021.
For more information, visit: www.lexusdesign.in
19