Construction and demolition waste management is the missing link in sustainable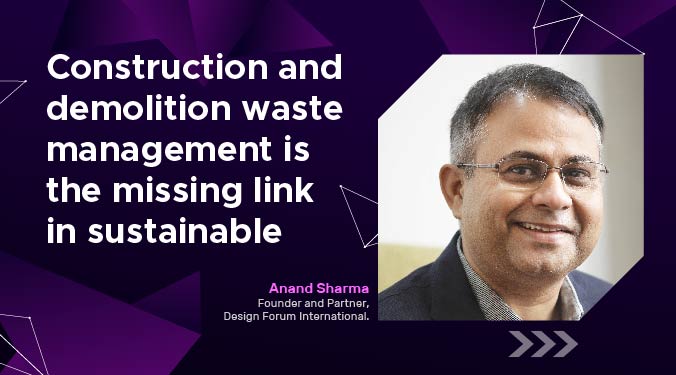 Anand Sharma, Founder and Partner at Design Forum International, discusses sustainable approaches to construction practices and technological advancements in this area.
What practices can ensure demanding interior designs adhere to sustainability?
A building is essentially an envelope of built-in space with confident expectation and an end-user brief. To create habitable environments, a physical barrier is created, the placement of which has to conform to the overall requirements of human needs such that a connection is forged between indoors and outdoors using light, air, and visuals. Architectural practises must ensure that the creation of this physical barrier is in harmony with the natural environment and as seamless and unobtrusive as possible. Enabling the maximum penetration of natural light and air in interiors is the benchmark practice that should be adopted as a sustainability approach.
How can modern materials and technologies be used to supplement the sustainability priority?
Materials that are locally available and have a smaller carbon footprint should be prioritised. Furthermore, materials that can be recycled with relative ease and are employed with the user's comfort must be encouraged. Incorporating viable technologies that will help build energy-efficient systems is also crucial. Thus, materials with a smaller carbon footprint are recyclable and locally accessible to help develop sustainably.
How far are technological advancements assisting you in meeting project deadlines?
The ease of designing and visualising with the help of software like Revit and SketchUp and the ease of creating realistic visuals using Lumion has been beneficial. More than meeting project deadlines, these technological advancements help clients visually perceive and understand designs easily. Besides the physical construction, the biggest time requirement is getting your idea across to the end user's mind. These innovations have made decision-making faster and more accurate.
How do facades contribute to buildings' aesthetics and energy efficiency?
Building facades are the barriers between indoors and outdoors, and their primary function is to help penetrate a balanced amount of light and wind indoors. However, one has to ensure that the light does not contribute to heat gain and that the air is not detrimental to indoor air quality. Furthermore, the materials used should help use energy efficiently. The facade plays a crucial role in building aesthetics, maintaining longevity, and reducing the weathering of the building.
Do design and technological innovations prioritise sustainability?
Sustainability has become an ingrained word in design. However, it is an ongoing journey, and we have moved forward more than where we were, which is quite optimistic. The available materials are far more accessible to a standard user. Efficiency in the recycling industry has also gone up recently.
for more info visit : https://www.designforuminternational.co
74