Deceuninck offers a wide range of energy-efficient PVC windows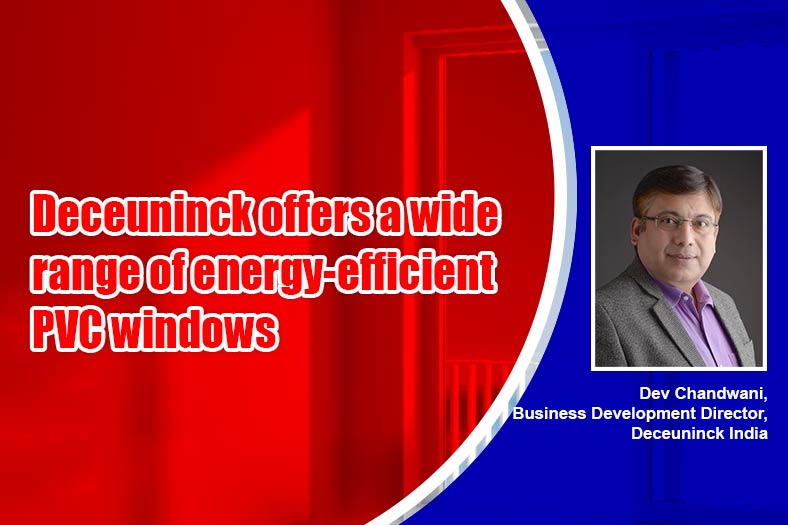 Highly insulating glass combined with the best profiles reduce your heating bill significantly, says Dev Chandwani, Business Development Director, Deceuninck India.
What are some properties which make Deceuninck uPVC profiles energy efficient?
Deceuninck has adopted sustainable practices and is committed to energy efficiency in your home in multiple ways. In order to ensure a safe and sustainable life, it is important to manufacture environmentally conscious products and eliminate the use of toxic substances. We consider the same criteria for the production of our uPVC profiles.
With this purpose in mind, Deceuninck has been manufacturing environmentally conscious products by using 100 per cent recyclable TPE gaskets. The company never uses lead or similar heavy metals in the products it manufactures. Aiming at leaving a sustainable world for future generations as a leader in the industry, Deceuninck manufactures profiles with environmentally friendly calcium – zinc stabilizers. Our profiles have a very low heat transmission coefficient and when you combine it with the right glass specification, it offers you an increased amount of energy efficiency. TPE gaskets with superior locking systems provides all round sealing of windows and doors, ensuring there is no air leakage and water leakage and providing higher acoustic and thermal insulation. With excellent water & air tightness, our products are the right fit for your homes during monsoons too.
Deceuninck possesses EDP (Environmental Product Declaration) for uPVC window and door profiles, a declaration that quantitatively assesses and declares the environmental performance of a product or service according to the predetermined categories (raw materials, energy usage and efficiency; emissions to the air, water and soil; waste) as defined in the standard ISO 14040. Deceuninck is also a user of "Green Point" used in 31 countries as an indication for "Industrial Responsibility".
Does Deceuninck only work with architects and individual property developers?
Deceuninck is a profile manufacturer, which are used in doors and windows. Be it construction, mass housing, architects, consultants; Deceuninck works with everyone. Wherever there is a requirement for doors and windows, Deceuninck doors and windows will be proposed. We categorise our customers into smart buyers, who know exactly what they want depending upon the requirement. In the post Covid era, people are consciously choosing materials focusing on wellness, health & safety and our brand is aligned as per the consumers' sentiments. We are among the top three manufacturers of uPVC profiles globally and Deceuninck has worked with top developers across India as well. We have generally received excellent feedback regarding the performance of the windows and the services provided by our authorized channel partners.
Could you shed some light on your marquee projects and clientele?
Deceuninck windows performs very well in high rise buildings as we provide full fledged technical support to our clients. We have worked with all major developers such as Rustomjee, Runwal, ATS Greens, Prestige Developers, Puravankara, Brigade Group, Mahindra Lifespaces, Godrej Properties etc. and we are also working with top architects pan India. We understand the market sentiments and it always helps when you have smart buyers.
16