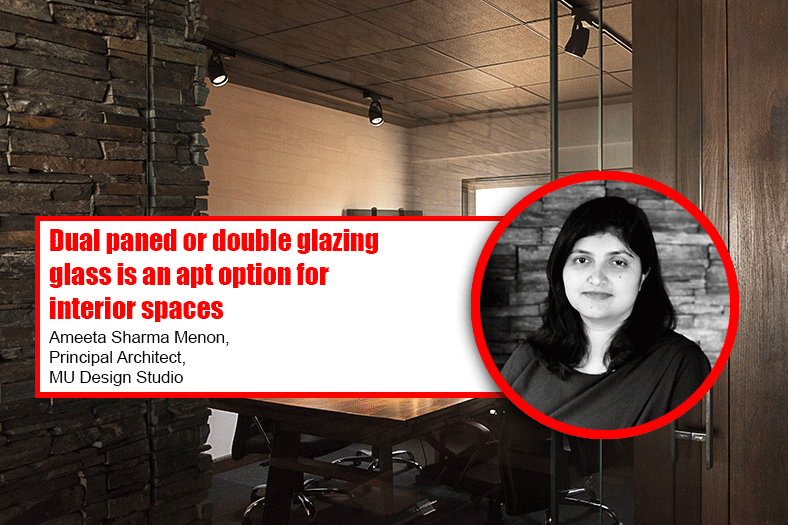 The dual pane glass enables a reduction in sound. It provides better visibility by reducing the reflections generated by a single glass surface and also reduces the heat transference to a considerable extent says Ameeta Sharma Menon, Principal Architect, MU Design Studio.
What is your take on the potential applications for high-performance glass products in architecture and design?
High performance glass has been a blessing in disguise for designers across the globe for its various properties and treatments, in order to control the interior environment. The glass in itself makes sure that there is a significant reduction in the heat being trapped within the interior space and thus reduces the loads on the air conditioning systems. It's a tremendous boost to the green building energy counts too.
How can glass ensure distancing and at the same time make open office layouts preferred and safer?
Office space design is developed in a way to maximize the employee potential and at the same time take care of their emotional and social well-being. The open space layouts make sure there is good visual connectivity along with an adequate exposure to the natural light. There is also the "Biophilic" factor of design that looks at being connected and reminded of nature through visual elements. With the Covid-19 pandemic, hygiene has become a top priority for all corporates as well as smaller companies. Glass as a barrier enables that in a much more seamless way and with a combined effort of good ventilation systems, it enables good social (physical) distancing. It does so while maintaining the visual connectivity and also the light quality is maintained.
How can low e-glass help in improving energy efficiency in homes and buildings?
The purpose of low e glass in itself is to reduce the UV radiation affecting the emissivity from the glass itself. That effectively reduces the heat being trapped due to the glazed surfaces in a building. It also stops the finished materials from getting deteriorated such as fabrics, upholstery, carpets etc.
When it comes to improved insulation, how can dual pane glass offer an advantage?
Dual paned glass or double glazing helps in many ways in the interior spaces. We use it mainly in heavy traffic/ movement spaces wherein sound insulation is imperative. The dual pane glass enables a reduction in sound levels upto 30 dBand can further reduce sound by application of various inert gases in the sandwiched portion. It also provides better visibility by reducing the reflections generated by a single glass surface. To a certain extent it also reduces the heat transference.
How has glass performed as an artist's muse for creation of artistic installations and sculptures?
The fluidity of glass has been an inspiration for the creatives for over centuries. This versatility has given rise to beautiful art forms for centuries in the form of hand-blown glass chandeliers and stained glassworks in cathedrals. The modern-day technology has enabled more minimalist approach to glass where transparency becomes key in letting the volumes get added to a space. The various treatments done to glass give a very functional yet stark clarity in visuals. For installations as well as sculptures the possibilities are endless.
3