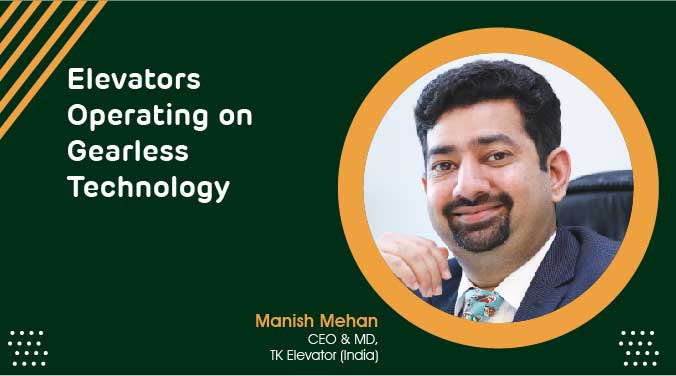 TK Elevator expands low-rise, value-for money offerings in India with the launch of gearless technology powered enta100 GL.
In line with its industry leading position in innovation, technology, and sustainability, TK Elevator recently launched its enta100 GL elevator in India, targeting the low-rise, value for- money market to bolster its existing offerings in the country. As a more advanced, versatile and environmental-friendly option to the geared enta100 GD, the newer enta100 GL model rides on the popularity of gearless machines around the world due to their low maintenance costs, low-noise operation, and long service life, making them more valuable investments for building owners.
When compared to other forms of elevator drives, gearless machines with Permanent Magnet Synchronous (PMS) motors have lower operating temperatures, lower power consumption, lower noise and steady acceleration and deceleration. The nonrequirement of oil also makes gearless elevators a more environmental-friendly option to its geared counterparts. On top of its higher energy efficiency and suitability for taller buildings (45m, 16-stops), enta100 GL offers comfortable traveling experiences with a holding capacity of 544 kg or 8 passengers.
Combining local manufacturing with the superb quality of TK Elevator's German engineering and design, it is an economical solution that also offers a wider range of configurations that can cater to the needs of a variety of projects, including affordable housing and private low-rise properties, without compromising on safety and peace of mind. enta100 GL is available in both Machine-room (MR) and Machineroom- less (MRL) configurations, offering the extra flexibility over the geared model to install without requiring a separate machineroom on top of the elevator shaft, which results in significant space saving – especially in new constructions where the space can be turned into more public or lettable floor space.
"TK Elevator's launch of enta100 GL complements our comprehensive product offerings in India. By introducing more advanced, gearless technology to the value-for-money market, we strive to bring forth more energy efficient elevators to the country while also bringing more value to tenants, passengers, and building owners, as an extension of our commitment to sustainability and lower carbon footprint," says Manish Mehan, CEO & MD, TK Elevator (India).
30