Home elevators with an aesthetic perspective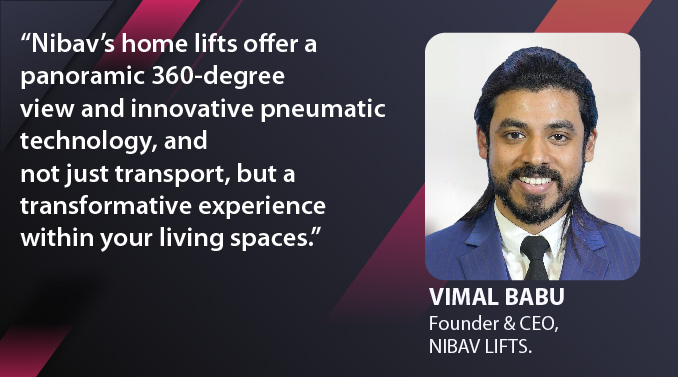 Vimal Babu Founder & CEO Nibav Lifts talks about the redefined elevator technology, seamlessly integrating accessibility, aesthetics, and environmental responsibility.
Can you provide an overview of NIBAV's journey to becoming a manufacturer of premier home lifts known for quality and safety?
Introduced to the industry in 2002, Nibav is a pioneer in manufacturing patented pneumatic-driven lifts by incorporating unparalleled engineering excellence and state-of-the-art pneumatic elevation systems. Engineered to use AIR, these elevators are easy to install and have a panoramic design, perfect for retrofit and new construction projects. Being the only certified home elevator company in India with 19 patent rights, we at Nibav are committed to delivering par excellence. A product that will be an integral part of your family deserves to match the highest quality and performance standards. Join us as we embark on creating homes that prioritise accessibility!
Could you elaborate on the unique design features of Nibav Home Lifts that contribute to their superior aesthetic appeal and enhanced passenger comfort?
Nibav Home Lift presents an innovative solution to enhance the elevator experience by addressing the discomfort associated with confined spaces. Through its 360-degree panoramic glass view, passengers can now enjoy a breathtaking view of their surroundings while smoothly transitioning between different levels of their homes. This elevates the travel experience to a new level of comfort and aesthetics.
One notable feature of Nibav home elevators is eliminating the need for extra headroom. Unlike traditional elevators that require space for machinery and structural components, Nibav's design cleverly sidesteps this requirement. This not only optimises the available space but also preserves the home's structural integrity during the installation process. Moreover, this streamlined design facilitates swift and straightforward elevator installation.
The Nibav home lift stands out for its superior aesthetic appeal, highlighted by its panoramic view and specially engineered glass, which is remarkably stronger than standard glass, boasting a strength 250 times greater. This design choice sets it apart from conventional hydraulic elevators or those with machine rooms, providing a visually pleasing addition that seamlessly integrates into the interior of any home. Its sleek and versatile design complements various architectural styles, making it an ideal choice for homeowners prioritising visual appeal and practicality.
Crafted from a blend of aluminium and galvanised steel, Nibav Home Lifts achieve a delicate balance between lightweight design and robustness. This unique construction ensures that the elevator can effectively bear the weight of passengers and their belongings without burdening the overall structure with unnecessary bulk. The resulting lift strikes a harmonious equilibrium between strength and weight.
Energy efficiency is a defining feature of the Nibav home lift, operating on single-phase power and consuming a mere 3.7 kVA during its operation—equivalent to the energy consumption of a microwave oven. Notably, the elevator requires no electricity when descending, underscoring its commitment to eco-friendliness and energy conservation, aligning with the values of homeowners prioritising sustainable living.
Despite its compact design, Nibav home elevators offer a comfortable and spacious ride. Requiring a base area radius of just 1010 mm, these elevators provide ample cabin space for two individuals to stand comfortably. The interior layout is optimised to ensure passengers can move freely without feeling confined despite the elevator's modest footprint. This emphasis on passenger comfort further enhances the overall elevator experience provided by Nibav Home Lifts.
What are the primary safety concerns addressed by this industry in India today?
Manufactured in accordance with European Standards, our elevators are CE certified and have an ISO 9001:2015 certification from TÜV, which ensures that a product, service, or process has passed all safety testing and meets relevant compliance requirements:
TUV Nord

CE Certified

European Standards Of Machine Directive Safety has always been a top priority at NIBAV, which goes to talk about our sophisticated designs of four levels of safety features such as emergency button, automatic descent, alarms, etc.

DC Powered Cabin

Dual HCC Brakes – Hardened Cross Compound

Zero Sharp Edges Improving Safety of the Family Members

Electric Door Lock for Safety Triangle

Emergency Alarm

Cabin Phone with GSM

EEM (Electric, Electronic & Mechanical) Landing Door

Child Safety Switch
How does Nibav incorporate sustainability practices into its manufacturing processes?
Recognising the importance of sustainability, NIBAV Lifts has taken significant strides to minimise its environmental impact. Their air-driven elevators operate on a single-phase power supply and consume minimal to zero power during descent. Utilising advanced modules that reduce power consumption. By implementing cutting-edge technology and eco-friendly manufacturing practices, NIBAV Lifts is committed to minimising its carbon footprint throughout the entire lifecycle of its products. By incorporating sustainable materials into their designs, NIBAV Lifts reduces resource depletion and promotes a healthier and greener living environment. Owing to the modular nature of these lifts, they can be easily dismantled and moved from one location to another.
for more info visit : https://www.nibavlifts.com/
42