RDC Concrete is leading the way in customised RMC solutions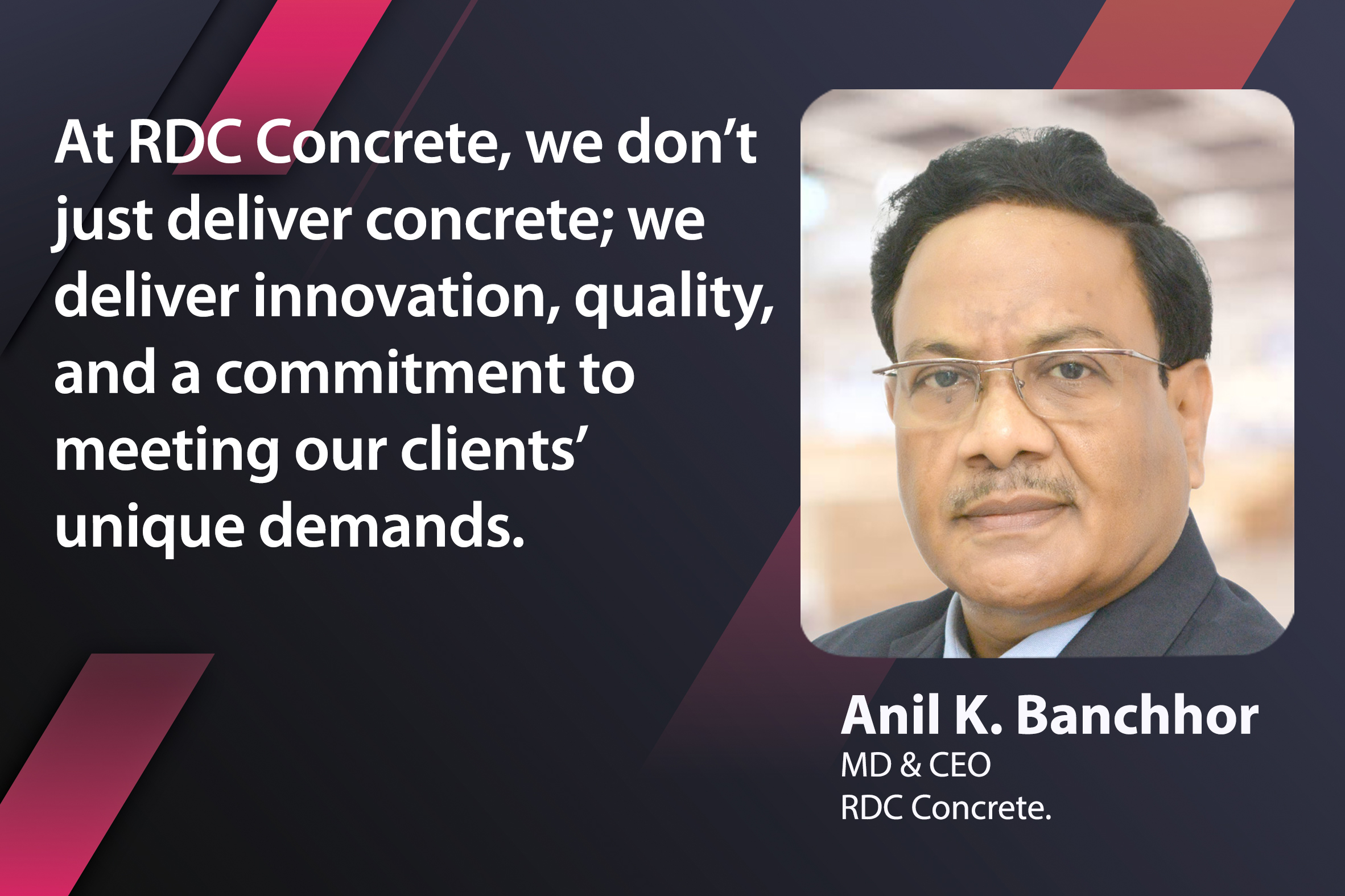 Anil K. Banchhor, MD & CEO of RDC Concrete, discusses prioritising sustainable and eco-friendly concrete solutions.
Can you provide an overview of RDC Concrete's history, mission, and key areas of specialisation within the construction industry?
RDC Concrete, founded in 1993, is India's leading Ready Mix Concrete (RMC) manufacturer with 96 operational plants nationwide. Our mission is to provide innovative and cost-efficient concrete solutions tailored to our clients' needs. We have ambitious plans to expand into all states and Union territories and launch 150 plants by the end of the financial year. Our comprehensive product range caters to clients in construction, infrastructure, real estate, and other sectors benefiting from our cutting-edge technology integration.
What is your commitment to sustainability and quality control?
Our focus on sustainability and continuous research and development efforts result in eco-friendly concrete formulations, reducing environmental impact, which sets us apart from our competitors. We prioritise quality control at every stage, ensuring that our ready-mix concrete consistently meets stringent performance criteria. RDC Concrete's unwavering dedication to innovation and excellence sets us apart as a trusted partner for construction projects of all scales and complexities
What are your flagship products and their applications in various construction projects?
RDC Concrete offers a range of cutting-edge concrete solutions tailored to diverse construction needs. Some flagship products include Tempcrete for cooling raft foundations, Supercrete with impressive M100 compressive strength, and Fastrackcrete for rapid strength development. These products find applications in projects like metros, high-rises, bridges, industrial facilities, and eco-friendly initiatives like Greencrete. Duracrete offers durability and low maintenance, Crackfree protects against corrosion, and Naturecrete allows water percolation. Dry and wet concrete bags are available for smaller tasks, while selfcrete suits congested structures. RDC Concrete's innovative offerings meet a wide range of construction challenges.
How do you prioritise energy efficiency, waste reduction, and adopting green technologies in our production processes?
We strongly emphasise enhancing the energy efficiency of our production methods. We're actively reducing our energy consumption through investments in advanced equipment and processes, leading to lower carbon emissions. Our commitment extends to waste reduction and recycling. We're actively exploring ways to minimise waste in our production processes and efficiently recycle any waste materials we generate. The rising demand for green technologies is a significant motivator within our industry, and we're dedicated to pioneering innovative solutions that align with this demand, contributing to a more sustainable future.
For more info visit : https://www.rdcconcrete.com/
84