Mumbai moves faster with metro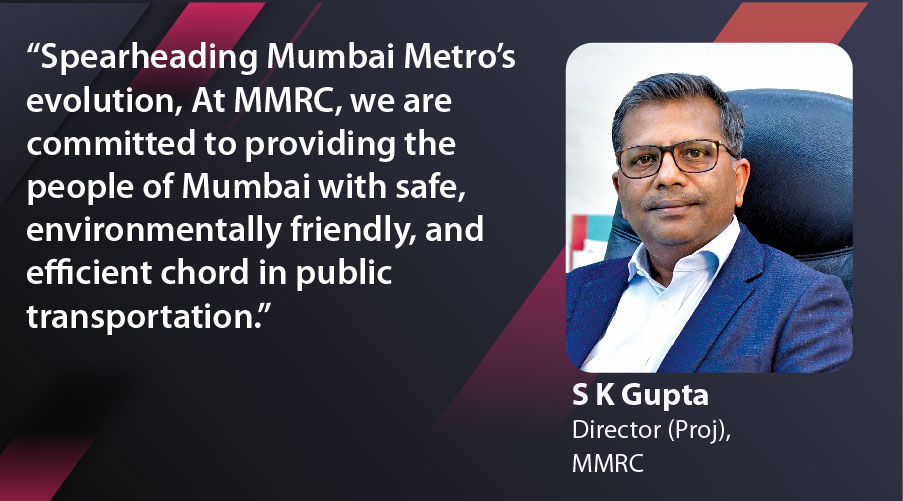 S K Gupta, Director (Proj), MMRC, provides insight into the exciting developments, upcoming projects and visionary expansions that will shape the city's transportation landscape for years.
What measures is Mumbai Metro taking to reduce its carbon footprint and promote eco-friendly practices?
 We have been implementing various eco-friendly practices at MMRC. The Metro-3 project has been registered with UNFCCC under MRTS PoA – 9863 since December 2017. UNFCCC says Metro-3 will reduce CO2 emissions by 2.61 lakh tonnes per annum. Once fully operational, it will result in a reduction of 6.65 lakh vehicular trips per day and a decrease in daily fuel consumption by 3.54 lakh litres. We are deeply conscious of energy conservation and have adopted various measures, such as equipping our stations, worksites, and storage yards with energy-efficient fixtures like LEDs, CFLs, and water-saving faucets in Metro-3. We will also implement controlled air conditioning on platforms based on public occupancy, employ high-efficiency chiller plants, utilise state-of-the-art VVVF elevators, escalators, and travellators with regenerative drives, employ a 2-stage compressor and automatic tube cleaning in the HVAC system, and utilise a Chiller Plant Management System to optimise efficiency.
Additionally, solar panels will be utilised at elevated stations and depots as part of our energy conservation efforts. We are pleased to share that the Sariput Nagar Receiving Substation (RSS) of MMRC is the first platinum-certified building under IGBC Green Service Building Rating across metro authorities in India. Apart from this, we are rigorously adhering to measures related to Wastewater Management, Waste Management, and the reduction of the use of hazardous materials.
How does Mumbai Metro envision addressing the region's growing transportation needs regarding capacity, efficiency, and connectivity?
Mumbai is one of the most densely populated cities in the world. While approximately 14 million people reside within the Brihanmumbai Municipal Corporation (BMC) boundaries, the Mumbai Metropolitan Region houses a population of about 22 million.
The existing suburban rail network is straining its limits, Metro-3 is poised to revolutionise travel for Mumbaikars as this north south aligned metro corridors connects important originations and destinations.
Once the line is fully operational, it is projected to accommodate around 1.4-1.6 million passengers daily. This will lead to reduced travel times, decreased air and noise pollution, and an enhancement in the safety and security of citizens.
This underground corridor will interlink major residential and commercial areas across six major business districts, 30 educational institutes, hospitals, and recreational centres. It will seamlessly integrate with the Central and Western Railway stations, the State bus depot, Metro lines 1, 2, 6, and 7, and the Monorail. Furthermore, it will provide connectivity to both terminals of the existing airport. The impact of this project will be felt by the city's population of 3 million.
Designed to handle a traffic capacity of 72,000 passengers per hour per direction (PHPDT), Line 3 boasts the highest design capacity of any metro line in India. The line will operate eight-car trains featuring coaches that are 3,200 mm wide, capable of accommodating approximately 2,400 passengers in standing and seated positions.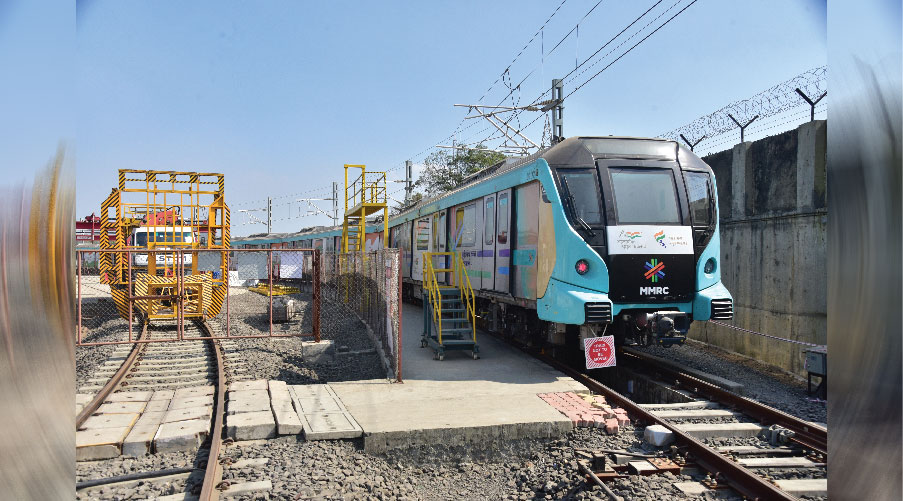 What steps is Mumbai Metro taking to incorporate smart technologies and digital innovations to enhance the overall efficiency and reliability of the mass transit system?
The Mumbai Metro is actively embracing smart technologies and digital innovations to elevate the efficiency and dependability of its mass transit system. The endeavour involves the implementation of key digital systems within Metro-3, encompassing Communications Based Train Control (CBTC) paired with Unattended Train Operation (UTO), Automatic Train Supervision (ATS) linked to live passenger displays and announcements at stations and trains, an Automatic Fare Collection System (AFC), Building Management Systems (BMS) and Supervisory Control and Data Acquisition (SCADA), 3D Building Information Modeling (BIM), enterprise asset management, and the incorporation of video analytics to fortify security systems.
Furthermore, the pursuit of smart technologies for Metro-3 extends to initiatives such as adopting the NCMC-based transit smart card, aligning with the "one nation, one card" initiative. The widespread acceptance of the UPI payment system also contributes to this advancement. Integrating enterprise asset management and a comprehensive 3D BIM for assets and infrastructure is being undertaken. Moreover, there is a strategic shift from periodic maintenance to a more proactive approach, utilising condition-based and predictive maintenance techniques facilitated by AI and IoT technologies.
Can you share details on the upcoming projects and expansions for Mumbai Metro soon?
MMRC is currently engaged in preparation of the project report for 2.5 km extension of Metro Line-3 toward Navy Nagar, including 1 station at Dr. Homi Bhabha Road near the Tata Institute of Fundamental Research (TIFR). M/s RITES are carrying out the preparation of this Detailed Project Report (DPR). RITES Limited, who have been appointed as consultants for this purpose.
Additionally, the Metro Line-11 expansion is also envisioned as a southern extension of Line 4, connecting Gaimukh to Wadala [Bhakti Park]. This extension will stretch from Wadala [Bhakti Park Station] to CSMT Station. A proposed corridor will link CSMT Metro Station to Sewri Metro Station as underground section followed by an elevated section extending to the terminus of the Metro Line-11 corridor.
The entire corridor spans a length of 12.774 km, with an elevated length of 4.009 km and an underground length of 8.765 km. A total of 10 stations are planned, consisting of 2 elevated stations and eight underground stations. The Government of Maharashtra has approved the project as per the report prepared by the Delhi Metro Rail Corporation Ltd for MMRDA. The responsibility for implementing Metro Line-11 has been transferred to MMRC by the Government of Maharashtra in January 2023. The DPR from 2018 is currently under review by MMRC.
For more info visit : https://mmrcl.com/
11