Furniture designing is essentially an interplay of materials and textures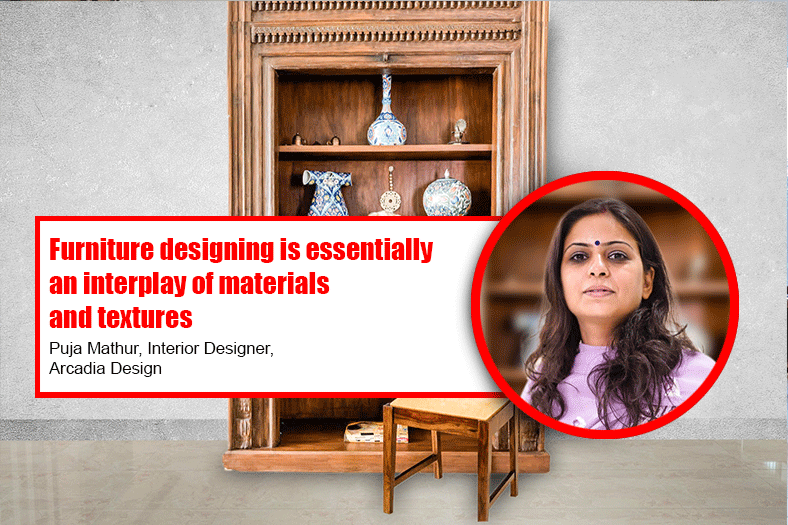 Puja Mathur, Interior Designer, Arcadia Design believes ethnic elements have the ability to be augmented within any kind of design and hence the furniture made and used in India represents a proper blend of various artistic styles.
India is a heritage of sorts when it comes to traditional furniture design, your thoughts?
My roots hail back to the state of Rajasthan, a land of heritage and cultural background. Being born and brought up in a place of such historical significance, my inclination and fondness for ethnic and traditional elements often reflect in my design strategy and details.
Ethnic elements have the ability to be augmented within any kind of design. The furniture made and used in India represents a proper blend of various artistic styles. These traditional and ethnic elements can fit beautifully into any decor, contemporary, minimalist or even industrial. Layering a room with pieces of history and cultural heritage, these ethnic accents and embellishment can punctuate the space with vibrancy and style.
With the infusion of global sensibilities in the Indian mindset, how is furniture design being perceived in current times?
The amalgamation of design and sensibilities is the new trend which is steadily picking up the pace and its impact on Indian spaces has been phenomenal. A design, whether furniture or overall, is created with a keen desire to bring sensibilities or sustainability in line with the global design standards. We are now moving away from buying and using cheap pieces, with a new focus towards long lasting quality and design while incorporating environmental aspects of recycling and upcycling.
Indian design is evolving across the board, with clients ready to tweak and present the inherent design sensibilities in modern avatar. With the springboard available to us in our rich heritage and design, we are able to create original and evocative designs in furniture: the design which is contextual and reflective of its users and their sensibilities.
How is recycled wood being put to good use of furniture designing?
As more and more people look to create homes that are environmentally friendly, these choices are increasingly reflected in their lifestyle and consumption trends. Wood being durable and strong, can last longer and can be recycled and hence is a trending material, with several sources from where it can be acquired.
The reclaimed wood furniture is full of character and raw rustic charm that only the time-worn timber can provide. Indian homes prefer handmade furniture. Recycling and upcycling a piece of furniture to which one can add a glamour is in vogue. It's a tedious job to strip an old piece of furniture. But at the end of the day we need to be responsible for the work we do and save our natural resources by invoking sustainably in our lives
Apart from wood, what according to you are some of the materials which have emerged as a popular choice for furniture designing?
Furniture designing is essentially an interplay of materials and textures. Today the clients are going for more organic, greener, and indigenous options. The populace is ready to explore and the designers need to give their designs that balance of sustainability. The latest trend picking up is a combination of cane with wood or rattan with wood. Marble, terrazzo, semi precious stones are all popular choices for tabletop. An earthy theme with a brass inlay and a dash of luxury gives the furniture piece a new dignified look.
Another popular material has always been fabric. Fabric furniture has always been seen as a luxury and sophisticated material that is used in many upholstered material. This furniture definitely helps when it comes to replacing the material of the furniture and reusing back the same frame, making it cost-effective in the long run and reupholster can give it an entirely new look. Metal furniture is also trending today for their longevity and aesthetic value.
In a timeline when a majority of people have to thrive in a limited sq.ft area what kind of furniture can add beauty, value and aesthetic in the existing living spaces?
It's an exciting challenge to design a limited sq.ft area furniture with beauty, benefit and good. Home is what reflects your personality, which is why you need to have clever and stylish ideas for the designing pieces. There has to be a balance between creating good aesthetics in a product and integrating better sustainability, usability and user experience.
Any furniture which is built with the optimum usability, functionality and aesthetic value which resonates with space and its inhabitants has the ability to charm a home. rustic, bohemian, minimalistic, industrial, every design style can add value.
26