Tiles play a vital role in accentuating the look and feel of a space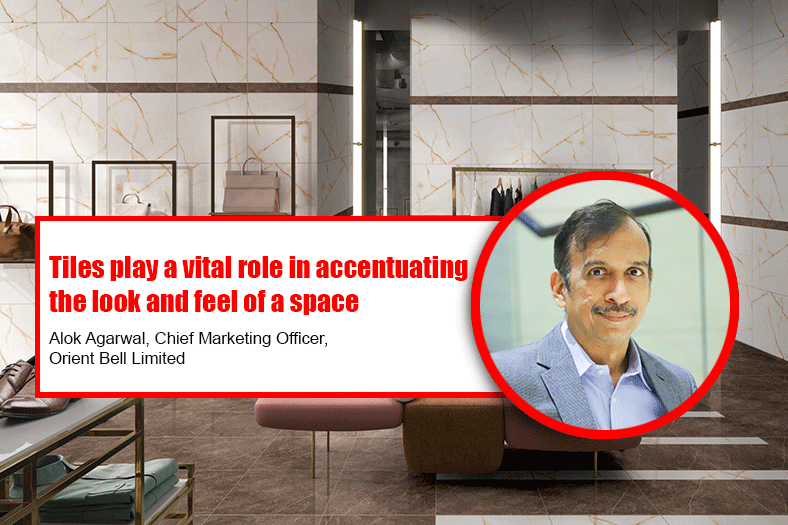 One must choose tiles for the shock that they might experience says Alok Agarwal, Chief Marketing Officer, Orient Bell Limited.
What are some of the key areas in interiors where tiles can be used effectively?
Tiles play a vital role in accentuating the look and feel of the place and are often used to create the desired ambience of a space. We can install it on floors, walls, countertops, pools, ceiling, tubs, showers, exterior walls, parking areas, and can be used both in industries and homes. Today, we manufacture tiles for every requirement.
From 12cm X 12cm to large slabs, how have tiles evolved beyond a mere component restricted to hotels, bath spaces and hospitals?
Orient Bell has been updating and expanding its product range for commercial and residential applications by launching new products every month. These include tiles for walls, floors, and schools.
With technology tiles have evolved to meet very specific use cases. Cool tiles with a Solar Reflective Index (SRI) value of 103 can keep your indoors cool even in hot desert-like conditions. Forever Tiles are scratch resistant and have a rating of eight on Moh scale. Germ-Free tiles repel more than 95 per cent + disease causing bacteria. At Orient Bell, we are designing tiles that address some of the toughest challenges that exist in the world.
With an aim to fight illiteracy and to encourage sustainable education for schools in India, the team has also overseen the renovation of seven schools as part of their CSR initiatives across Uttar Pradesh, Rajasthan, Gujarat and Delhi.
What is the level of customization you offer in terms of design and size?
Our customers choose from a range of 3,000+ SKUs and we support them in making the selection that will best meet their needs. Orient Bell creates solutions for your needs. To give you an example, schools try to give their users an education. Hence to improve their learning outcomes, we designed tiles that deliver educational content. This provides an alternative teaching aid making learning more exciting and fun. There is educational content for every grade.
What are some of your premium offerings for luxurious properties?
A lot of luxury properties are trying to differentiate themselves for the discerning clientele. Orient Bell's range of Inspire series is crafted with finesse for those who want to change the world and have the skills to do it. There are 35 designs with exclusive looks inspired by the best igneous stones, soapstones, limestones from remote corners of the world.
When it comes to the selection of tiles for commercial vs residential spaces, what are the key differences?
Residential spaces are driven by your own taste and preferences. Usage is not very heavy and our range has specific tiles for different areas.
On the other commercial areas like malls, airports, theaters have far higher foot traffic. Some may choose frequent renewal to keep their interiors in line with the latest fashion. Others especially those related with public transport (e.g. metro, airport) cannot afford even a 24hour downtime associated with maintenance. Here even higher slip resistance is important to prevent accidents. Recently for Lucknow Metro Rail Corporation, we supplied them Sahara Series – Full Body Tiles made at our ISI certified plant near Noida. With a high slip resistance even under extreme wear and tear it will retain its look.
How can tiles be made shockproof?
You must choose tiles for the shock that they might experience. So, ceramic tiles are good for everyday use in kitchen and bathroom. You may choose Forever tiles if you drag heavy furniture or like to do heavy work with your hands.
In addition to choosing the right tile along with our experts, I will strongly recommend insisting on laying the tile well. We do frequent training of our masons to ensure you get the highest performance from our tiles. It can even make them last longer.
8