Hansgrohe bathrooms are designed keeping in mind the user's comfort and convenience
At Hansgrohe, we have transformed the way customers experience water, adding value to their luxurious bathroom sensations, says, Gaurav Malhotra, Managing Director India, Regional Key Accounts Asia, Hansgrohe India.
In the current timeline, have bathrooms evolved as an element of luxury?
Since ancient times, bathrooms have not been just a place of hygiene but an essential space to relax and rejuvenate your body. Ancient Romans used to mix milk with water to add grandeur to their royal bathing ritual. In the modern world, this focus on luxurious baths still exists. The COVID-19 outbreak accelerated the element of luxury in bathrooms, as people started to invest in their personal care and well-being comprehensively. Far from lockdown chaos, customers aspired to relax somewhere amidst scented candles, unique and enjoyable textures, and ultra soft shower droplets – all this amounted to unlimited luxury that kept customers clean, energized, and up and about throughout the day. 
At Hansgrohe, we have transformed the way customers experience water, adding value to their luxurious bathroom sensations. From our avant-garde products enhanced with marquee technologies that offer minimum contact surfaces and a variety of jet types to state-of-the-art marble and wooden bases, our goal has always been to enhance the consumer's bathroom experience. Our products make for a clutter-free shower space where consumers can seamlessly move around and enjoy while switching between distinctive shower modes and showering products to enjoy the space to its fullest. 
What kind of materials and products is being utilized to rev up the luxury quotient in bathrooms?
Products and materials are an indispensable part of luxury quotients in bathrooms. At Hansgrohe, we have introduced the Rainfinity shower range with three distinctive spray modes in overhead showers. The different spray modes have different relaxing effects on the consumers. For Example, the PowderRain spray rejuvenates users with its micro-fine droplets that cocoon a body. However, Intense PowderRain and RainStream modes can give the massage effect focusing on the specific body parts. We also offer premium-grade stylish and elegant faucet ranges with absolutely economical water consumption like newly launched Vivenis. In addition, the new Hansgrohe Finoris is the quintessential millennial choice that adds simple methodologies to enhance consumers' experience in the bathroom. It is a minimalistic but high-quality device equipped with efficiency & extraordinary features like a pull-out spout, 2 different spray modes including PowderRain. Our bathrooms are entirely designed to keep the comfort and convenience of the user as a priority.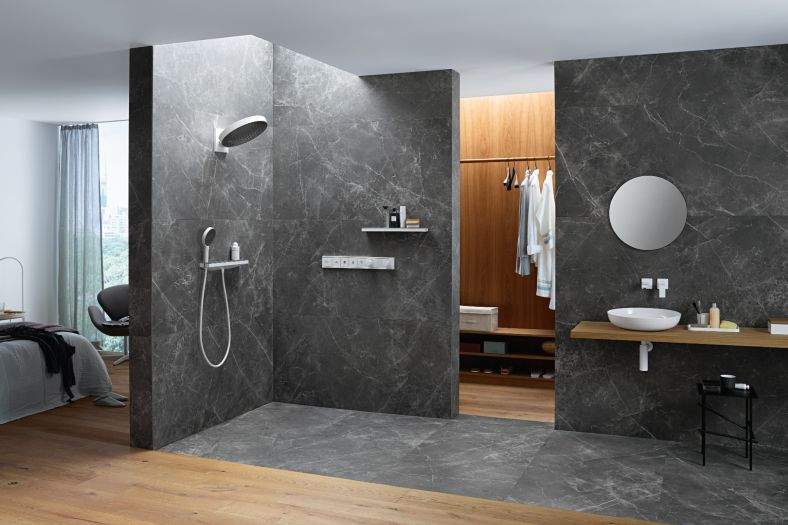 Additionally, we also have a sui-generis CoolContact, an internal cooling mechanism. This unique product makes sure that Hansgrohe thermostats are always safe and secure for manual touching. It prevents accidental burning instances making the overall showering experience relaxing and safe. 
Having said that, what are the most efficient ways to rev up the bath spaces especially if the bathroom area is limited?
Bathrooms are usually cluttered with sinks, taps, showers, pipes, large control units, levers,  and thermostatic mixers that often prompt users to trip over in the bathroom space. This is especially dangerous for kids and older adults looking for a safe bathroom space where they can take luxury baths without worrying about these trivial things. At Hansgrohe, we offer consumers a detailed and meticulous floor-level shower that is accessible for everyone, irrespective of their age, height, or instructions-reading capabilities.
Modern architecture has made surfaces disappear by merging products with the wall, thereby effectively creating spaciousness and elbow-room for the consumers. With floor-level showers, consumers can make their bathrooms futuristic with minimal changes. Whether consumers are trying to implement this cutting-edge technology in a new building or an old one, details can be feasibly managed according to their requirements. Advanced technology and contemporary architectural methods have paved the way for a space-saving waste system that compellingly elevates consumers' bathroom experience.
Furthermore, for non-thermostatic and thermostatic mixers, Hansgrohe's superior iBox Universal Base Set can conceal all the installations behind the wall. This technology is waterproof and sound-insulated, which means while bathing or showering, the flow of water will be pleasantly quiet, adding magical tranquility to the overall bathroom experience.
7