The consistency in quality of concrete impacts the strength and durability of the structure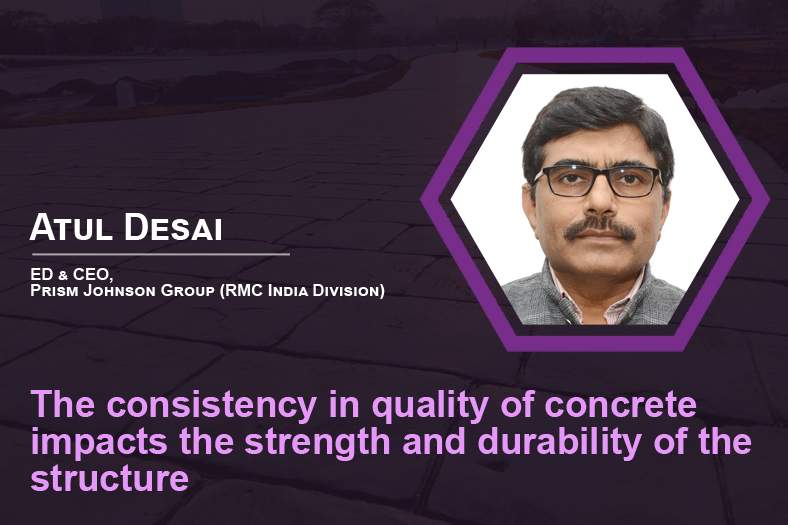 It is in this context that ready-mix concrete plays an important role. RMC provides better concrete also due to computerized batch & correct water cement ratio says Atul Desai, ED & CEO , Prism Johnson Group (RMC India Division).
 In terms of current market dynamics, what is your opinion on the adoption of RMC in Indian construction?
The Indian construction industry is expected to register an annual growth of ~15% in real terms in 2021, following a decline in 2020. Despite the outbreak of the second wave of the Coronavirus (COVID-19) pandemic, the construction industry in India registered a year-on-year (Y-o-Y) growth of 68% in real terms in Q2 2021.
India's ready-mix concrete (RMC) market is projected to witness a 12-15% CAGR in the next five years. This growth is predominantly driven by the increased investments in the development of infrastructure throughout the country and the rapidly urbanizing towns and cities. Tier 2 & 3 cities are increasingly changing the traditional Site-Mix concrete with growing RMC penetration. In the last 20 years, RMC has seen extensive use in national and state highways and expressways, housing, railways, mass rapid transport, and irrigation projects, aided by the entry of major cement companies and some organized RMC players.
RMC helps save on capital investments by not having to invest in plants and machinery for concrete. The need to create storage facilities at the site of construction also reduces with ready mix concrete.
The consistency in quality of concrete used has a direct impact on the strength and durability of the structure and it is in this context that ready-mix concrete plays an important role. RMC provides better concrete also due to computerized batch & correct water cement ratio.
Could you elaborate on your latest RMC solutions that you are manufacturing and supplying?
At Prism RMC we are focused on curating products that offer  value addition to its customers apart from being environmentally-friendly. Using the latest available technology, we have created a wide range of special products for special solutions to meet the needs of its customers. Among them, Elitecrete and Perviouscrete are the most promising solutions as they focus on cooling and water harvesting respectively. Other products include Dyecrete (The aesthetic concrete), Easycrete (high workability & moldable concrete), FRCrete (Fibre Concrete) Megacrete (High Strength concrete) and Expresscrete ( Early Strength concrete) and Aquaresistcrete (water tight concrete).
What factors need to be kept in mind while selecting the right ready-mix solutions for projects? Does the scale and the height of the project impact the selection?
Factors like Project completion time period, Quality, Durability, scale, environmental assessment, terrain and budget are considered.  Yes indeed height and scale project impact selection of the ready-mix concrete and at prism RMC we have developed value added product and solutions to address the Challenges faced due to Scale and height of project .For example Xpresscrete for early strength gain and quick handover of project in squeezed timelines deadlines scenario.
What steps can be taken to utilize an RMC plant especially on sites surrounded by residential areas so that air pollution is minimized?
Few steps can be taken to minimize the air pollution:
Barricading all around the periphery of the plot boundary with height of minimum 20 feet or 5 feet above free fall air emission area, whichever is higher with appropriate material. Same may extend above with netlon clothing whenever required. Water sprinkling/Chemical dust stabilizing agent spraying system along the periphery inside the premises of RMC. Tree plantation along the periphery inside boundary of the RMC 

Plant gates to have mist-like arrangement.
21