How sustainable airports projects are incorporating innovative design features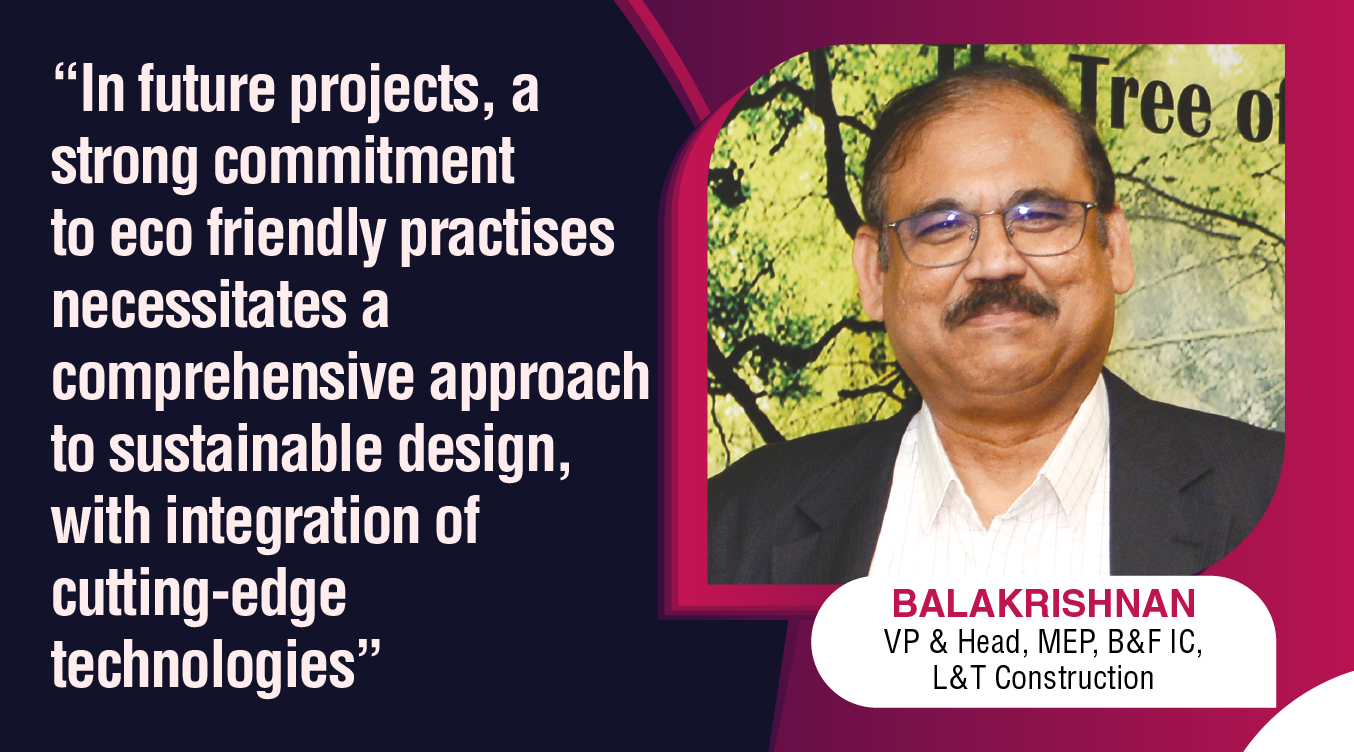 Balakrishnan, VP and Head, MEP, B&F of L&T Construction, speaks about airports design concepts and infrastructure development.
What types of advances in green infrastructure development can be expected in future airport projects?
We have witnessed many more forward-looking countries and airports in 2021 voluntarily pledge net-zero carbon emissions by 2050 in response to climate change challenges. To achieve net zero carbon, the journey starts with net zero energy, water, and waste. There will be a good amount of carbon reduction by implementing net zero energy, water, and waste, which will help green infrastructure.
How are new and renovated airport projects incorporating sustainable design features?
Sustainable design will focus on three main key parameters: energy, water consumption, material, and waste management. We need to use innovative technology and energy-efficient equipment to reduce the energy consumption of the project. Further establishing water saving measures: best practices, efficient fixtures, technologies, and a water management system to reduce water consumption. Waste management for airports and the built environment is one that eliminates the diversion of waste being sent to landfills through a multi-pronged approach: nature-centric design, reducing debris during construction, responsibly handling waste during operation, reusing the waste as much as possible, and recycling the remaining waste.
Airports in Indian metros are handling a massive influx of passengers, causing incredible delays. What are your thoughts on why this is becoming a barrier to India's development in this area?
The above scenario would have occurred during the last decade since the usage by passengers had a sudden growth; however, all the greenfield airports developed now in metros are taking care of increased passenger handling capacity to avoid delays. Most of the metro airports are going for expansion to handle additional passenger growth and are modular to ramp up capacity very quickly.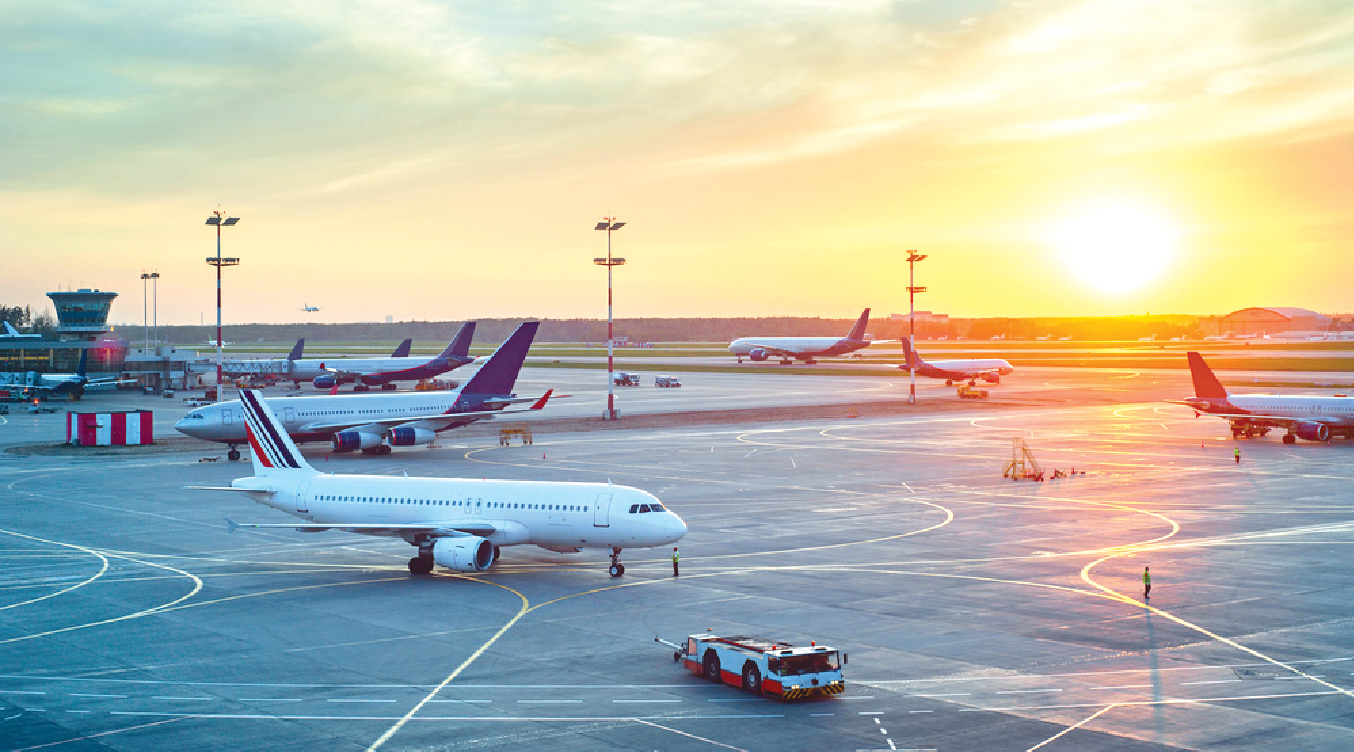 What types of infrastructure designs are preferable to maintain a safe distance for passengers in congested areas?
A proper mechanism to streamline crowd control at various areas, line checks for passenger boarding, and all public areas is needed. This can be done by adding more self-check-in kiosks in the checking area. The flight turnaround time for boarding and the time to be improved to have less crowded boarding certainly need improvement. For maintaining safe distances in congested areas, the latest technology includes crowd monitoring using video analytics, which can be dynamically planned to facilitate flexibility for airport operators.
How are airports adapting to solar and energy efficiency projects?
Most of the airports have beautiful glass façades and large roof areas. There will be a good opportunity to generate on-site solar energy. Building-integrated photovoltaics (BIPV) can be used to generate electrical energy on building façades. Further, the roof can be covered with solar panels as much as possible to generate electrical energy. All greenfield airports come with solar power for on-site power generation, such as Jewer Airports, Noida, Delhi, Hyderabad International Airport, etc. Energy efficient equipment can be proposed to optimise the energy consumption, such as high-efficiency chillers, passive design features, smart AHUs, and AL-based software for control and monitoring to operate equipment with full efficiency to optimise the energy consumption as it is and future energy to be provided by non-conventional sources like solar, wind, captive green plants, etc.
What new technologies are implemented for the aesthetics and functionality of spaces to enhance passengers' experiences at the airport?
The video wall will be provided for announcements, advertisements, and entertainment. Free mobile and laptop charging points, and wifi points will enhance passenger experiences. The advanced lighting control system controls and monitors the light fixture for passenger comfort. The video analytic software will be used for face recognition and passenger movement monitoring. The digital displays should have a good entertainment feed and the latest announcements continuously displayed. Since the airport design concept is considered to completely digitalize passenger processing, all the passenger touch points like entry, check-in, security check-in, and boarding areas are automated using biometric-based access-controlled gates, otherwise called e-Gates. This has already been deployed as the Digi Yatra platform, wherein a passenger can use his face as an ID to cross all the check points mentioned above. This also allows touchless passenger processing to suit any pandemic situation and be future-proof.
for more info visit : https://www.larsentoubro.com/
6