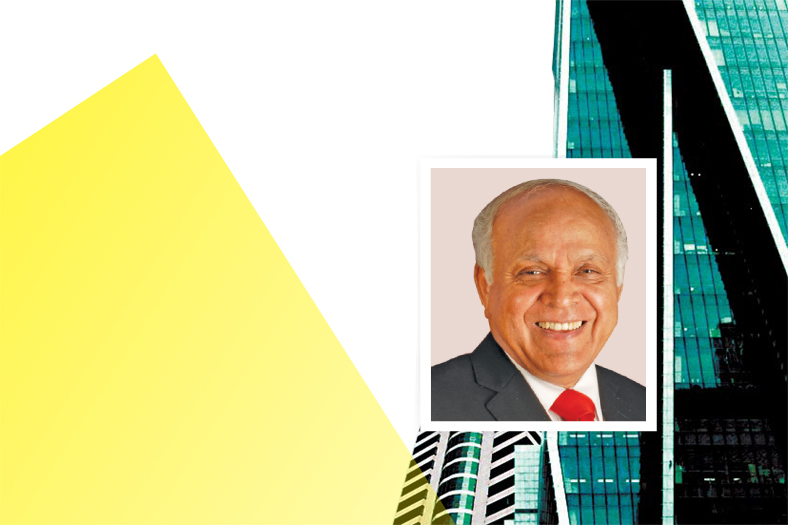 IGBC has facilitated over 4.79 billion sq ft of registered green building footprint, thereby enabling India to have world's second largest registered green building footprint. It also estimates the market potential for green materials & technologies to grow by $ 300 billion by 2025.
Dr Prem C Jain, Chairman, Indian Green Building Council
As per IGBC, India's green footprint may touch 1000 crore sq ft by 2022. How much has been achieved till date and how does IGBC plans to achieve it?
IGBC has set itself to facilitate 10 billion sq. ft of registered green building footprint by the year 2022. The year holds a very special milestone for all of us. It is in this glorious year, India will celebrate 75 years of independence. IGBC on its part would like to contribute towards "Bharat Once Again Be Jagat Guru in Green Built Environment".
Thus far, the journey has been truly inspiring and fulfilling. As on date, IGBC has facilitated over 4.79 billion sq ft of registered green building footprint, thereby enabling India to have world's second largest registered green building footprint.
IGBC is now looking beyond buildings and is focussing on greening of various forms of built environment – including cities, townships, villages, railway stations, metro stations and green landscapes.
We have another 5 years to reach this target and IGBC, with the support of all the stakeholders and through its multi-pronged and movement based approach, is well on its path to make this a reality.
On achieving the target, IGBC would not rest on its laurels; it will continue to take up its mission of facilitating a greener and healthier India. IGBC aspires that every form of built-environment should go the green way and with the support of all the stakeholders, will make it a happen. The place we live, work, study, play, commute, will all be green in the modern India.
The energy efficiency market is estimated to be Rs 1.28 lakh crore. What growth prospects do you see in the green building space?
One of the unique feature of IGBC rated green building project, is its increased focus on energy management. Any IGBC rated green building project would save about 30-40 per cent of energy, vis-à-vis conventional building. All this is made possible with suitable and appropriate interventions in design and in construction through the incorporation of energy management tools and technologies.
Green building has inspired many materials, products and process innovations; these have accelerated the adoption of green design, construction and operation in the country. IGBC estimates that the market potential for green materials and technologies would be about $ 300 Billion by 2025.  Green buildings space certainly offers many new growth opportunities, which are waiting to be tapped and explored.
Nowadays, energy efficiency and green building go hand-in-hand. What is the role of green rating and certification program in facilitating this market trend?
As on date, over 4,450 IGBC projects are adopting IGBC green building standards. Various types of projects including – mixed use developments, multi-dwelling units, homes, affordable housing, cities, townships, schools, railways and metro stations are adopting IGBC ratings. This is testimony of the growing awareness and acceptance of green building projects.
IGBC green building rating system encourages project teams to adopt a holistic and comprehensive design approach – including adopting energy modelling and other software techniques to explore various design options, material and equipment specifications, and control systems.  This enables the project team to take informed decisions which ensure sustained savings by design and promote creativity and innovations in the project.
IGBC, with the support of all the stakeholders, has facilitated transformation of green building technologies and products market. In 2003, there were very few products and employment opportunities in this sector. With the spread of the green building movement across the country, the sector has witnessed tremendous growth opportunities.
A classic example of the cost of a green product decreasing over the years is the waterless urinal. The waterless urinal used to be valued at Rs 14,000/- when India's first green rated building i.e. CII Godrej GBC, was constructed; today it is available for Rs 6,000/- from local manufacturers. Today, most of the green building products and technologies are available locally in all parts of India.
Green building movement in India has facilitated many innovative and futuristic green building technologies including- high performance glass, wall and roof Insulations, bamboo based furniture, building integrated solar photovoltaic, high COP chillers, geothermal system, building management system, energy modelling, daylight simulation and many more.
Understanding the growing imperative for certified green building products, CII- IGBC, in partnership with various stakeholders, has launched GreenPro- green product certification. The key objective is to facilitate green product market transformation in the country, through certification. As on date, over 350 products are GreenPro certified and many other products are in the pipeline.
Green building sector in India offers immense untapped market opportunities and IGBC constantly rediscovers itself to offer the best to all its stakeholders; constantly raising the bar of performance standards, to set new benchmarks in sustainable construction.
Is there any provision for ensuring the green features of a certified building is maintained?
Yes, GBC certified project validity under NB, Green Homes, and Factory ratings is for the period of 3 years. After 3 years, certified project falls under the Existing Building (EB) rating for re-certification, thus ensuring continued maintenances, often and leading to improvement.
These services offered by IGBC to its stakeholders, have made the certification process unique and have enabled the project teams to conceive and design the finest of green buildings in India.
The rich and varied experience of the technical experts and the case studies on green buildings, are being shared with the project teams on a regular basis, enabling them to incorporate world-class green building features in their project.
What are the programs undertaken by IGBC for promotion of green rating and certification in the Indian infrastructure sector?
IGBC adopts a multi-pronged approach in the spread and the growth of green buildings and green built environment across the country.  IGBC Green Building Rating Systems: IGBC believes that each building type needs specific approach for design, construction and operation. Building on this imperative, as on date, IGBC has launched 22 green building rating systems.
All the rating systems of IGBC have been developed based on the holistic approach of Panchabhutas (5 elements of nature i.e. earth, water, fire, air and space); these are a perfect blend of ancient architectural practices and modern technological innovations.
IGBC plans to launch many more ratings in the future like- green hotels, green retail, green resorts, green net zero buildings and many more; all based on applicability and market demand. IGBC aspires that all forms of built environment should go the green way; this in turn will facilitate in building a greener and healthier India
IGBC through its local chapters spread across the country, will continue to work more closely with the stakeholders in the spread and growth of green buildings across the country. IGBC has already launched over 20 local chapters in different parts of the country.  In upcoming time, we will launch many more chapters in tier-II and tier- III cities.
Policy Advocacy will continue to be one of the key focus areas of IGBC.  We will continue to work with various Government departments for policy incentives. States like Punjab, Rajasthan, West Bengal, Uttar Pradesh, Maharashtra, Andhra Pradesh, Himachal Pradesh and Jharkhand are offering incentives for IGBC certified green buildings.
IGBC's outreach programmes including the annual Green Building Congress /training programmes/ missions will be further intensified and will be spread across the country.
These are some of the approaches adopted by IGBC which will be the key drivers in IGBC fulfilling its aspiration to facilitate 10 billion sq. ft of green building footprint by the year 2022.
According to you, what is the scope of green building in the concept of developing smart cities?
Hon'ble Prime Minister's initiative of developing 100 Smart Cities is indeed a brilliant idea and is a step in the right direction to ensure a smarter, greener and healthier India. This initiative will be a game changer and will usher in a paradigm shift in the way new cities are conceived and designed, and existing cities are reconstituted.
Building upon India's global leadership in green buildings, all the existing and upcoming cities should be designed as smart green cities. This will holistically address national priorities that include conservation of natural resources, water efficiency, and energy efficiency, handling of municipal waste, health and well-being of the occupants. Benefits of Green Cities include- efficient land use, efficient mobility, efficient city infrastructure, enhanced quality of life, and optimum use of natural resources.
IGBC, in partnership with various stakeholders, has launched IGBC Green Cities Rating System for new cities and for existing cities. These rating systems are the first of its kind rating in India, designed to address environmental sustainability in emerging cities as well as in existing cities, adopting green and smart initiatives.  The rating systems enable the development authorities and developers to apply green concepts and planning principles, so as to reduce environmental impact that are measurable and improve the overall quality of life.
9