Incorporating Environmental Sustainability into the construction of Highrises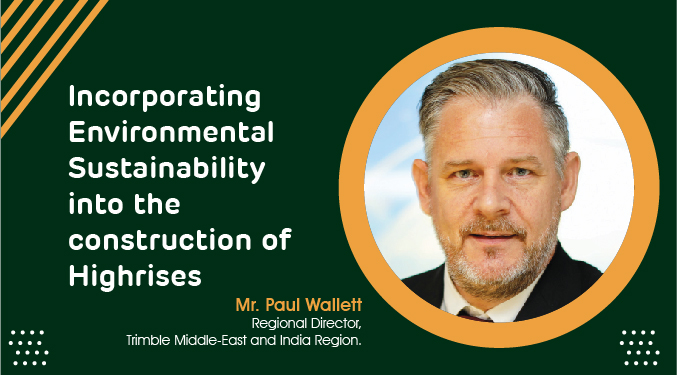 Mr. Paul Wallett speaks on meticulous planning, designing, and structural engineering of high-rise structures.
What are the significant considerations we need to note as we scale higher and higher?
High-rise buildings require meticulous planning, designing, and structural engineering as they are more susceptible to external environmental threats like earthquakes, gusty winds, and rains. Very tall skyscrapers are designed to sway during earthquakes or windstorms so they can withstand the structural loads without compromising on the safety of their occupants or the structural integrity. Therefore, advanced modelling and structural testing techniques are particularly beneficial while planning and constructing highrise structures.
What should be done to ensure that the entire construction phase of the highrise and its design abides by sustainability?
Incorporating environmental sustainability into construction is already a major global trend today. A significant proportion of highrise buildings that have come up in recent years are designed to minimise energy use for air conditioning, heating or ventilation, and water. Most progressive construction companies are now increasingly
embracing modern construction technologies right at the design and construction stage to minimise construction materials, fuel and other resources. The growing adoption of Constructible BIM for modelling, reduces errors and rework at construction time reducing materials and fuel wastage and speeds up construction.
As a result, optimal quantities of resources are utilised with near-zero wastage. In addition, construction companies are increasingly employing dedicated computer modelling tools like Tekla Structures' Embodied Carbon Calculator to assess the impact of highrise buildings.
What critical contemporary materials and technologies play an essential role in highrise construction?
Construction of highrise structures increasingly relies on deploying cutting-edge modelling, structural engineering, and collaboration software throughout the designbuild-
operate lifecycle to ensure that the project is completed on schedule, within budget, and meets or exceeds the highest standards for quality as well as sustainability. Prefabrication, Constructible BIM Digital Twin and cloud-enabled collaboration tools are just a few of the cutting-edge construction techniques and technologies that are now being leveraged in every stage of the construction process. These innovations result in significant time and cost savings and increased efficiency.
How are facades aiding the energy efficiency and aesthetics of high rises?
An effective facade plays extremely important in determining the success of a building. A well-designed facade is a powerful architectural and artistic impression of the building and its inhabitants. The facade not only integrates with the architectural context but also plays a key role in building performance. Several factors need consideration, such as types of materials and their durability, ease of installation and maintenance, cost factor and resistance to corrosion, before designing and
building a facade.
Amidst a global push towards sustainable living, designing practical facades has gained prominence in ensuring the sustainability index of the entire building. For example, a facade significantly impacts inside temperatures and can therefore be designed to trap the heat inside the building in colder climates or dissipate heat in warmer climes. Where necessary, a well-structured facade will maximise natural sunlight and ventilation, resulting in a more energyefficient structure. These concerns
are of utmost importance as we move towards a more sustainable future.
6