India's fenestration industry undergoes a significant shift in design aesthetics: An interview with Nitin Mehta.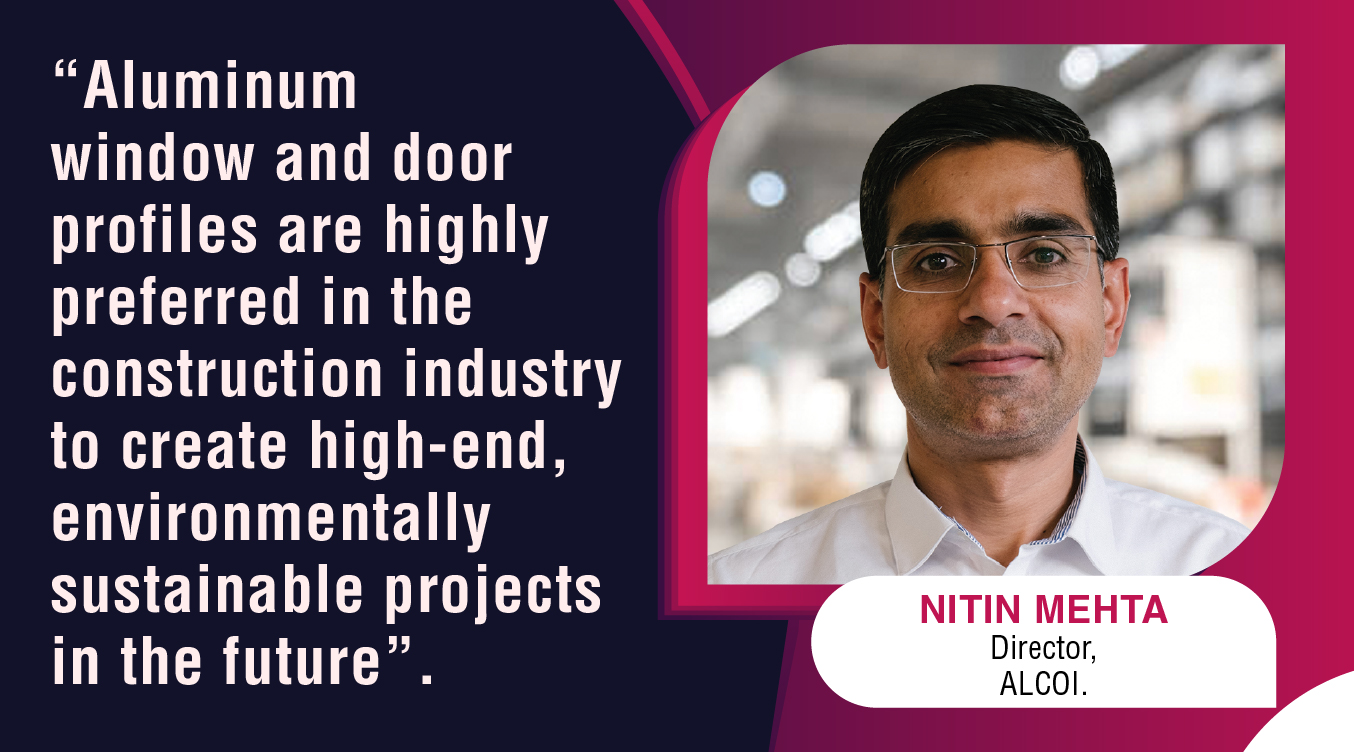 Nitin Mehta, Director of ALCOI, speaks about a significant shift in India's fenestration industry aesthetically and architecturally.
What key strengths and core values have made you one of the premium brands for doors and windows?
ALCOI believes in decongesting and enlarging spaces inspired by the design philosophy of the father of the Modern Movement in Architecture, Le Corbusier. ALCOI is dedicated to fulfilling client aspirations of achieving maximum output with minimal design by merging architecture with aesthetics and interiors with functionality and class.
With an in-depth knowledge of the Indian industry, and a focus on architectural finesse and user-centric design, ALCOI's user-centric design has revolutionised the industry. It has been recognised as a building envelope specialist, providing solutions throughout a project's cycle. The systems are conceptualised through a nuanced design approach rooted in science, color, and craftsmanship.
What are some essential factors to consider when choosing doors and windows?
A building with well-designed fenestrations looks and feels better, inside-out. However, given that many systems and designs are available nowadays, you must compare, analyse and test before selecting the one that suits your needs and preferences. The doors and windows purchasing process goes beyond appearance and quality standards.
Doors should be selected based on their designated function, user profile, and location. The primary functions of windows are letting light in and controlling airflow inside a room. Nevertheless, these functions vary with the window styles. Knowing the primary role will help streamline the selection process.
In humid areas, it would be advisable to use a non-corrosive material. In extreme climatic conditions, the sizes of the doors and windows should be such that the interior environment is least affected by the exterior climatic condition. The final step would be to choose the design, including the colour scheme of doors and windows, the liking of which is subject to the end users.
How would you assess the transition in design aesthetics for the door and window industry?
India's fenestration industry is witnessing a significant shift both aesthetically and architecturally. Developed economies' influence is evident in how residential and commercial real estate projects are shaped today. Also, the rise in aspirational spending has transformed the aesthetics of the fenestration industry.
Which contemporary and energy-efficient designs do you design or materialise for doors and windows?
Today, aluminium meets the needs and requirements of modern-day fenestrations successfully. It weighs about 1/3 the weight of its metal counterparts and thus offers a much lighter end product. As a result, the construction industry admires aluminium window and door profiles, establishing itself as the future of high-end, design-led, environmentally friendly projects.
With technological advancements, the products have vastly improved over time, meeting specific construction needs and offering innovation and better flexibility. In addition, aluminium profiles virtually discount the need for long-term maintenance, given their flexible and ductile properties.
for more info visit : https://alcoi.in/
36