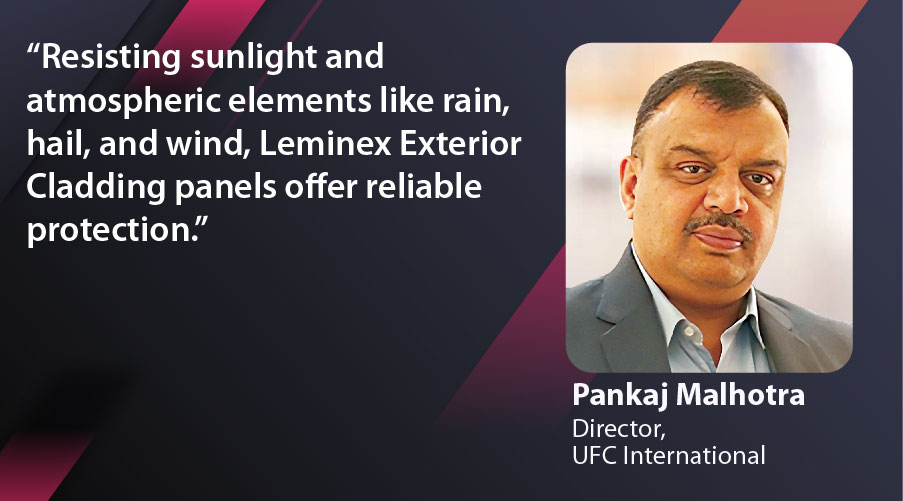 "Resisting sunlight and atmospheric elements like rain, hail, and wind, Leminex Exterior Cladding panels offer reliable protection." Pankaj Malhotra, Director, UFC International.
A prominent manufacturer of high-pressure and compact laminates, Leminix has gained acclaim for its opulent laminates across Europe and Asia since its inception in 1978. Leminix's perspective has always been that laminates are more than mere backdrops; they possess limitless potential in surface adornment. With its inventive approach, Leminix has revolutionised the perception of laminates, infusing them with new life through innovative finishes and colours. These affordable and long-lasting laminates serve as distinctive countertops, boasting unique textures, exceptional designs, and remarkable character.
Crafted for unsurpassed quality and style, Leminex laminates are produced in state-of-the-art facilities using cutting-edge machinery imported from Italy. Our high-pressure laminates cater to a diverse range of preferences, featuring over 600 designs, 40 realistic textures, and three sizes (8×4, 10×4, and 12×6).
Our lap-sliding fixing method is appealing for panel installation, creating robust and contemporary facades with pre-fabricated Leminix exterior cladding panels. These panels, designed for easy installation, offer the customary advantages associated with Leminix exterior cladding panels.
For the installation of Leminex exterior lap sliding panels, vertical wooden substructures are outfitted with mounting clips. Each substructure slat should be a minimum of 50 mm wide, providing ample space for two side-by-side mounting clips where two panels meet. The gap between each slat should measure 500 mm, a guideline applicable to structures up to 8 m height.
The installation begins at the base, securing a horizontal base bar and then arranging a row of mounting clips on the bar to support the panels. Attaching two mounting clips at each vertical joint between the panels is imperative.
Designed to endure exposure to sunlight and various atmospheric conditions, including rain, hail, and wind, Leminex Exterior Cladding panels exhibit resilience. These panels can withstand minor effects from exhaust emissions and acid rain on their surfaces. Additionally, they resist thermal shock while retaining their physical and mechanical attributes.
Significant fluctuations in climate, ranging from -10°C to +60°C or transitioning from arid to 90 percent relative humidity, leave the appearance and properties of Leminex Exterior Cladding panels unaltered.
Under appropriate site conditions, Leminex maintains moderate dimensional stability, though slight dimensional fluctuations due to atmospheric influences are possible. Contraction may occur in environments with low humidity, whereas expansion is more likely in high-humidity settings.
The compact nature of Leminex exterior cladding panels contributes to exceptional mechanical qualities such as flexural, tensile, compressive, and impact strength. With uniformity and high density, the panels effectively retain these attributes.
27