Material and geometry are important building parameters in seismic zones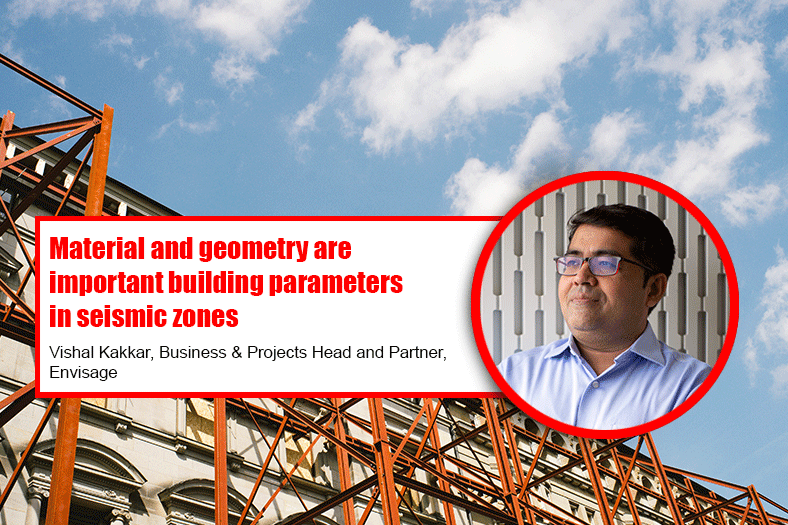 There is nothing we can call as seismic proof; the use of locally available materials along with the geometry/shape of the building helps in building strength for a building for high seismic zones says Vishal Kakkar, Business & Projects Head and Partner, Envisage.
What are some of the innovations in the structural strengthening of buildings and other infrastructure projects?
The strengthening method of any structure is dependent on the materials of construction. Structural elements of existing buildings are commonly constructed of concrete, steel, timber and masonry.
The structural strengthening can be achieved by
• Section enlargement
• External post-tensioning
• External bonded steel elements
• Bonded advanced fibre reinforced polymer (FRP) composites
• Span shortening
• Epoxy mortars for timber construction.
• Combination of any of the mentioned methods.
No matter what strengthening innovation is used, the ability to perform as an integrated system can be obtained only by providing an adequate bond between the existing members and the repair/reinforcement to ensure a monolithic structural behaviour.
Especially for projects based in geographies experiencing inclement weather, what can be done to ensure they are seismic proof?
There is nothing we can call as seismic proof; the use of locally available materials along with the geometry/shape of the building helps in building strength for a building for high seismic zones. E.g. Bunga (name of the house that is cylindrical in shape) actually withstood the Bhuj earthquake, rather than houses of any other shape nearby. Strengthening methods such as epoxy mortars can be very effective in mountain areas, where timber construction is widely used.
What are some of the new age technologies utilised in the construction of high-rises and infrastructure projects? Having said that, what kind of maintenance is a must to ensure that the structure stays resilient in the long term?
Some of the new age technologies used in high rise structures:
Innovative Diagrid System
This is one of the most innovative and adaptable approaches to structuring high-rise buildings. This kind of structure has evolved from a diagonalized tube. A diagrid is a special form of the spatial truss. The difference between a conventional braced tube structure and the current diagrid structure is that – the diagrid system has almost completely eliminated the use of columns.
Monolithic Concrete Construction
Adoption of advanced technologies such as monolithic concrete construction (shear wall technology) using aluminium formwork or precast construction is slowly becoming the norm. These technologies reduce the time cycle and the requirement of construction labour, lessen the project duration vis-à-vis conventional construction, reduce the material wastage, and improve the construction quality and safety. They also eliminate labour-intensive activities such as masonry and plastering, thus leading to time and cost savings.
Pre-engineered Structural Steel Construction
Pre-engineered Structural Steel provides many construction benefits on its own. The use of steel results in an accelerated schedule. Construction Quality is enhanced because of off-site fabrication, and the productivity opportunities that exist in construction can be best addressed in off-site fabrication with a reduction in actual on-site time and on-site construction.
What are some of the projects you are working on currently?
The architectural typologies that we deal with and are working on currently are institutional buildings, corporate spaces and residential buildings. The changing times that we are a part of, demand for us to go back to the basics of what we learnt at architectural school and relook at the spaces we design from a holistic perspective of creating a healthy building. A sound structure that can bear the high seismic activity and a healthy building in response to the post-pandemic situation are our high focus areas right now.
12