Mehler Texnologies' membrane is highly efficient, resilient and eco friendly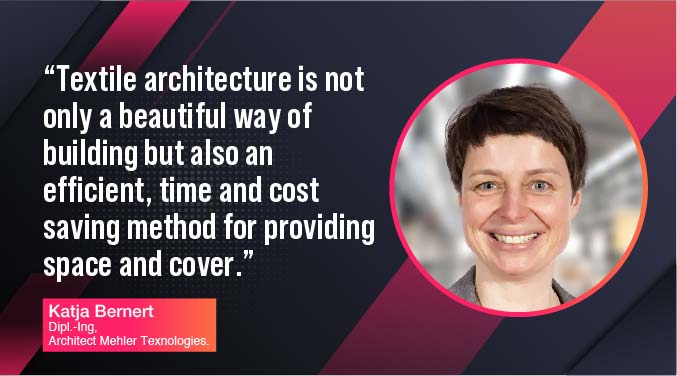 Katja Bernert, Dipl.-Ing. Architect of Mehler Texnologies speaks about modern technology and textile structures to create sustainable airports.
Could you elaborate on the company's approach to sustainability in its products?
Mehler Texnologies' membranes are used for lightweight structures all over the world. Ultimately, there will be reduced recycling quantities at the end of a long lifecycle. Yet we're convinced that the inherent efficiency of textile structures and the excellent durability of our products must be complemented by another sustainable advance: Mehler Texnologies has lately developed more green opportunities by using 100 percent recycled PET bottles for our fabrics. Starting with our façade mesh, TF 400 Eco F, we expanded this principle for other architectural fabrics. This is unique in the textile architecture world.
How does Mehler Technologies integrate modern technology and innovation into its materials?
Most of our up-to-date inventions focus on making our membranes more sustainable. Integrating recycled PET bottles for our fabrics was a milestone in textile architecture. The membranes used for architectural applications must last a very long time. That's why Mehler Technologies cooperated with universities to ensure that the recycled material's technical properties were good enough to withstand the same influences as the all-new material. Interestingly, the PET material's performance was comparable, particularly regarding long-term behaviour.
What advantages do textile structures offer in airport design compared to traditional construction methods?
The fabrics' efficiency in covering vast spaces is the most obvious advantage of Mehler Technologies' lightweight materials. Textile structures are a lightweight construction method. In many ways, we are very similar to the construction methods in aviation: the lighter, the better. Conventional roofing needs more sub-construction, is much heavier, and needs considerable foundations. This results in a significant carbon footprint during production, transportation, and installation. On the other hand, textile structures with membranes provide a sustainable, lightweight concept with an enormously reduced input of primary and secondary energy, a far smaller effort for installation, and, in conclusion, significantly reduced quantities for recycling at the end of a very long life cycle. These are only the advantages when looking at aspects of sustainability.
What are some common materials used in tensile structures for airport design?
With the help of the experts at Mehler Texnologies, it is easy to make the right choices. There are many different sorts of fabrics and foils, many different base fabrics and coatings. Textile architecture experts are happy to advise you on the various options. Every structure needs to be looked at individually, and it is important to remember that experts are there to help you find it. One of the central features might be translucency. Mehler Texnologies' huge portfolio includes membranes with extremely high translucency.
For more info visit : https://mehler-texnologies.in/
104