Metro railway projects need a dependable and efficient transportation system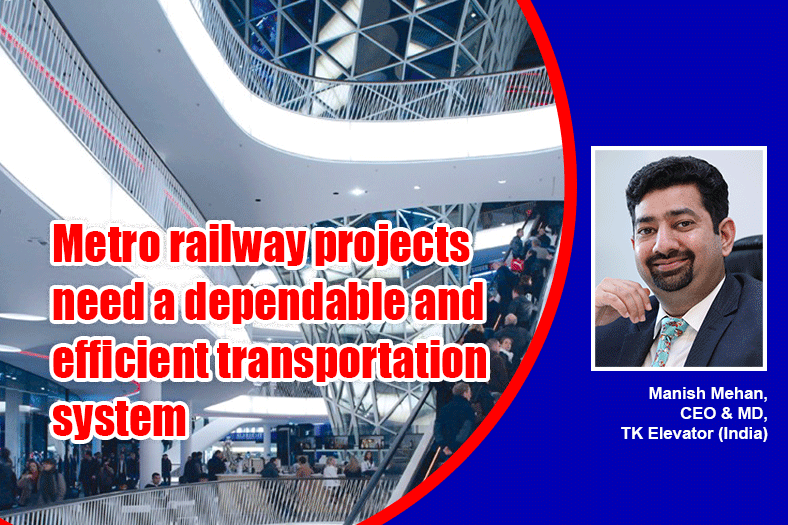 From high-capacity elevators to heavy-duty escalators and moving walks, our mobility solutions help in managing pedestrian traffic efficiently. They help commuters and travelers feel safe and calm, says Manish Mehan, CEO & MD, TK Elevator (India).
What kind of elevators and escalators are desired for metro railway projects?
Metro railway projects need a dependable and efficient transportation system to get passengers to their train safely and on time. At TK Elevator, our mobility solutions help you do just that. From high-capacity elevators to heavy-duty escalators and moving walks help in managing pedestrian traffic efficiently. They help commuters and travelers feel safe and calm.
PubShort transfers, changes in schedule, ridiculously busy rush hours – are the stress and time pressures that always accompany public transport. Our industry-leading solutions help in managing these challenges by delivering best-in-class conveying performance, the highest reliability and constant availability.
Our victoria e-escalator technology enables online monitoring using latest web technologies. 75 m rise; Radar sensor as innovative alternative to light barriers and contact mats; Acoustic comb segment monitoring instead of optical control; Automatic step cleaning; Eco-chain with self-guide cleaning for smooth running are some of the key highlights of Victoria.
Furthermore, our "tugela" public service escalators not only make light work of heavy weather, but also of time. Materials of the highest quality and precision finishing guarantee high availability under extreme and continuous operation, essential for underground and overground metro railway stations, pedestrian bridges or tunnel systems.
We also offer retrofitting solutions to modernize aging systems, irrespective of the make. Through our global service network, our highly skilled professionals ensurethat the new or retrofitted systemskeep operating at peak performance for years to come.
Keeping in view that these products are utilised by a large number of commuters, what kind of safety features should they ideally possess?
Escalators at metros nowadays are equipped with advanced technology, such as power saving features and safety features which ensures low noise, reliability, longer product life, low operating costs and enhanced safety.
Having said that, safety can be maximised if escalators are designed with user behaviour in mind. For example step up-thrust device stops the unit if an object becomes trapped between steps thus helps prevent accidents involving buggies; Double shoe brake system with Dual circuit-brake compensate in the unlikely event of failures, thus ensuring a safe stop; Skirt safety switch stops the unit if something gets trapped between the step and skirt thus helps prevent accidents with high friction footwear; Safety curtains beside the balustrade, prevents people from falling over the balustrade etc. TK Elevator puts safety first and offers a wide range of escalators with best in class over 50 safety features.
For example, numerous safety sensors continually monitor "tugela". Its e-escalator technology collects, analyses and archives all operating data. As comfortable as the tugela is for passengers, as simple it is to monitor. Its e-escalator technology enables online management from any control centre. Another advantage in terms of ergonomics is the optional remote control, which allows access to all important functions.
Not to mention, our victoria escalators deliver an outstandingly reliable MTBF (Mean Time between Failures) of around 4,000 hours, as calculated by the RAMS analysis method (Reliability – Availability – Maintainability – Safety). The main codes TK Elevator follows in this are EN 50126:1999 and DIN EN 60812:2006.
Likewise, effective and proven safety features ensure the safety of the elevators as well that of the rider at metro stations. For example:
• Automatic rescue deviceprotects passengers from being trapped inside elevators in case of unexpected power outages by taking them to the nearest floor.
• Over-speed governors prevent speeding in both directions, thereby improving passenger safety.
• The gradual activation of progressive safety gear stops the elevator in a safe way in case of safety activation, thus reducing passengers' the risk of tripping.
• Full-height infrared curtains render invisible safety nets of beams across elevator entrances and ensures that passengers are not hit by the leading edges of doors.
• Safe door systems prevent doors from opening when the elevator is in between the floors.
Such public utility products are also expected to be energy efficient, how can that be achieved?
In addition to deploying permanent magnet synchronous (PMS) gearless traction machines, which consume up to 50 per cent less energy than conventional geared machines; smart and efficient elevators developed for metro projects can be equipped with a regenerative drive feature, which feeds energy back into the building's power grid during the motor's generative mode (when the car is lightly loaded and moving up, or heavily loaded and moving down). Adding the regenerative feature can reduce energy consumption of the elevator by up to 50 per cent.
Other energy-saving measures include the extensive use of LEDs in elevator cabs and escalators, which can offer up to 80 per cent energy savings, while providing the same luminance as traditional lights and a lifetime 10 times longer. LED lights also emit low heat and minimal radiation.
Some additional avenues for increasing the energy efficiency are:
• Energy-efficient controller (measuring load and energy recovery)
• Energy-saving operational modes (e.g., speed reduction, sleep mode, "stop and go")
• Standby functions (e.g., learning function for optimal use)
• Switch-off functions
• Optimized motor dimensions tailored for the application
Talking about escalators, these are one of the most efficient mobility solutions to move large groups of people.  Energy use of an escalator is dependent upon its step width (proportional to peak load carrying capacity), traffic patterns, control type, annual operating hours, and vertical rise. Regenerative braking can be employed on heavily used down escalators and finally, LED light sources can be installed for skirt guard, comb, and rail lighting.  Lighting improvements alone can result in 1,600 to 2,000 kWh/year of energy savings.
Several energy savings approaches are available for elevators too.  With low traffic or long periods of no traffic, stop-and-go operation is a possibility. An option that is popular in Europe and Asia is to slow the elevator down when no passengers are present.  Installing variable speed drives or use of variable voltage motor controllers can result in energy savings of 15 per cent to 40 per cent.  This alternative is useful with medium traffic.
12