We have a proven reputation for delivering cost-effective & innovative building solutions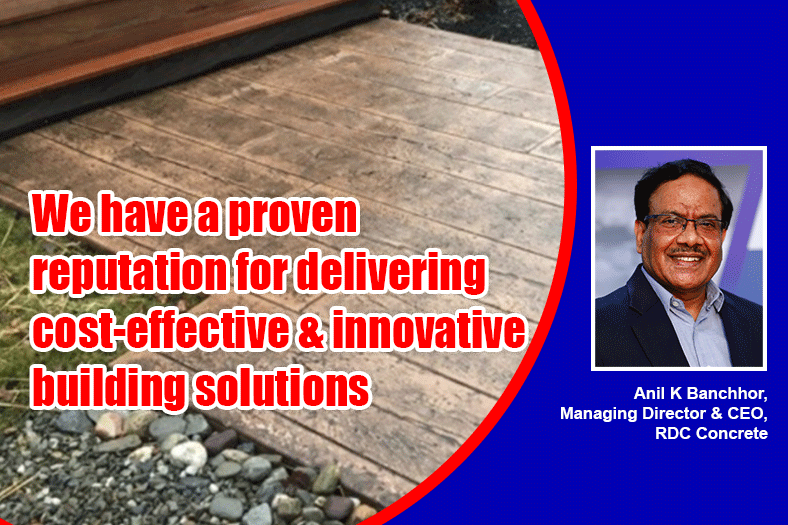 RDC Concrete has a wide range of product portfolio for providing high-quality tailor-made solutions for various needs. A smart city needs to be energy-efficient, sustainable with eco-friendly features, says Anil K Banchhor, Managing Director & CEO, RDC Concrete.
When it comes to the construction of infrastructure for Metro Rail, what quality and grade of concrete is desired?
For infrastructure projects, high-performance concrete with desired strength and durability is being used for longer service life and lower life cycle cost. Appropriate selection of concrete (type/grade) and precise estimation of concrete quantity are essential to achieve an optimised cost of concrete. Further, desired strength and durability of concrete could also be achieved by appropriate selection of construction methodology along with the equipment required for the production, transportation and placing of concrete. Nowadays high-performance concrete is being preferred in all metro Projects.
Generally, for segment casting the grade of concrete to be used should be above M50 grade. For In-situ concreting, the desired grade should be between M30 to M60 based on the application like Pile casting and column. The temperature of concrete at the time of poring should be maintained below 32-degree celsius. RCPT or RCMT values are being specified for most of the projects and which can be achieved by proper selection of mineral and chemical additives.
RCC slabs have been utilised extensively in infra projects, what kind of admixtures will you recommend?
Chemical admixtures are one of the most important ingredients in making high performance, long-lasting and durable concrete. High range PCE based water reducers are being used for longer retention, durability and strength. Viscosity modifiers are being added for self-compacting concrete for precast segments. Concrete admixtures are manufactured chemicals or additives added during concrete mixing to enhance specific properties of the fresh or hardened concrete such as workability, slump retention, durability and early strength.
In some projects, corrosion inhibitors are specified to improve the protection of rebars from corrosion for marine structures or near seashore or where chloride salts are present. The chlorides can cause corrosion of steel reinforcement in concrete. This type of admixtures work for many years after the concrete has set, increasing the corrosion resistance of reinforcing steel to reduce the risk of rusting steel causing the concrete to crack.
What are your products and solutions for such large scale infrastructure projects?
RDC Concrete has a proven reputation for delivering cost-effective and innovative building solutions to meet a plethora of requirements of customers. We are having a wide range of product portfolio for providing high-quality tailor-made solutions for various needs. A smart city needs to be energy-efficient, sustainable with eco-friendly features.
We have Greencrete concrete of various grades up to M60 with lesser embodied energy and contain more eco-friendly materials. Duracrete is another product offering longer life and lower life cycle cost than normal concrete due to its better durability properties and least maintenance. Crack free concrete makes it impossible for water to penetrate and thereby reinforcement is well protected from possible corrosion causing external factors. We have Naturecrete for paving in walkways, which allows water to percolate to the ground and increase the water table, instead of going to drain. This is quite helpful as the decreasing water table is one of the serious concerns in the cities due to increasing population and extracting water from borewells in housing societies.
We also have dry and wet concrete bags to address the small repair work requirements. These bags will satisfy the need for quality concrete for smaller applications in areas, where it is difficult to carry normal concrete. Selfcrete is one product which is largely being used in multi-storeyed building in congested columns or with aluminium formwork due to high flowability and ability to fill complicated structural members where congestion of reinforcement is high and it also speeds up the rate of pour thereby saves time. Heat resistantcrete helps in lowering down the heat transfer from roof slab to the inside building thereby saving in energy cost due to better heat resistance.
Tempcrete designed to reduce the core temperature of raft foundations, Supercrete designed to achieve high compressive strengths up to M100, Fastrackcrete to achieve high strength in a matter of hours, Fibrecrete with new generation polypropylene fibre or with steel fibre, Impecrete to give aesthetic look to structures and many other products like Superexpresscrete, Procrete, Toughcrete, Passivecrete, Corroderesistcrete, Heat resistantcrete, Waterproofcrete, Greencrete, Naturecrete, Litecrete etc. with wide applications giving longer durability, better strength, cost savings also reducing Time and efforts put in a project. All the products are eco-friendly and are the step forward to contribute to sustainable development.
2