PM Modi flags off nine Vande Bharat Express trains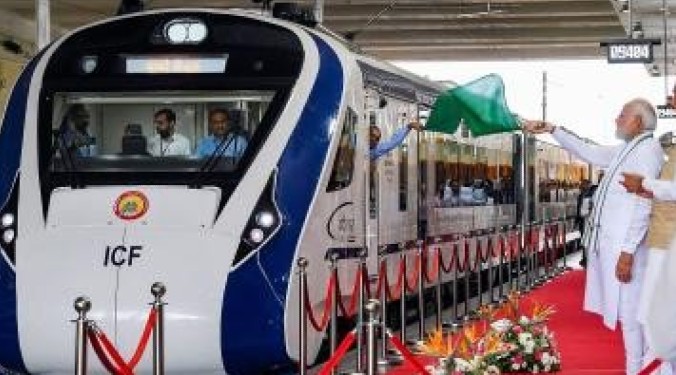 Prime Minister Narendra Modi inaugurated nine Vande Bharat Express trains, showcasing a multitude of enhancements based on valuable feedback from passengers.
The meticulous attention to detail by coach manufacturers is evident, addressing concerns such as seat reclining angles and efficient water usage.
One notable change is the adjustment of the seat reclination angle, now offering a more comfortable 19.37 degrees compared to the previous 17.31 degrees. Additionally, the cushion hardness has been optimised for a better seating experience, complemented by a shift in seat color to a pleasing blue in the executive class.
Passenger accessibility has been significantly improved, including the extension of footrests for seats, enhanced placement of mobile charging points, and provision of magazine bags for executive class coach-end seats. Furthermore, modifications have been made to the washbasin depth to prevent water splashing in lavatories, and lighting in toilets has been upgraded to 2.5 watts for better visibility. The toilet handles have been redesigned for an improved grip, and water tap aerators have been installed to ensure better water flow control.
Special attention has been given to the needs of Divyangjan passengers, with the inclusion of secure points for wheelchair placement in the driving trailer coaches. The trainsets now boast improved air tightness, enhancing air conditioning through better insulation over panels. Moreover, changes in roller blind fabric have increased tear strength while reducing transparency, and luggage rack lights are now equipped with smooth capacitive touch controls, offering enhanced functionality.
In terms of safety, the trains feature an aerosol-based fire detection and suppression system inside the coaches, providing a more secure environment for passengers. Furthermore, to meet the high demand on the Kasargod to Thiruvananthapuram route, the railways have introduced an orange-colored Vande Bharat Express, with plans to roll out nine more trains with a similar aesthetic appeal over the next two months.
57