Signify brightens the new Parliament Building in India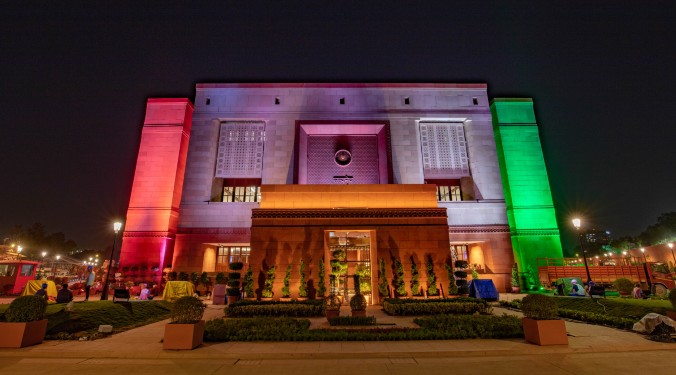 Signify (Euronext: LIGHT), the world leader in lighting, announced that it has successfully illuminated the new Parliament Building in India, in collaboration with Tata Projects Limited, who executed the project as the main contractor on an EPC basis.
The company has illuminated several prominent sections of the newly constructed mammoth triangular edifice such as The Ashok Stambh, the exterior façades and the interiors, using more than 1200 Philips luminaires.
The Ashok Stambh, a majestic structure standing at 6.5 meters in height and crafted from bronze, has been illuminated in a way that enhances its grandeur and historical significance. The façade lighting highlights the triangular building's intricate jalis, the external parapet at the top, the three ceremonial gates and the external balconies, and is capable of producing 16 million colours. The company has also illuminated the main functional interior lighting of the Lok Sabha and the Rajya Sabha for HDTV broadcasting, in addition to the back lighting for panels in the Rajya Sabha and Lok Sabha chambers, the elegant courtyard and general lighting for the reception and office areas.
Speaking about the project, Sumit Joshi, CEO, Signify – South Asia, commentes, "We are proud to have partnered with Tata Projects Limited to illuminate this iconic and prestigious structure with our innovative lighting solutions. The new dynamic lighting system reflects the grandeur of the new Parliament Building as a beacon of architectural brilliance, seamlessly blending tradition with modernity. The new lighting is also energy efficient and will make these buildings a visual treat for onlookers. Our team's dedication and commitment to excellence shine brightly in every corner of this magnificent building, as they worked day and night to complete the project in time."
for more info visit : https://www.signify.com/en-in
70