Prefabrication Acts as a Game Changer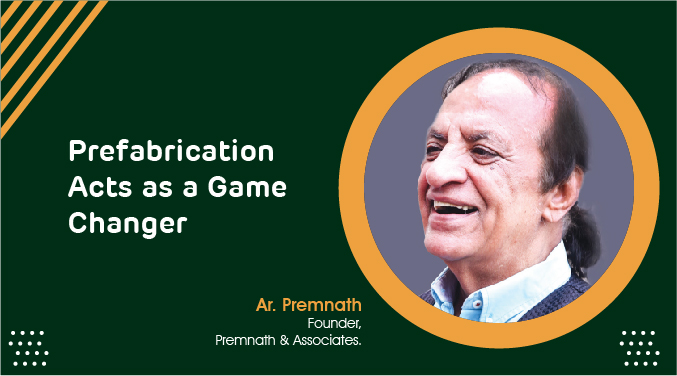 In facades and building envelopes for high-rises construction, aluminium is the best material, associated with sustainable materials such as glass, composite panels, glass-reinforced concrete, etc.
With the advancement in technology, construction has no limits. One wishes to go as high as possible. The effect of wind, seismic, and correspondent lateral stability systems to resist wind or seismic loading are crucial aspects to consider while we scale higher. However, the primary considerations in designing highrise buildings are the building's need to withstand the lateral forces imposed by winds and potential earthquakes. Most high-rises have frames made of steel or steel and concrete. Safety measures such as automatic extinguishing equipment, fire detector equipment, fire alarm, smoke detector and automatic sprinkler etc., are some of the basic requirements for every high-rise building. While growing higher, we must remind ourselves that Sustainability is the need of the hour.
Green Architecture is a concept every designer should practice. During the construction process, green building manufacturers can also benefit the environment by using recyclable and long-lasting materials; overall, fewer materials need to be used within the structure, resulting in cost savings and less energy being used. It looks at fighting against climate change and reducing the industry's environmental impact. One of the most efficient methods is using prefabricated components manufactured in a controlled, offsite environment.
Modular construction is a game-changing technology since it offers faster construction, safer manufacturing, better quality control, and lower environmental impacts than traditional onsite construction. These benefits can be maximised in high-rise buildings due to their inherently topological modular form and the increased number of repeatable modules. Building material signifies structural existence. It demonstrates the presence of aesthetic sense in a design and hence, defines the practicability of the structure. Every day, engineers are developing the way we use materials in the construction of tall buildings.
Lighter materials that can help reduce the weight of the structures and ease their construction are becoming more relevant, and aluminium in the facades and windows of high-rise buildings is a perfect example of such a trend. In facades and building envelopes for high-rise construction, aluminium is the best material, associated with sustainable materials such as glass, composite panels, glass-reinforced concrete, etc. Facades, as the boundaries between the inside and the outside, also have to manage various flows and exchanges between the external and internal world.
Moreover, these facades or building envelopes will have to be more and more "intelligent" to optimise the internal comfort of the users – at every time of the day – according to the external conditions, such as temperatures, sun, rain and wind. The façade's ability to resist stress factors such as wind pressure and the weight of other components entering its composition and its ability to accommodate possible movements of the structure, from small natural thermal or structural activities up to significant displacement when buildings are required to be earthquake safe.
Building façade is one of the most vital pieces of design, which refers to the side, usually the front side of a building structure. It provides a great opportunity for designers and architects to play around and display their design skills and artistic talent. But a façade is more than just for show to the public. The design of façades is highly complex, at the same time, essential in determining the success of a building. Façades are not only designed for their aesthetic reasons, but several factors that need consideration, such as types of materials and their durability, ease of installation and maintenance, cost factor, resistance to corrosion and other chemicals, are some of the common considerations that go into an effective façade design and implementation. That being said, the critical aspect of the façade is that it adds value to both the efficiency and aesthetic of the façade is façade lighting.
In recent years, façade design has been the signature of famous architectural firms, who want to leave a mark through their unconventional façade design that stands out, and lighting is one such aspect that is helping them to bring out their uniqueness. A good façade lighting should have the following key elements such as:
a. Aesthetic – Aesthetics have become a critical crowd-pulling aspect for retail locations, where the consumers are owed through the design and lighting of the façade.
b. Function – the optimum façade lighting should ensure proper illumination that makes occupants feel soothed to see the entire building. They should also bring out the difference in design or structure inthe façade.
c. Efficiency – One aspect is to create breathtaking façade lighting; the other is to create a stunning, incredibly energy efficient layout. This can be done by assuring that the
majority of the light is reaching its target and there is less wastage of light. Reducing the amount of wasted light will make the façade more efficient.
57