Prism RMC has been at the forefront in setting high standards for quality systems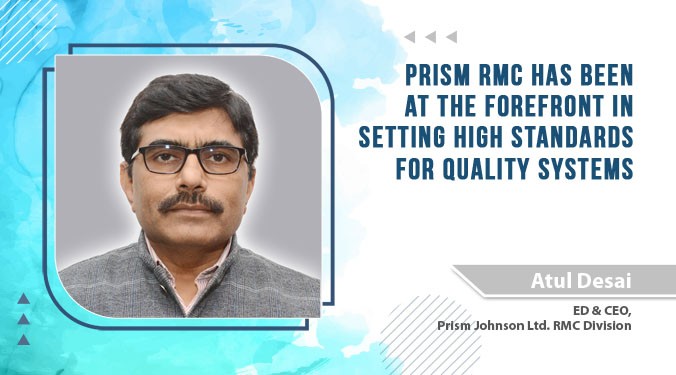 Prism RMC has developed trust amongst its customers due to best quality, customer satisfaction, after sales support & timely product delivery, Atul Desai, ED & CEO, Prism Johnson Ltd. RMC Division
In an interview with Ace Update, Atul Desai asserts Prism Johnson is well equipped to supply huge volumes of concrete for different projects including the iconic bullet train project.
What was Prism RMC's strategy for meeting large volume demand? 
We are one of India's leading ready-mixed concrete manufacturers, set up in 1996. We currently operate 100 ready-mixed concrete plants in 44 cities and towns across the country. To accommodate high volume demand, we have developed best-in-class plants that are operational 24 x 7. We have fully equipped state-of-the-art manufacturing units, delivery systems, and exceptional quality control systems. We test raw materials before they are introduced into the facility. This aids in quality control. We have our own transit mixers that manage transportation and delivery; we also hire transit mixers based on need and volume demand. By simplifying our procedures and ensuring a continual supply of quality concrete, we ensure timely supply of the concrete to meet large volume demand. 
What role has Prism RMC had in the development of the bullet train project? 
For the bullet train project, Prism RMC provided high-quality ready-mixed concrete. In the ready-mixed concrete sector, we have been at the forefront of defining high standards for plant, machinery, manufacturing, quality processes, and product services. Prism RMC has earned the trust of its clients over the years by providing the greatest quality, customer satisfaction, after-sales assistance, and prompt product delivery. We were confident in supplying large volumes of concrete to the iconic masterpiece project "The Bullet Train" due to our competence, knowledge, and trained team. 
What are the major characteristics and values that have enabled you to provide high-quality concrete? 
We imbibe certain values, the most important of which are trust, transparency, and fairness. It aids in the development of customer trust, allowing us to provide the highest quality and service to our consumers, and ensures customer satisfaction. Furthermore, we are committed to achieving and maintaining excellent health, safety, and environmental standards at all of our sites and offices. To measure the level of such awareness, we conduct extensive internal HSE audits at all plants and offices on an annual basis, and trophies are awarded to top-rated institutions. Furthermore, Prism RMC is completely committed to environmental protection and pollution prevention. We implement sustainable development strategies such as the use of industrial waste products such as fly ash, blastfurnace slag, silica fume, and so on as part replacement of cement in concrete, thereby assisting in the preservation of natural resources on the one hand and reducing greenhouse gas emissions (CO2, NOx) resulting from cement production on the other. Our key USP is product quality, which we achieve by conducting various tests on concrete and its raw materials, streamlining the processes and accessing the final product. These values enable us to provide the finest product and service to our customers while keeping health and safety at our plant and offices in mind, as well as our commitment to environmental protection. 
How does Prism RMC retain quality high while delivering at scale? 
We have four NABL-accredited labs in Mumbai, Bangalore, Gurugram, and Chennai that assist us with quality control. We do material testing to verify that our products are of the highest quality. Our expertise in this industry for over 25 years has allowed us to optimise procedures, quickly set up plants as needed, and manage a continual supply of quality concrete. The prestigious National Safety Council Award was given to our 38 plants in India. We are the first company to have our Cochin plant receive the renowned QCI certification. We have previously supplied high-quality concrete to large-scale projects. That knowledge has enabled us to provide high-quality concrete on a broad scale.  
40