Mcon Rasayan has some efficient solutions for waterproofing PEB structures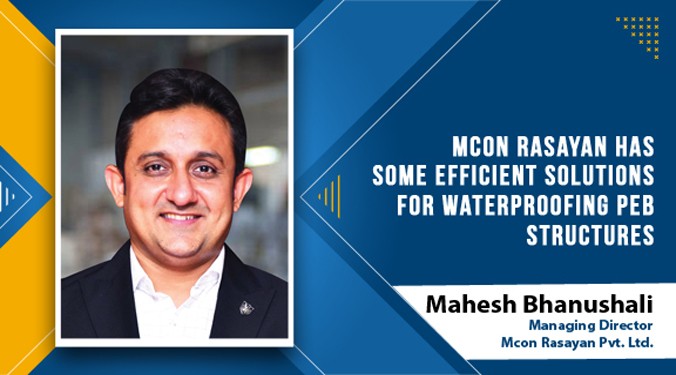 There can be very minute holes in PEB structures due to errors in workmanship while bolting, such issues can be easily be taken care of by our waterproofing solutions says Mahesh Bhanushali, Managing Director of Mcon Rasayan Pvt. Ltd.
Mahesh Bhanushali speaks on MCons varied product offerings for effective waterproofing
A lot of individual properties have luxurious swimming pools, what are some of the best solutions to waterproof swimming pools especially during monsoons and otherwise?
The product must address both positive and negative hydrostatic pressure. Positive hydrostatic pressure comes from the substrate above and negative, water pressure comes from beneath the pool's substrate. The right product must be applied to the substrate's surface and allowed to cure before tiling begins.

Mcon Magic Coat Flexi is a product which can be used for the waterproofing of swimming pools. The product gives a strong bond with the concrete substrate and is breathable coating. It gives a good waterproofing feature to the substrate and its combination with Mcon Magic Screed makes the surface watertight from positive and negative side. Magic Coat Flexi is white in colour and can be brush or roller applied. The ease of application and the high waterproofing nature makes it an ideal choice for Swimming pools.

What makes modern liquid membranes polyurethane based so popular during contemporary times?
Liquid membranes are being more popular these days because of the ease of application and the performance they are delivering. Mcon Rasayan has got multiple liquid membranes in its range. The water based PU membrane – Mcon Magic Coat PU is widely accepted product due to the special features it delivers:
400% elongation to ensure that it can take care of expansion contraction cycles of the base concrete.
White colour which makes it a pleasing coating during application and also can be pigmented to give a desired shade.
Excellent bond to various substrates like concrete, plaster, china chips etc. making it multi-application product for all needs.
Liquid membrane ensures a jointless coating which normally is a big drawback of regular membranes and a reason for leakages.
Prefab and PEB are readily used for construction these days, for such structures what kind of waterproofing solutions are apt?
PEB's are metal buildings that are designed and fabricated in manufacturing plants by PEB suppliers or manufacturers and then all the components are transported to the site and are assembled and erected there with the help of nut bolts or anchor bolts.
The major reasons of leakages in the PEB Structures are the holes used for bolting and the joint overlaps of the fabricated roofs. Mcon Rasayan has some efficient solutions for the same.
There can be very minute holes in PEB structures due to errors in workmanship while bolting. These holes can be efficiently filled by Mcon Magic Seal PU – a polyurethane based gun applied sealant, to hinder the leakage of water from the hole.
When two sheets overlap in a PEB structure like the overlap of a metal and plastic sheet, a gap always forms leading to the reverse flow of water thereby making the water fall back inside the shed. The best way to address this is first fill the gap with Mcon Magic Seal PU and then apply two coats of Mcon Magic Coat PU on the overlap joints by covering 6 inches on each side of overlap. The high bonding and the 400% flexibility ensures that the waterproofing is done effectively.
37