RDC Concrete's commitment to quality and compliance in RMC production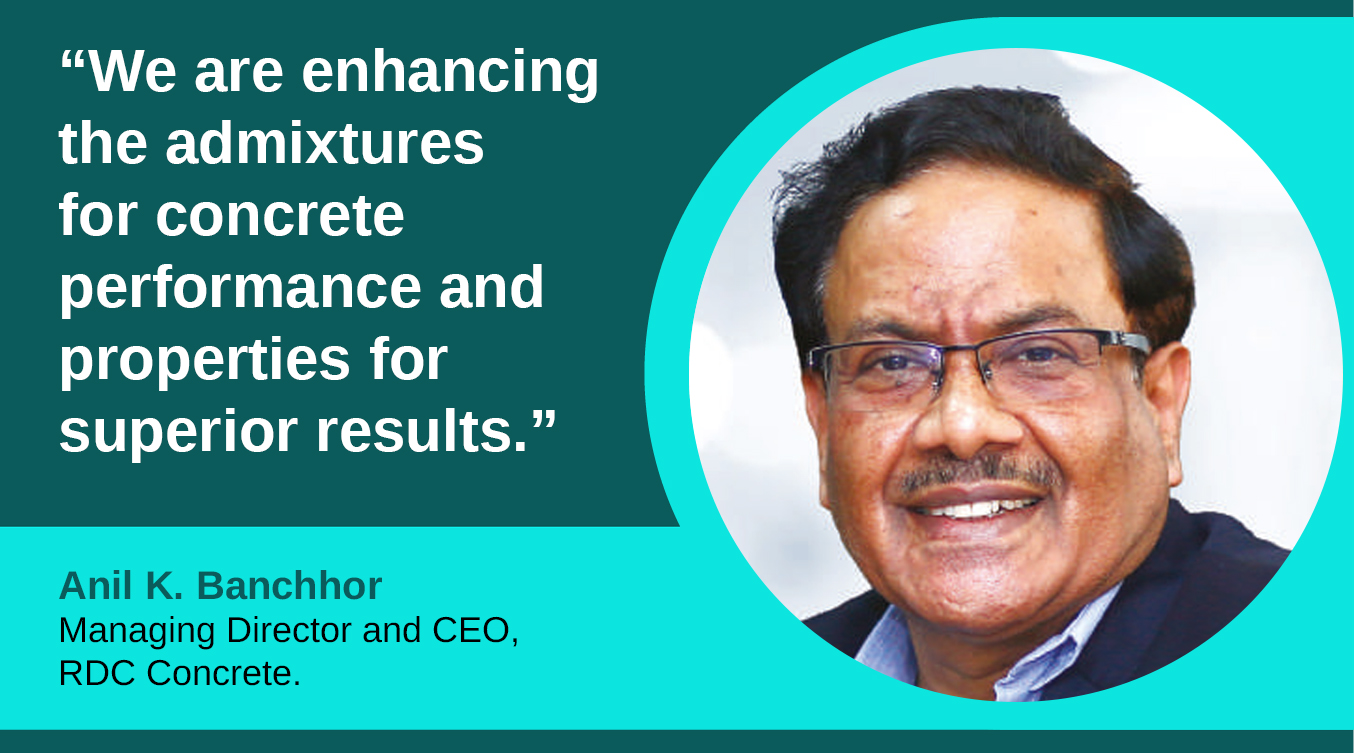 Anil K. Banchhor, Managing Director and CEO, RDC Concrete, talks about the role of R&D for innovations and discusses the required standards and certifications for RMC production.

What role does research and development play in the production of your ready-mix concrete, and what types of innovations has your company introduced to the market?
Research and development play a crucial role in the production of our Ready-Mix Concrete (RMC). It enables us to enhance the quality, performance, and sustainability of our products, as well as develop innovative solutions to meet the evolving needs of the construction industry.
One of the key innovations we have introduced to the market is the development of specialised RMC mixes designed for specific applications. For example, we have formulated high-strength concrete mixes that offer superior compressive strength for critical infrastructure projects and high-rise buildings. We have also developed self-compacting concrete (SCC) mixes that have excellent flow ability and can easily fill complex forms without the need for vibration. Extensive tests and experiments were conducted by the R&D team to create a high-performance concrete mixture that offers strength and durability.
Can you describe any unique challenges your company has faced in the production and delivery of ready-mix concrete and how these challenges have been overcome?
In the production and delivery of ready-mix concrete, we have overcome challenges such as limited land availability, non-uniform demand, price-driven compromises on quality, and a lack of awareness in tier 2 and tier 3 cities. We optimise land utilisation, implement flexible scheduling, emphasise quality, and conduct targeted marketing campaigns. Through strategic planning, efficient resource utilisation, and raising awareness, we aim to expand the adoption of ready-mix concrete in diverse markets.
What certifications and standards does your company adhere to in the production of ready-mix concrete, and how are these certifications obtained and maintained?
RDC Concrete adheres to several certifications and standards in the production of ready-mix concrete to ensure the highest quality and compliance. Our company holds the QCI (Quality Council of India) certification for ready-mix concrete production. This certification validates that our operations and processes comply with the guidelines and standards set by QCI, ensuring the quality and reliability of our products. Furthermore, we also follow ISO 9001, ASTM International Standards, National Ready Mixed Concrete Association (NRMCA) Standards, and local regulatory standards.
What types of admixtures are commonly used in your ready-mix concrete, and how do they affect its properties and performance?
In ready-mix concrete production, various admixtures are commonly used to enhance properties and performance. These materials, added in small quantities, modify the fresh or hardened state of the concrete. Common admixtures include water reducers and plasticizers, accelerators, retarders, air-entraining agents, pozzolans, and fibres. Water reducers improve workability and strength by reducing water requirements. Accelerators expedite setting, while retarders delay it. Air-entraining agents introduce microscopic air bubbles for durability and resistance to freezing and cracking. Pozzolans enhance strength, durability, and workability while reducing heat from hydration. Fibres reinforce toughness and resistance to cracking in various applications.
For more info visit : https://www.rdcconcrete.com/
8