Road of the Future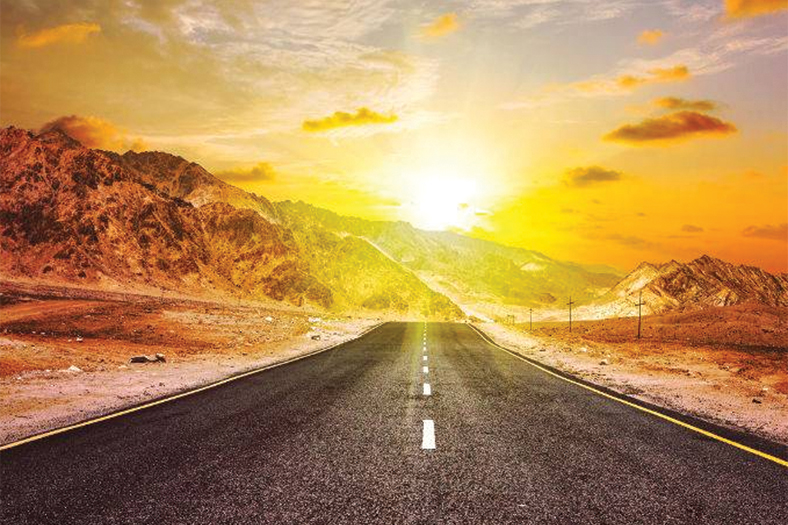 Featuring some of the advanced technologies for building the futuristic roads
Making the road 'smart'
Roads that actually make a difference to the world. There are two aspects to smart roads first is road construction – development of materials that will increase road life and second is the use of smart roads.
Since last few years, the use of the term 'smart' has become a widespread practice at all levels, technology tends to become smart in numerous areas, new infrastructures, IT technology are turning in smart and even energy is smart. Explaining his views on what makes a smart road Gaurav Soni, General Manager-Commercial, K K Gupta Constructions Pvt Ltd says, "Smart roads are able to work within a connected infrastructure network that improves overall transit of goods and people. It is proved now that from multiple angles, smart roads giving flexibility of reduce traffic congestion adaptive driving and sensor networks within the network. It is a 21st century revolution where government is improving mass-transit systems to enable reduce driving time, resulted now reduced accidents and road deaths, and improved overall safety and desire for travel."
There cannot be a smart city without a smart road and together both can provide citizens with smart mobility. "As our government working on this vision known as 'smart' infrastructure promises to make the nation more productive and competitive, while helping the environment and saving lives. Smart road now animated with sensors, panels, adopted electronic, solar system has now safer, quicker and effective journey point and good," adds Soni.
Roads are the bedrock for transport and in order to improve the infrastructure sector, the improvements and modernisation of the roads is of utmost importance. For now, the focus in on reimagining and adapting existing roads also their immediate environment to ensure that the promise of smart mobility is delivered upon.
In the era of globalisation and in the process benchmark of best commuting facilities today, making smart roads is the current agenda of existing government, believes Ratan Lal Kashyap, Sr. Vice President –Procurement, GR Infraprojects Ltd. He adds, "There has been a gradual shift on the road construction designs and methodologies where provisioning smart roads installations are being made. Even today when we drive through across the highways and expressways we can view good quality road furniture's which are available like reflective studs, solar studs used for dividing lanes to ensure lane driving, proper retro reflective road signage's giving advance guidance on road ahead for free flow of traffic avoiding any confusion. Variable sign messages on intervals and junctions of road reporting on traffic ahead, taking alternate roads, city climate, accidents ahead, etc. has been helpful to commuters and thereby making the roads smarter every day. Highway traffic management systems where SOS calling facilitated helping on emergency calls; surveillance cameras in major junctions; smart red lights with logics have been mitigating the traffic congestions. Welcoming these new technologies and innovations are leading to smarter roads in India."
Infrastructure is a vital component in encouraging a country's economic growth. A country's capacity to absorb and benefit from new technology and industries depends on the availability, quality and efficiency of more basic forms of infrastructure, energy, water and land transportation. Nitin Gadkari, Minister of Road Transport and Highways and Shipping has expressed his commitments to boost infrastructure projects and road development has become one of the key tasks to be developed in any cost.
However, Pankaj Udeshi, Asst. General Manager Procurement, Supreme Infrastructure India Ltd observes, "Presently in India we are busy in maintaining the available roads and constructions of the new roads only. There is very little technology that goes into roads. They tend to be made out of asphalt or concrete, which is compacted into a smooth, solid surface and painted upon to indicate certain restrictions, routes and information."
The word smart are connected to many things like smart mobile, watch, cities etc. it's an ever increasing list of ingenuity. So what about smart roads? Roads that think, feel and predict the needs of the people and the vehicles that travel on them.
Various new technologies are in queue to develop as digitisation, increasing automation, and new business models have revolutionised other industries, and automotive will be no exception and trial of various new technologies has already been done by developed country to make smart roads.
Explaining his views about what makes a road smart, T.S. Venkatesan, Chief Executive – Roads, Bridges & Railways, L&T IDPL says, "A road, irrespective of the connectivity centres, whether it's a city road, highway or an expressway, can be branded as a smart highway if there is a free flow of traffic, advanced information dissemination system, smart signalling systems, state-of-the art toll collection systems, technology driven incident management and needless to mention energy efficient lighting, solar powered systems etc."
Global success stories of smart roads
One of the first countries to implement roads that charge electric vehicles was South Korea. In 2013, the Korea Advanced Institute of Science and Technology (KAIST) installed the first electronically charged bus route in the city of Gumi that was able to charge the electric buses that drove on it. The aim of the project was to allow buses in the city to travel greater distances without the need to stop to recharge, allowing for more frequent bus services and more convenience for commuters using them. According to Udeshi, "The potential of connected, smart roads is huge. Not only will they keep us safe by regulating the speed of our vehicles and implementing warning systems, but also transmit real time data and share information across the network, making it simpler and quicker to get around, to find parking, to commute effectively and communicate with each other."
There is much to be optimistic about, but with intelligent roads, there is still a long way to go. This is largely because barriers to public acceptance, high initial cost, lack of recharging infrastructure, and short driving range are falling. As economics pull in new customers, governments are also pushing the technology. The Norway government has proposed an ambitious plan in which all new cars, buses and light commercial vehicles will be zero-emission by 2025. The benefits of such changes could be radical.
Advanced technologies for the future roads
Next generation compactor from Volvo CE
Smart roads refer to the incorporation of technology into the design of highways and it is a trend that is unquestionably on its way to India. With the rise of autonomous vehicles and their power requirements, combined with advances in solar power and technology, the capabilities of tomorrow's roads will be quite different to today. However, Dimitrov Krishnan, Vice President and Head of Volvo CE India observes, "The fundamental structure of roads is unlikely to change much. Given that, it is also unlikely that there will be any dramatic change in the processes or equipment used for road building, at least not in the coming 10-20 years."
However there will be advances in the technology of existing road building machines and Volvo CE is proud to be driving much of this. Volvo CE is widely regarded as one of the leading innovators in the field of construction equipment. The company's latest product for the road building industry is the P6820C ABG paver which is manufactured in Hamlyn, Germany.
Innovations on the unit include load sensing hydraulics so that hydraulic output is perfectly matched to all components. Furthermore an automatic hydraulic track tensioner delivers smoother operation while simultaneously reducing wear and downtime. And there are a host of other innovative features and benefits on the unit.
The updated SD110 BA single-drum compactor from Volvo CE is another recently-launched innovation. Designed with productivity in mind, the unit combines powerful performance, quality compaction and versatility to adapt to earthwork compaction applications in India.
Krishnan adds, "Utilising extensive knowledge of India's paving and compaction industry, next generation compactor is specifically manufactured to place and compact mixed soils, crushed aggregates and base materials beneath flexible pavements capable of accommodating heavy traffic volumes. Boasting an impressive range of productivity-enhancing features, the Volvo SD110 BA ensures profit in every pass."
JCB 116 Soil Compactor
Investments that have been earmarked for infrastructure sector present a great opportunity for the OEMs. JCB is fully geared up to leverage this opportunity with its world-class product range, especially in the area of road construction.
The company has made a new and innovative addition in its Compactor portfolio in 2016 with the launch of JCB 116 Soil Compactor. "The JCB116 Soil Compactor is equipped with proven German Vibration Technology and is designed to give more compaction per litre. It guarantees desired compaction density in a minimum number of passes," informs Jasmeet Singh, Head – Corporate Communications and External Relations, JCB India Ltd says.
JCB India claims to be the first manufacturer in the industry to offer an in-built Compaction Meter in its range of Compactors. Designed and developed in India, the Compaction Meter ensures uniform compaction as the operator exactly knows where to stop and the number of passes that are required to achieve the desired density. This leads to a uniform compaction density and savings in Fuel as well as time. It helps in reducing the number of passes and also avoids over compaction.
JCB Livelink
JCB's all Compactors come with a revolutionary telematics technology – the JCB Livelink. "Livelink technology in JCB machines would benefit our customers in better management of their machines which would lead to better expense management and timely completion of work. This state-of-the-art technology enables users to get SMS alerts on their mobile phones or smart devices regarding service alerts, operations and security of their machines," explains Jasmeet.
The information is available in real time regarding the health of the machine including engines and gives vital information to the customer in terms of number of hours the machine has been operational, service intervals, fuel levels, malfunctions if any, etc.
Soil stabilisation technologies
GR Infraprojects, a major in the construction industry, is using the latest techniques and machineries to construct roads of the future in India. The company has been very open in adopting the new technologies and benchmarking the best industry practices, having an edge, delivering projects on or before time. Mechanisation, reduction of road thickness, giving same strength, reuse of reclaimed material and saving on natural resource has been major focus which contributes to the economic growth of the country.
"Soil stabilisation technologies used by developed countries have been adopted by Indian construction community which has reduced the road thickness without any compromise on requisite strength on the road," mentioned Kashyap from GR Infraprojects while talking about the advanced technologies that will be used to make the 'Road of the Future'.
Asphalt Pavement Recycling
In the road making, a major shift has been the technology which helps reuse of reclaimed asphalt pavements having good percentage on binder and aggregates. "Use of technologies will help save mining of boulders, sand, soil etc, in turn saving depleting environment and ecology which is a major world community concern. Companies from overseas have been very aggressive in promoting the technologies to Indian construction industry foreseeing the big business opportunity," informs Kashyap.
Intelligent solutions
Looking further to future innovations, now human science is making the best opportunities towards the best use of road, highways, canals, bridges capacity. For this we need to plan always intelligently for future, believes Soni.
Commenting on the advanced road making technology, he says, "New technologies have the potential to make roads and transit systems safer, greener and more efficient. Current automobile sector is new revolution again in this smart race. New experiments like one of high-tech platooning system where advice to driver when it feels ready to take responsibility for control of vehicle is a miracle now possible."
Free flow electronic toll collection
The free flow Electronic Toll Collection could be a game changer, if established and implemented in India, believes Venkatesan from L&T IDPL. He adds, "Along with the elimination of toll booths and the stoppage and queuing at the lanes in the plazas, free flow electronic toll collection will save an enormous amount of paper used for the tickets. The technology behind the system enables accurate reading of the Radio Frequency ID (RFID) tags on the windshields and deducting the user account by the exact amount payable for the distance of the highway used by the vehicle. These gantry mounted equipment also has integrated lane cameras and number plate recognition devices."
9